THINGS are getting serious now for draft prospects. The season, aside from Saturday's NAB AFL All Stars clash at the MCG, is done. After a long year, they have shown everything they have on the field.
That makes it a good time for an update of AFL.com.au's Phantom Form Guide, our ranking of the best 25 prospects in the 2017 pool.
A reminder that this is a ranking and not a mock draft, and doesn't take into account where the players might get selected or when father-son or academy bids may come.
The Form Guide will be updated monthly in the lead-up to November's NAB AFL Draft in Sydney.
POS: Half-forward/midfielder, Ht 187cm, Wt 88kg, DOB 21/10/1999
From Western Jets/Vic Metro
August ranking: 1
Rayner's season ended in August when he played his final game for the Western Jets against Gippsland Power. The explosive and exciting prospect didn't have one of his best outings of the year (he collected 18 disposals), but he always impacts a game in some way. The 17-year-old played out the final few weeks of his year with a fracture in his hand, but it didn't change his ability to mark above his head, tackle ferociously, attack the contest with vigour, and make things happen. Rayner is one of a couple of leading contenders for the No.1 pick and is a genuine game-changing player.
Check out the AFL.com.au draft hub

POS: Midfielder, Ht 187cm, Wt 85kg, DOB 8/6/1999
From Dandenong Stingrays/Vic Country
August ranking: 2
Davies-Uniacke's elimination final performance for the Dandenong Stingrays was one of the best games by a draft prospect this season. The powerful and strong midfielder gathered 33 disposals (21 contested), six clearances, five inside-50s and kicked a goal and willed his side across the line after it trailed by 50 points at half-time. It was the type of performance you want from a No.1 pick contender, and after a season that has been up and down at times for Davies-Uniacke, it underlined his potential. Will be playing a fair bit of AFL footy next year.
Riding the wave all the way to the draft: Luke Davies-Uniacke

POS: Midfielder, Ht 186cm, Wt 85kg, DOB 7/10/1999
From Eastern Ranges/Vic Metro
August ranking: 3
Shoulder surgery ended Cerra's season earlier than he would have liked, but not before he was able to show himself to be one of the leading midfielders available at this year's draft. Cerra is a nice and composed kick of the ball, he can get out of trouble with ease and he makes players around him better by putting them into space and opening up the game. He's also very tough and lays tackles, hits hard and gets up and does it again. His class would be a nice addition to any club.

POS: Midfielder, Ht 184cm, Wt 78kg, DOB 16/10/1999
From Bendigo Pioneers/Vic Country
August ranking: 4
There aren't many players in this year's draft who have the same combination of qualities as Dow: he's quick, tough, good around goal and rarely plays a bad game. He's also versatile, and can be placed all over the ground and have an impact. Dow's last game of the season was one of his best – he picked up 35 disposals, six clearances, seven inside-50s and two goals against Gippsland Power but also hurt his shoulder. He required surgery on that, but he's expected to be back into most training by the start of his first AFL pre-season.

POS: Half-forward, Ht 189cm, Wt 76kg, DOB 15/1/1999
From Eastern Ranges/Vic Metro
August ranking: 6
Stephenson's season started a little slowly but he really got going after the championships when he became more familiar with his role in the midfield. It would have been easy for Stephenson to spend the majority of this season parked inside 50 and dominate games there. But instead he went into the midfield, learnt his craft there and started to really establish himself in that role as well. He finished his season with 30 disposals, 11 tackles, six clearances and a goal in Eastern's elimination final defeat. Quick, exciting and capable of some eye-catching moments.

POS: Key defender/key forward, Ht 194cm, Wt 89kg, DOB 11/2/1999
From Bendigo Pioneers/Allies
August ranking: 5
It's still hard to know which end of the ground Brander plays his best footy, because he has had some top-end games in both the back 50 and forward 50. Either way, he remains probably the outstanding key position player in this pool. His versatility is handy in that respect, and clubs will differ in where they view him playing at the next level. His marking and kicking is good for a big man and he reads the game pretty well. His best games this season included an excellent final game of the division one carnival for the Allies when he booted three goals.

POS: Half-forward/midfielder, Ht 192cm, Wt 92kg, DOB 25/9/1999
From Glenelg/South Australia
August ranking: 7
Fogarty will remain one of the most difficult players to assess come draft time because his season wasn't what he would have hoped it could be, particularly given his bright start for the NAB AFL Academy in April. Despite that, the South Australian remains his state's best draft prospect and has a nice blend of skills: he's big, strong, powerful, tough, a good mark and kick, and has a natural footy sense to him that will endear him to supporters. Unfortunately a nagging knee injury that he carried through the national carnival finally required surgery, and his season ended in July.
Darcy Fogarty looks to be the top South Australian talent headed to the draft. Picture: AFL Photos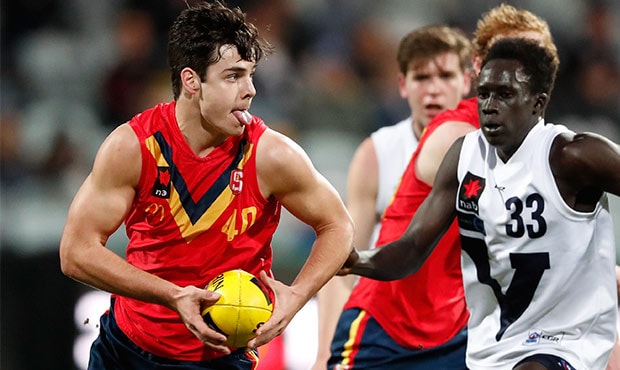 POS: Small forward/midfielder, Ht 178cm, Wt 76kg, DOB 19/3/1999
From Oakleigh Chargers/Vic Metro
August ranking: 8
Higgins' outstanding season was capped when he became the first Oakleigh Chargers player to win the TAC Cup's Morrish Medal as the best player for the season. It highlighted the small forward/midfielder's consistency and capacity to always impact a game. His ability to play as a 'small full forward' was obvious in the Chargers' win over Bendigo late in the season when Higgins kicked seven goals, and he finished the year with 32 majors from 14 games at that level. He's clean and neat by foot and hand, and has rounded off his game nicely this season. Pound for pound he's one of the best in it.

POS: Midfielder/half-back, Ht 190cm, Wt 83kg, DOB 23/10/1999
From Northern Knights/Vic Metro
August ranking: 11
There will be a lot of interest in Coffield because of his range of traits. The Northern Knights captain can play all over the ground, but has tended to spend most of his time as a general type of defender who, at his size, can match up on different types of opponents. He has a turn of pace and can be a ball-carrier out of defence and through the midfield, he is a reliable kick, and in time would be expected to be in the midfield. Was a shining light for the Knights in their TAC Cup finals loss with 25 disposals and six clearances, and it wouldn't be a surprise to see him in the top-10 on draft night.

POS: Ruckman/key forward, Ht 203cm, Wt 93kg, DOB 9/6/1999
From Eastern Ranges/Vic Metro
August ranking: 9
Tim English set the bar last year as one of the best ruckmen to come through the draft and be able to move at ground level, and Hayes might have taken it further after another strong season. In the Eastern Ranges' elimination final loss to Dandenong, Hayes picked up 21 disposals to go with his 24 hit-outs to prove he can be a handy player around the field. A back-to-back under-18 All Australian who is clearly the best big ruck in this year's crop.

POS: Midfielder, Ht 183cm, Wt 80kg, DOB 8/11/1999
From Sandringham Dragons/Vic Metro
August ranking: 13
Brayshaw hit the end of the season with a wave of momentum, including kicking two goals from 20 disposals in the first week of the TAC Cup finals and backing it up with 25 disposals and a goal in the Dragons' preliminary final win. The smart, tough and hard-working midfielder was also one of his side's best in its Grand Final loss last week with 21 touches. The younger brother of Melbourne's Angus has a nice all-round game and a hard and committed approach.
Andrew Brayshaw has risen in draft calculations the longer the year has gone. Picture: AFL Photos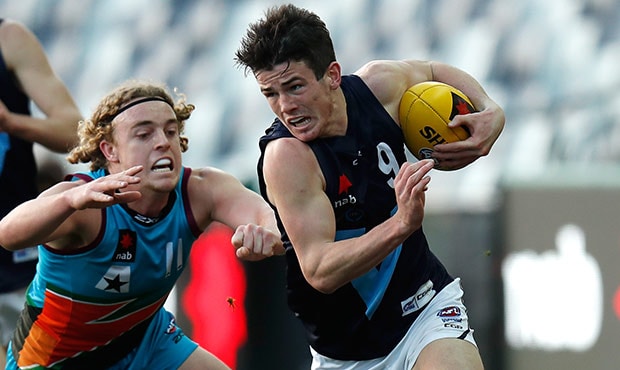 POS: Midfielder, Ht 183cm, Wt 73kg, DOB 15/1/1999
From Northern Knights/Vic Metro
August ranking: 10
As a likely father-son pick for the Tigers, Naish looks set to arrive at Punt Road nicely complementing what Richmond already has in its midfield stocks. Naish is a lighter-bodied outside midfielder who runs well with the ball, is prepared to tuck it under his arm and take some risks, and he loves to push forward and kick a goal. He booted 13 majors in eight TAC Cup games this year, highlighting his capacity to make an impact there. Provides a spark in games on a regular basis.

POS: Half-back/midfielder, Ht 186cm, Wt 79kg, DOB 26/3/1999
From Dandenong Stingrays/Vic Country
August ranking: 14
Two years ago, most recruiters would have said that as a 16-year-old Clark was the leading candidate for the No.1 pick come his draft year. He probably isn't in that mix now, however his second half of the season in particular has been superb and elevated his stocks. A standout game was Clark's 29-disposal and two-goal performance for the Stingrays against Sandringham late in the season. Clark is brave and strong, loves to tackle and can kick nicely on both feet.

POS: Key defender, Ht 194cm, Wt 84kg, DOB 30/11/1999
From Peel Thunder/Western Australia
August ranking: 12
The key defender has sprung into the top region of the draft board thanks in a large part to his form at senior WAFL level for Peel Thunder. He played alongside AFL players and didn't look out of place, and hasn't really for the best part of the year with his intercept marking, strength overhead and defensive mindset. Naughton played seven games at senior level and averaged seven marks an outing.

POS: Midfielder, Ht 190cm, Wt 83kg, DOB 23/10/1999
From Sandringham Dragons/Vic Metro
August ranking: 16
There were doubts over Constable's fitness heading into last week's TAC Cup Grand Final after he injured his groin the week before, but the midfielder came through with flying colours in finding 23 disposals and booting two goals. Constable isn't the type of midfielder who will catch the eye too much, because most of his best work is done in heavy traffic, but he is reliable by foot and very clean by hand. At his size he has some recruiters who think he could develop into an inside midfielder like Patrick Cripps.
Charlie Constable fires out a handball for the Sandringham Dragons. Picture: AFL Photos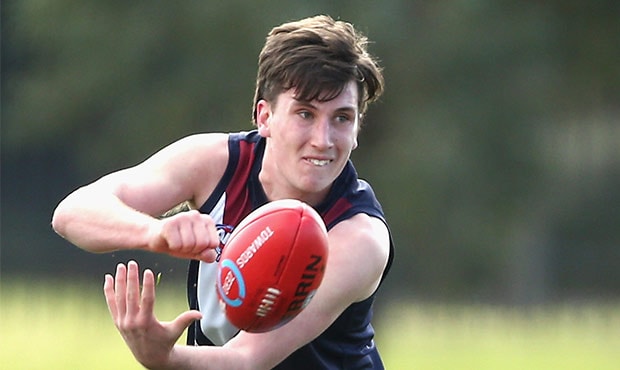 POS: Midfielder, Ht 184cm, Wt 75kg, DOB 18/9/1999
From Bendigo Pioneers/Vic Country
August ranking: 15
O'Brien finished his season well with a 26-disposal effort for the Bendigo Pioneers, in what was one of the better games of his second half of the year, which was interrupted by a nagging knee injury. O'Brien was never really able to get much momentum or continuity to his season in 2017, but he remains one of the better running half-backs/wingman in the crop with elite kicking skills and endurance base. He can also push forward and hit the scoreboard at times, too.

POS: Medium defender, Ht 184cm, Wt 77kg, DOB 3/7/1999
From Oakleigh Chargers
August ranking: None
Richards is one of this year's bolters. He didn't play for Vic Metro at the under-18 carnival after a knee injury earlier in the year disrupted his start to the season. But he quickly made people notice at school level for Carey Grammar in Melbourne, where he displayed great pace and composure out of defence. Richards, who is the grandson of former Collingwood great Ron Richards, has the blend of class and speed clubs are searching for, and his form for the Oakleigh Chargers towards the end of the season was very promising. An eye-catcher for sure.

POS: Key forward, Ht 191cm, Wt 83kg, DOB 19/3/1999
From West Perth/Western Australia
August ranking: 17
Allen's excellent efforts at the NAB AFL Under-18 Championships saw him take home the Larke Medal as the best player in division one after a consistent carnival for Western Australia. Allen is a hard-working leading forward whose best trait is his ability to lead up the ground and get away from his opponent to be part of the chain. He probably isn't tall enough to be a big and strong marking AFL forward, but he has been one of the better performed talls this season. Has also played at senior level for West Perth.

POS: Key defender, Ht 194cm, Wt 92kg, DOB 23/10/1999
From Calder Cannons/Vic Metro
August ranking: 19
The athletic tall from the Calder Cannons has shown patches of his best at different stages across the season, and is seen as being a backman at the next level. He can jump high and has been used in the ruck at times as a pinch-hitter, and he's enjoyed the freedom of that that position given he can use his athleticism more. Balta will divide some recruiters, but he has a long kick that can clear congestion and there's plenty to work with.
Noah Balta in action for the Calder Cannons. Picture: AFL Photos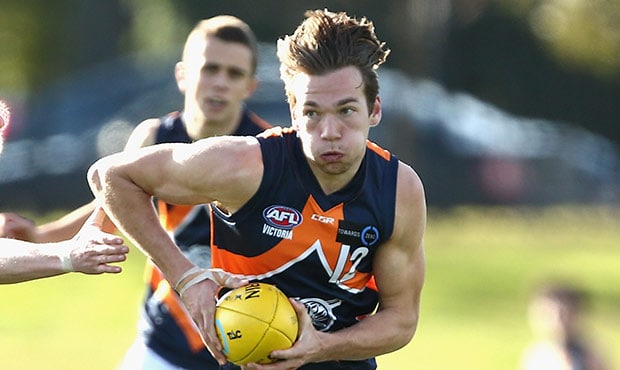 POS: Key forward, Ht 199cm, Wt 95kg, DOB 29/3/1999
From Brisbane Lions academy/Allies
August ranking: 18
The big Brisbane Lions academy prospect struggled for form across the season, with his best run seeming to come when he spent time in a position across half-back and pinch-hitting in the ruck. It seems unlikely he would play there at AFL level, however, with Ballenden entering the year being seen as a No.1 pick contender due to his frame, foot skills and presence as a big forward. The Lions will have the ability to match a bid for Ballenden given his time in the Queensland club's academy.

POS: Medium defender, Ht 182cm, Wt 74kg, DOB 21/4/1999
From Geelong Falcons/Vic Country
August ranking: None
The pacy Geelong Falcon was a key member of its TAC Cup premiership team, and enjoyed a strong last block of the season. Ling's standout traits are his speed off half-back and his elite kicking, which really sets up the play for his side. He's more of an outside player at this point in his development, but there will be clubs looking for his type given the value placed on foot skills and speed. Ling was very good for the Falcons in their elimination final against Gippsland with 23 disposals and six tackles.
Matthew Ling puts on the after-burners for the Geelong Falcons. Picture: AFL Photos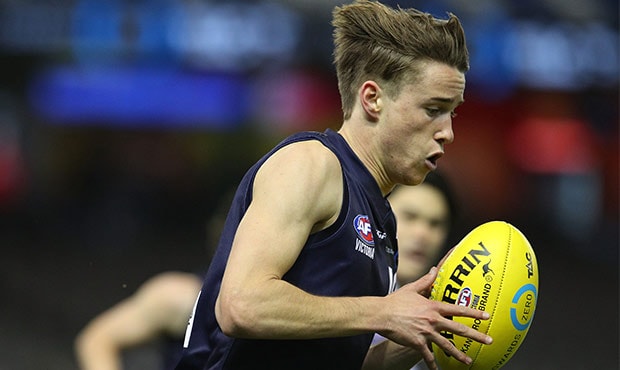 POS: Forward, Ht 188cm, Wt 83kg, DOB 15/12/99
From Brighton Grammar/Sandringham Dragons
August ranking: 23
Murphy went down with an ankle injury in the first week of the finals for the Sandringham Dragons, but was lucky to escape with only minor damage after fears it was far more serious at first. Murphy, a talented cricketer who represented Victoria at junior level, can be played as a half-forward or half-back, is a nice kick and reader of the play, and also a handy mark. He's a natural footballer who took the eye of scouts first at Brighton Grammar at school level.

POS: Midfielder, Ht 179cm, Wt 75kg, DOB 1/4/1999
From Western Jets/Vic Metro
August ranking: 22
There is plenty to like about Fogarty, a prospect who just gets it done most weeks with a minimum of fuss. As an inside ball winner, Fogarty can collect big numbers of touches and is neat and tidy with his ball use. The thing that makes him equally effective as a midfielder is his ability to attack and hit the scoreboard, and he was a regular goalkicker at all levels he played this year. Fogarty is the type of player who could be picked a little later because he is on the smaller side, but he has the tools to be a valuable AFL player.

POS: Half-back/half-forward, Ht 184cm, Wt 73kg, DOB 12/4/1999
From Northern Knights/Vic Metro
August ranking: 21
Petruccelle's lightning pace makes him fun to watch. His trick is his speed, and it's a major plus in his favour. He runs a 2.82-second 20-metre sprint and clearly can get out of trouble and into space in no time. He has some things to work on, like getting more involved in games and his kicking, but he has a point of difference which should appeal. Athletically he's very strong, and as a former star junior basketballer, he has a great leap.

POS: Midfielder, Ht 175cm, Wt 66kg, DOB 4/8/99
From Eastern Ranges/Vic Metro
August ranking: 24
It's been a long and busy year for Moore, who has played nearly 35 games for the season. But what makes the small midfielder a good player is his consistency, and he wouldn't have played too many bad ones in that total. Moore is a running machine who competes hard, is good overhead for his size, and pushes forward to kick goals on a regular basis. He picked up 24 disposals in the Ranges' finals defeat.