NATHAN Broad has been suspended for the first three home and away games of 2018 after being identified as the Richmond player who distributed a photo of a topless woman without her permission following the 2017 Grand Final.
Broad and president Peggy O'Neal fronted a news conference on Monday, where Richmond declared it would not allow Broad's actions to go unpunished, reaching its decision in conjunction with the AFL.
The 24-year-old premiership defender was contrite, hoping that what he had done would stop others from doing the same.
"I take full responsibility for what I have done. I sent a very private picture without this young woman's consent," Broad said.
"I am ashamed and I am embarrassed and I made a very bad drunken decision.
"Not only have I let down my family, my friends and the Richmond Football Club, most of all I let down a young woman who I cared about – a young woman who I spent time with before the Grand Final and a young woman who I like and respected."
Broad said he was deeply sorry for the heartache he had caused the young woman and her family, admitting he had lied and broken the woman's trust by sending the picture.
He urged everyone who had viewed the photo to delete it and not share it with anyone.
Broad's three-game suspension was endorsed by the AFL on Monday following the completion of its own investigation.

The League said Broad has cooperated with its integrity unit throughout the investigation, which found he had breached the AFL's rules and respect and responsibility policy.
"Nathan's actions were irresponsible and totally unacceptable and have caused enormous distress for a young woman and her family," AFL general counsel Andrew Dillon said.
O'Neal said Richmond was "terribly disappointed" in Broad's actions, which were "completely unacceptable" and could not go unpunished.
"Throughout this matter we have cooperated with Victoria Police and the AFL. Most importantly, we have been very mindful of the young woman and her family," O'Neal said.
"We are incredibly sorry for the distress Nathan's actions have caused the young woman, who deserved better.
"The young woman's anonymity is of paramount importance now and in the future and we ask that everyone respect that.
"If something good is to come from this, we hope that this very public matter shapes as a serious warning to all about respectful and responsible behaviour."
Richmond president Peggy O'Neal speaks at the media conference on Monday. Picture: AFL Photos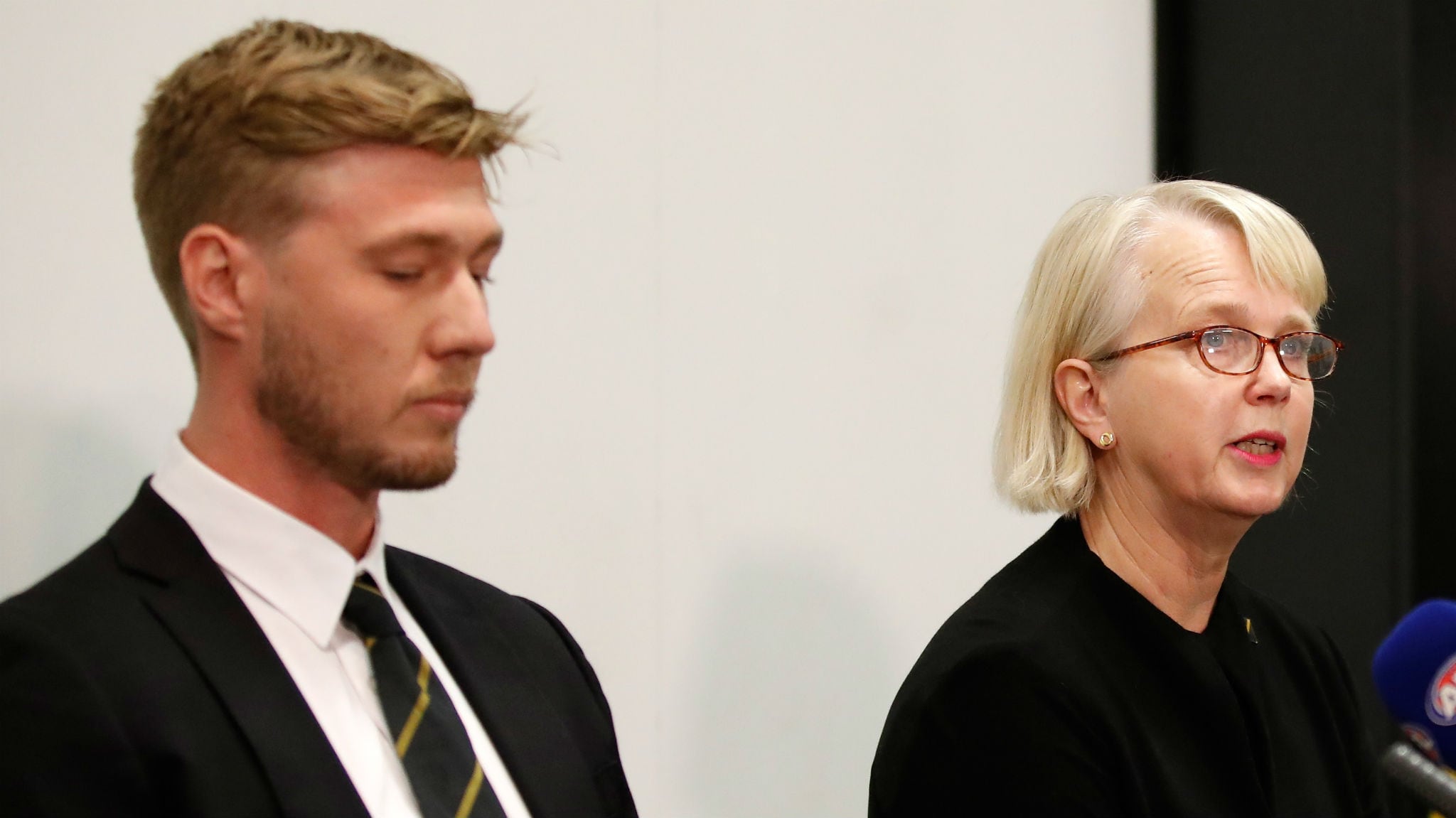 The woman involved is being represented by Maurice Blackburn lawyers, who issued a statement on Monday morning.
"We can confirm that the woman knew the player prior to the 2017 Grand Final and believed there was a level of trust between them," the statement said.
"She maintains that she insisted he delete the photo from his mobile phone as soon as it was taken, and that he assured her it had been.
"She was rocked and extremely confused when she saw the photo on social media the night after the Grand Final."
The woman's lawyers denied their client had received any money from Richmond or the AFL to cease legal action and her motivation in approaching police was to have the image deleted.
Pursuing criminal charges against the player was never her intention, they said.
"She is desperate to maintain her anonymity as she tries to get on with her life as best she can," the woman's lawyers said.
The AFL integrity unit took up its own investigation into the matter last week after Victoria Police closed its inquiry at the request of the alleged victim.
Richmond was also looking into the incident, while the police investigation could be re-opened at any point.