BEFORE he was shooting arrows into the MCG sky on his AFL debut ... and was in the top echelon of runners in the League ... and was a 19-year-old kid with 15 AFL games under his belt (but looked as assured as a 150-game veteran) ... Xavier Duursma was going through hell.
Port Adelaide's annual pre-season camp, this time held on the Sunshine Coast in December last year, was a week he will never forget.
"There were probably a couple of times where I got whacked in the face," Duursma told AFL.com.au.
Xavier Duursma or Robin Hood? #AFLEaglesPower pic.twitter.com/3AYYNuaWkG

— AFL (@AFL) April 19, 2019
"Sometimes you just want to lay down and not get up, but you've just got to get up and do it again.
"No one says (they were testing the young players), but I think it definitely is, just to see how well they handle it.
"You've got to do your best to get yourself up and show them what you've got.
Port Adelaide's camp left Xavier Duursma exhausted, but ready to shine at AFL level. Picture: AFL Photos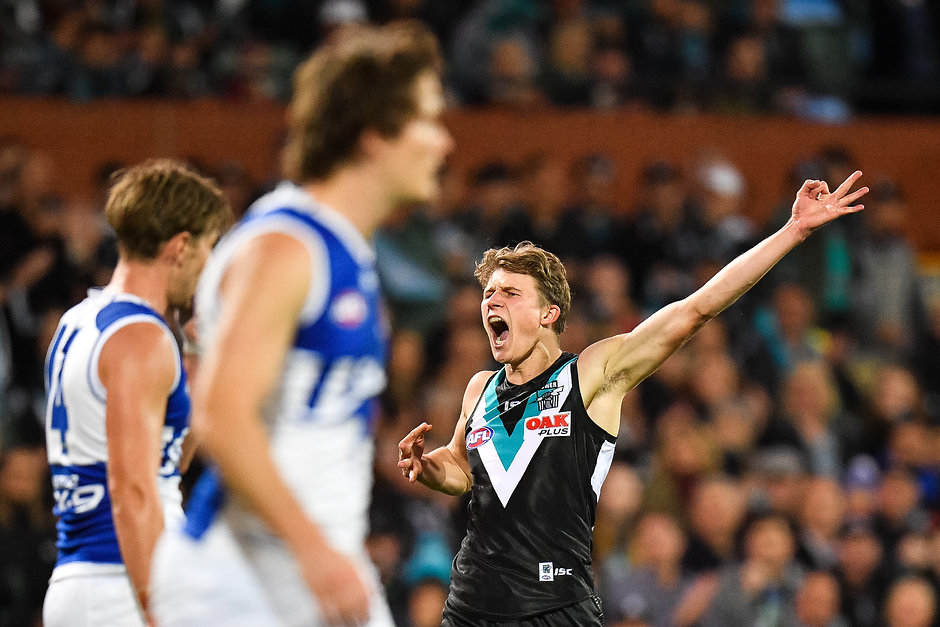 "It was very physically demanding and probably one of the hardest weeks I've had."
From early in the morning until late at night, players were pushed to their breaking point.
"I think we might have done 60-something kilometres for the week," Duursma said.
"Heaps of running, heaps of weights, then there were also beach sessions, strengthening sessions, just getting on the grind.
"Try and prove your mental toughness as well as your physical toughness.
"The whole week was about that."

Duursma – who this week signed a two-year extension with the Power until the end of 2022 - came out the other side with a better appreciation of his new teammates.
"It was bloody hard work, but it was good fun," he said.
FANTASY FORM WATCH The Pig delivers again on tough week for coaches
"It certainly was an eye-opening experience and you get to start building relationships with players and coaches."
The tough grounding has certainly paid off for the 18th overall pick in last year's NAB AFL Draft.
Find Road to the Draft on Apple Podcasts, Google Podcasts and Spotify.
He has slotted in seamlessly on to the wing in his first season and filled the void left by Jared Polec's departure to North Melbourne.
The kid from Foster, in country Victoria, could always run – a trait passed down from his mother Susie, who represented Australia in athletics – but footy has always been his No.1 passion.
Xavier Duursma is presented with his jumper by Port Adelaide great Gavin Wanganeen after being drafted at pick 18. Picture: AFL Photos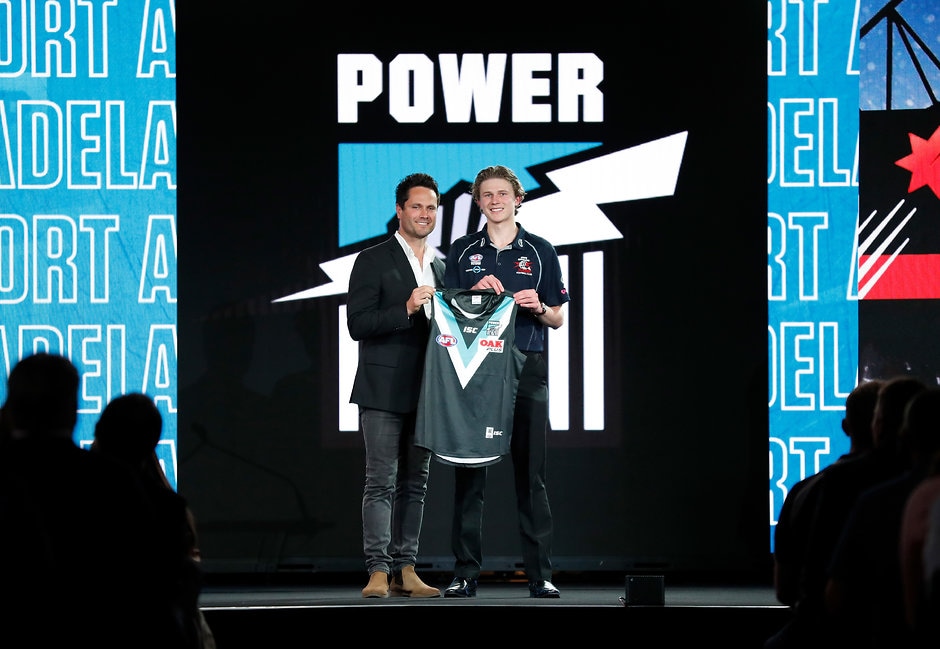 Duursma has covered the most distance of any Power player this season, averaging 14.9km per game, with a high of 17.37km against Carlton in round two.
But it was in the previous week's encounter with Melbourne at the MCG where he unveiled his now-trademark bow and arrow goal celebration for the first time.
After receiving the ball from ruckman Paddy Ryder in the second quarter, Duursma skillfully kicked the ball on the outside of his right boot for his maiden goal.
Without hesitation, he flicked back the imaginary bow and sent the arrow soaring, something he started doing occasionally in under-18 football as captain of the Gippsland Power.

A huge basketball fan, Duursma borrowed the move from NBA players Reggie Jackson of the Detroit Pistons and Denver Nuggets guard Jamal Murray.
"It's a little bit of an NBA thing that Reggie Jackson and Jamal Murray both do," Duursma said.
"The AFL doesn't have too many of those different and unique celebrations, so I thought why not bring something different to the table.
FULL INJURY LIST Who's ruled out and who's a test?
"I thought it would probably be a bit bold and might be seen as arrogant, but I'm just trying to have as much fun as I can out there.
"I got a couple of weird looks from my teammates when I did it the first time, but once I did it a couple of times, they know it's me and they don't care and they like it.
"I think they get around it."