'THE NEXT Michael Jordan'.
It was a phrase applied to so many basketball players in the late 1990s and early 2000s. Vince Carter had the leaping ability, Grant Hill had the footwork and Kobe Bryant mirrored just about everything.
Just about everyone who grew up watching Jordan tried to be like Mike.
Football's version right now might be 'like Buddy'.
FULL INJURY LIST Who's ruled out and who's a test?
Top-10 picks Jack Lukosius and Nick Blakey both catch the eye as tall forwards who have emulated one of superstar forward Lance Franklin's best traits – his field kicking.
"Ever since Bud (Franklin) came to the Swans, he's been my favourite player," Blakey says.
"He's probably the best field kick in the competition."
Lance Franklin will go down as one of the all-time greats. Picture: AFL Photos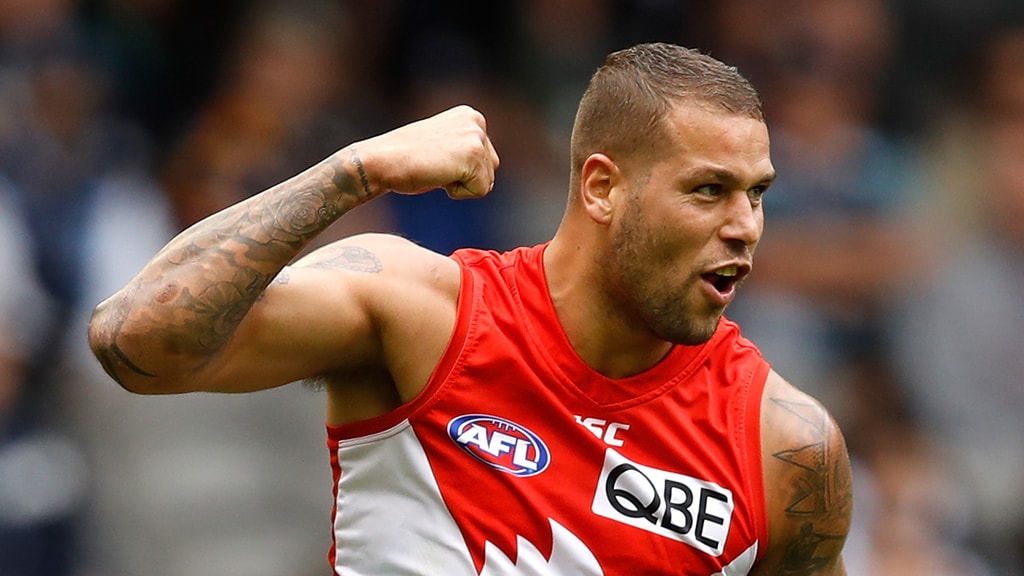 Growing up an Adelaide supporter, Lukosius disagrees.
"I think Tex (Taylor Walker) was the big one for me. His field kicking is probably just about the best in the league for a big man."
While Walker caught his eye, Lukosius says Franklin's ability to take on the game quickly while still being able to lower his eyes is a skill that he admires and wants to bring into his own game.
Eyes forward: Lukosius is always looking to launch. Picture: AFL Photos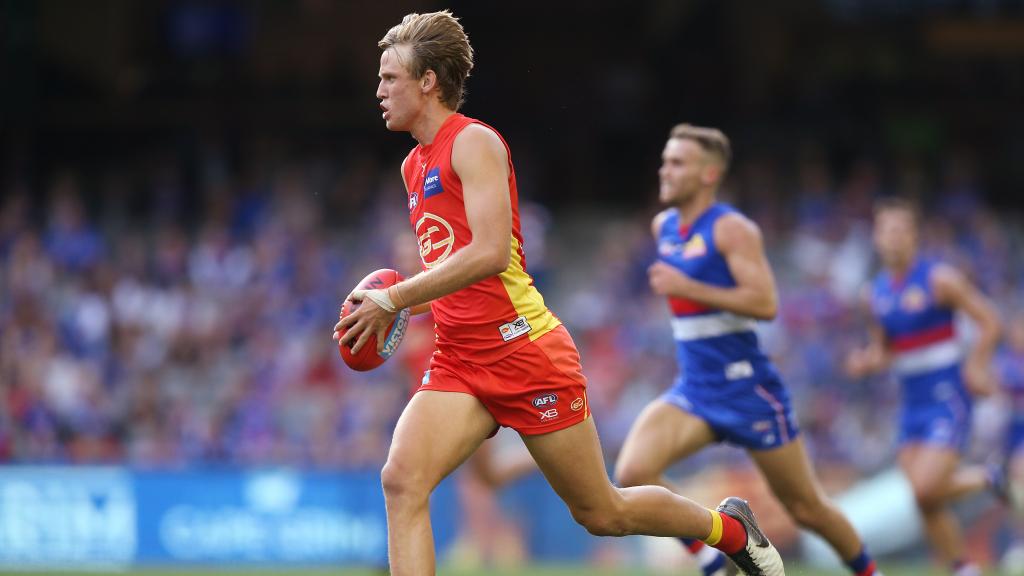 The journey to becoming an excellent kick was not a process without a few bumps in the road for both players.
"It's (field kicking) definitely something I've always worked on. I went through a patch where I was kicking it to where the player was instead of kicking it to where the player will be," Blakey says.
"That's something I worked on at the Swans Academy through 16s, 17s and then started becoming good at it through 18s."
The learning curve was similar for Lukosius too.
"When I was about 15 or 16, I was dropping the ball across my body a bit and kicking it right to left. So I spent a fair bit a time over a pre-season when I was 15 just working on my kicking," Lukosius says.
"That was the big turning point for me at that age, that's when I became really confident in my field kicking."
Tips from idol-turned-teammate Franklin have been invaluable for Blakey. One of the nuggets of knowledge the modern-day great has shared with the 19-year-old has already shown up at AFL level.
"He's (Franklin) been really good with teaching me the little tricks like making sure you're not looking exactly where you're going to kick it, because then the defender knows where you're going to kick it," Blakey says.
A kick to Isaac Heeney in round eight wasn't perfect, but a keen eye could observe Blakey's subtle head turn just before he pulled the trigger on the kick.
"The kick I had to 'Heens' didn't quite come off, but he had heaps of space out in front of him, so I knew he'd run onto it no matter what."
Nick Blakey gave a little 'Buddy head fake' just before kicking inboard to Isaac Heeney in round eight. pic.twitter.com/6cPU1y4uBY

— AFL.com.au (@AFLcomau) May 18, 2019
Lukosius says he and Blakey had spent some time together at the AFL Academy working on disguising where the ball could be kicked to, and praised Blakey's ability to nail that aspect of the game.
"You don't want to telegraph exactly what you're thinking. If someone's leading up, you sometimes want to pretend that you're going to kick it to him and then you can kick it over the back," Lukosius says.
Suns forward Alex Sexton has found plenty of success this year running back towards the goals, and Lukosius knows the key to a good forward line depends on chemistry and really knowing where his teammates want the ball.
Jack Lukosius found Alex Sexton with a clever chip over the back in round 6. pic.twitter.com/aDpNtjdthV

— AFL.com.au (@AFLcomau) May 18, 2019
After playing in five different teams over the past handful of years, the South Australian is keen to settle down with the same group of players.
"We've got a good make up at the moment that could be very good in the future," he says.
Watching game footage is key for any young forward's development, but the way Blakey and Lukosius take in that information is a little different.
Blakey says as a junior he studied the way Tom Lynch would get from contest to contest when he was playing with the Suns.
"It's sort of changed a bit now that I'm at AFL level. I watch Jordan De Goey's leading patterns, he plays a bit higher up the ground and now I play higher up the ground than I would have at under 18s level," Blakey says.
Blakey has learned his lessons well from being Buddy's teammate. Picture: AFL Photos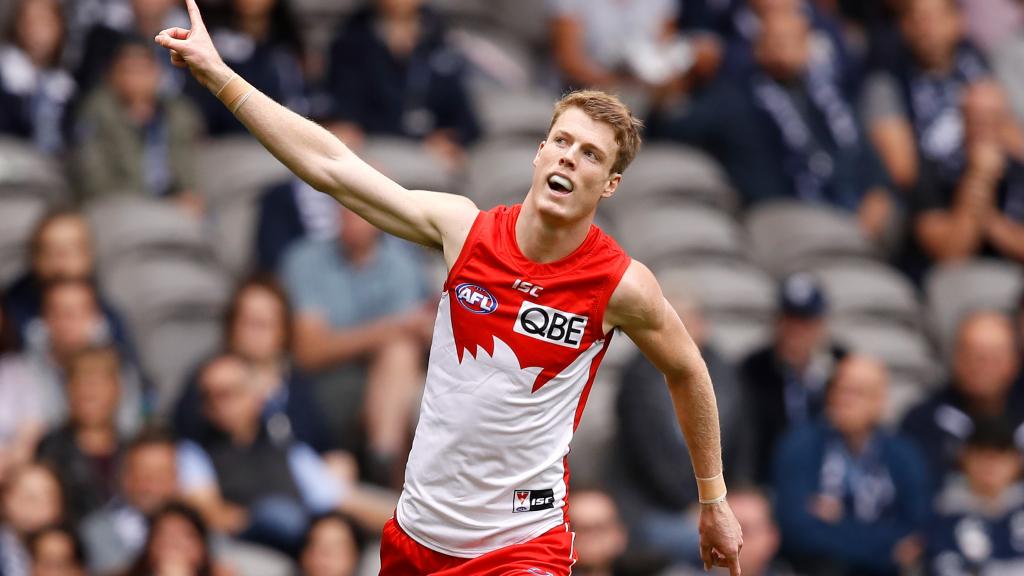 During the pre-season, Lukosius worked with forward coaches Ash Prescott and Tim Clarke on analysing mistakes made on the track. Now, during the season, he'll sit in and watch film with them, as well as fellow forwards Josh Corbett and Peter Wright for half an hour the day after a game.
The main focus for the three key forwards in those film sessions has been transition defence as a team, rather than worrying about what each forward is doing on a personal basis.
"Getting in front of the ball to help your midfield and your backline to get back numbers and take intercept marks, and then it's getting back inside 50 as hard as you can to get off your man," he says.

With more veteran leadership around at Sydney, the approach can be a little more individualised and player-driven for Blakey than it is for Lukosius at Gold Coast.
After a round has concluded, recruit Daniel Menzel will watch clips of various forwards who played well on that given weekend with Blakey to see if they can add different aspects to the young Swan's game.
Former Saint Justin Koschitzke has been recently brought into Gold Coast to work with the Suns forwards one day per week.
"We don't have a lot of experience at the club at the moment, so it's great to have him," Lukosius says of Koschitzke.
The two young forwards could face each other in round 15, a match-up that hopefully will be a joy to watch in years to come.
Find Trends on Apple Podcasts, Google Podcasts and Spotify