GREATER Western Sydney coach Leon Cameron has rubbished reports of tension between footy manager Wayne Campbell and several key players.
A story published by foxsports.com.au on Monday night questioned Campbell's job security at the Giants because of strained relationships with other staff members and the club's poor record in player rentention.
It also claimed Campbell had a 'non-existent' relationship with out-of-contract vice-captain Stephen Coniglio, who is being heavily courted by Carlton, Hawthorn and St Kilda, and is yet to re-commit to the Giants.
Several clubs are circling Restricted Free Agent Stephen Coniglio. Picture: AFL Photos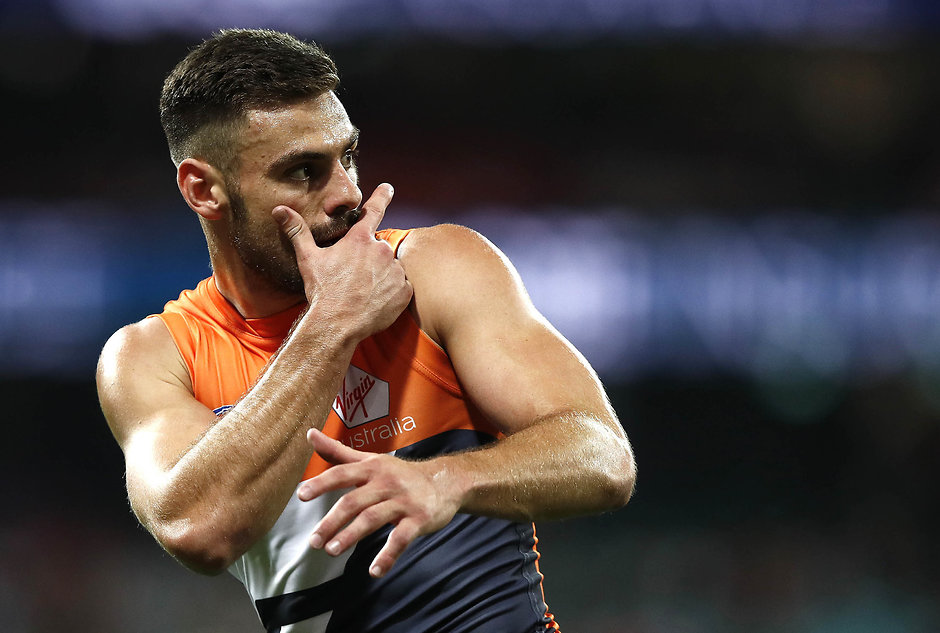 Cameron faced the media on Tuesday and said he'd spoken to his footy boss earlier that morning to discuss the story, but felt there was no merit in it whatsoever.
"It was a bit from left-field and caught me a bit by surprise," he said.
"But as soon as I read the article, I dismissed it, and thought it was barking up the wrong tree because most of it was untrue.
"I work closely with Wayne and our coaches and our players work closely with Wayne.
"The number of players we've re-contracted and the amount of time he spends with our players is phenomenal, so I don't see that (communication) as an issue at all.
"He's contracted until the end of next year like I am, and he's rock solid at our footy club and he's been fantastic."
Cameron questioned the timing of negative reports on the Giants, but said it wasn't unexpected after his team's poor 56-point loss against Hawthorn in Canberra on Friday night.
Snow good! ❄️

How great is this?#AFLGiantsHawks pic.twitter.com/Co6wPjwjlx

— AFL (@AFL) August 9, 2019
"It's funny how this rears its head after we have a nine-goal loss," he said.
"When you have a bad performance, people are going to pick at your footy club and that's just another example of what has happened.
"It wasn't talked about after we beat Sydney or Port Adelaide or Collingwood, it's just the way the AFL land is."
Cameron once again stressed he was comfortable by the way Coniglio was handling the process, despite a host of reports claiming he had made his decision to leave GWS at the end of the season.
NEW RULES Former free agents among 50 names added to 2019 list
The coach said Coniglio's situation hadn't caused angst amongst his teammates, nor had it affected the contract negotiations of players like Adam Tomlinson or Brett Deledio.
Cameron also bristled at suggestions Coniglio would base his decision on whether or not he was offered the GWS captaincy for 2020 and beyond.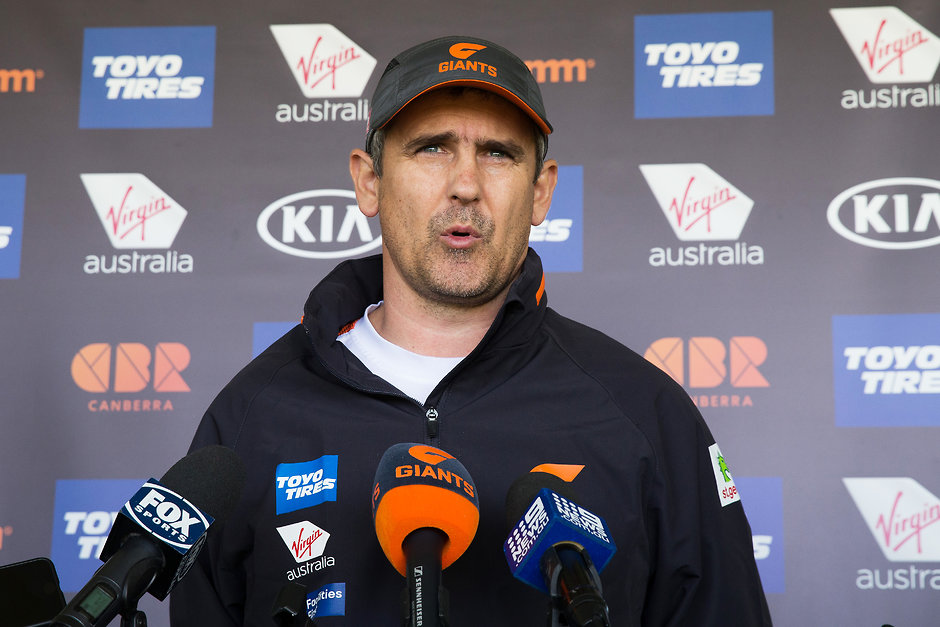 "Absolutely not, and I think that sort of question is undervaluing Stephen Coniglio," he said.
"We had a meeting with our entire group after our review on Monday and Stephen Coniglio was front and square and our most vocal player.
COGS TO CARLTON? Cripps daring to dream
"Those sort of signs and signals that I see every day and every week haven't changed from the start of the year to where we sit at the moment.
"It's a huge decision and players of that calibre, and let's be honest, 'Cogs' was in All Australian form before he was injured, are going to confront that once in their career.
"He'll spend time with his family and friends and come to his decision, but I don't see any indication that it's going to go against the Giants."
Stephen Coniglio and Callan Ward doing work on the bikes. Picture: Getty Images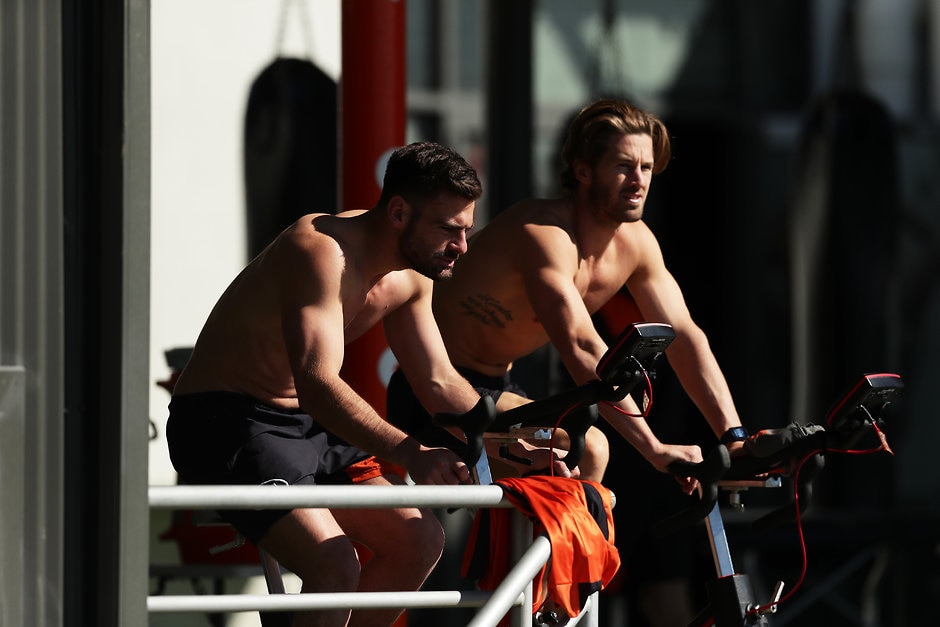 The Giants' recent injury worries got worse with veteran Deledio set to miss the next 3-4 weeks after straining his calf against the Hawks.
In better news for GWS, Coleman medal leader Jeremy Cameron is a chance to face the Western Bulldogs on Sunday.
Cameron suffered a cork to his hamstring early in the loss to the Hawks, but his coach said scans revealed no major issues, and the star forward would train Thursday in an attempt to prove his fitness.
Josh Kelly (calf), Matt de Boer (shoulder) and Harry Himmelberg (calf) are also targeting the club's main session to show they're ready to take on the in-form Bulldogs.
Toby Greene and Harry Himmelberg catch some rays at Tuesday's session. Picture: Getty Images