IN THE front yard of Cody Weightman's family property there is a mini basketball court with a ring up against the shed.
Growing up, Weightman would stand at his house in Pakenham, in Victoria's south-east, kicking a stack of footballs until he got them through the ring 40 metres away.
After perfecting that, he then moved out the back, where his father Rob had set up a net and a bullseye target in the middle of it.
THE BEST OF TOMORROW The full 2019 Under-18 All Australian team
Again, Weightman, who has burst onto the scene this year as a possible top-20 draft choice as a damaging small forward, stood out there for hours after school until he regularly hit the hole.
"He practiced and practiced and practiced until he was banging them in," Rob recalled. "If he wants to do something, he'll practice until he gets it right."
What Weightman wants is to be drafted. And as this year has progressed, it's looked more and more likely, with the Dandenong Stingrays goalkicker winning All Australian honours after a standout NAB AFL Under-18 Championships for Vic Country.
"The draft is certainly at the top of my bucket list," Weightman told AFL.com.au.
Cody Weightman was one of Vic Country's best performers in the U18 Championships.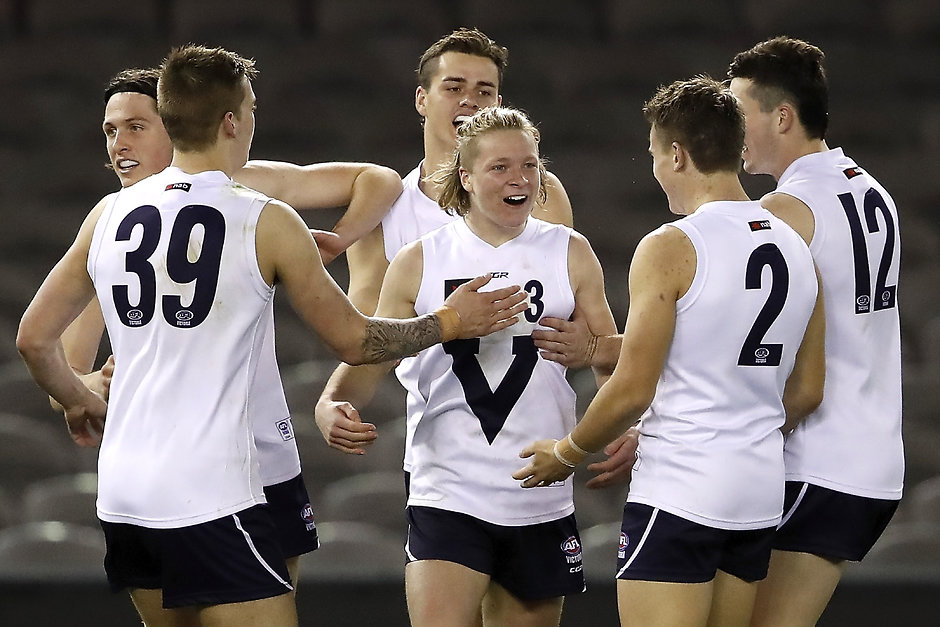 He's known that for a long time. When he was 12, he enlisted the help of long-time running coach Bohdan Babijczuk with a focus on injury prevention but also to build his speed and technique.
There he met Jack Higgins, who was two years older but on his trajectory to the AFL. The pair became close friends, and Weightman still talks weekly to the young Richmond midfielder.
Weightman did everything Higgins did, including starting work with personal trainer Val Stoimenov last pre-season.
Stoimenov is based in Gisborne – a four-hour round trip from Weightman's house – but he went out there for two sessions a week over last summer, at first overcoming minor knee surgery and then finding ways to become a more explosive player.
Richmond young gun Jack Higgins has become close friends with Weightman.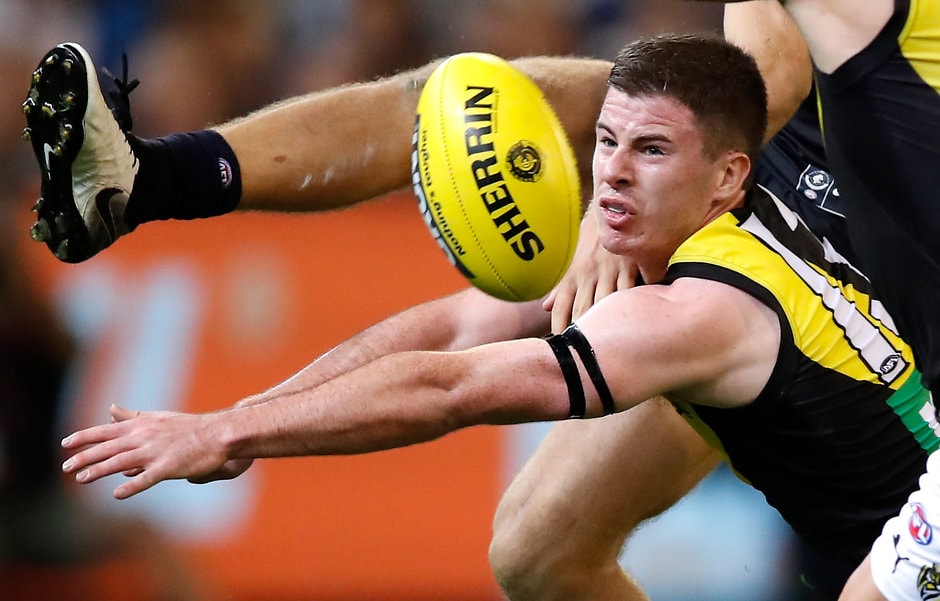 Seeing Higgins' impact at AFL level – particularly given they are about the same stature (Weightman stands 177cm and 73kg) – has given the 18-year-old plenty of confidence.
"His training standards are elite. It's something I try to copy and put into my game," he said.
"He's had people critique him in a lot of ways and he hasn't taken a bar of any of it. He's just forged his own path. We all have people who might doubt us but the way he's gone about it and used it as motivation is something I do as well now."
CAL TWOMEY'S U18 WRAP Whose draft stocks just went up?
It would be hard to find a draft prospect more prepared this year than Weightman. As well as his running and strength mentors, he does Pilates and meditation to help switch off, and can be regularly found in ice baths and compression pants refreshing his body.
"He's at AFL standard already for his professionalism," said Essendon champion Matthew Lloyd, who is a coach at Haileybury College, where Weightman is the captain of the football side this season.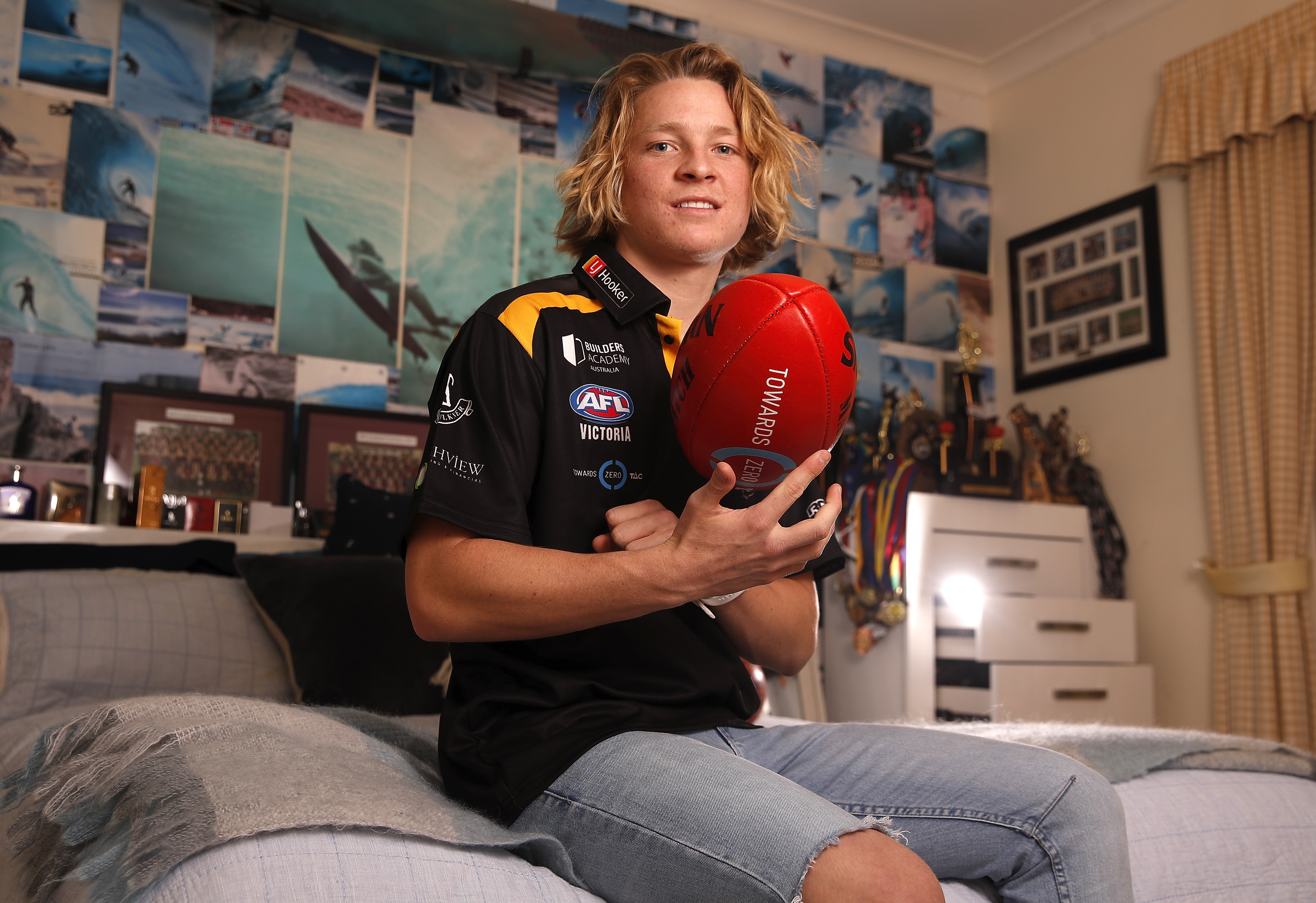 Weightman has reaped the benefits this year. When deep in attack he doesn't miss a chance, swooping on loose balls, creating opportunities and rarely wasting them.
He kicked two bags of four goals for Vic Country, and is an energetic, at times in-your-face player. Weightman idolised Collingwood's Jamie Elliott growing up, and now enjoys watching Sydney star Tom Papley in attack.
"He's got a lot to his game now," Lloyd said of Weightman. "He can sit on heads, he can crumb, he uses both sides of his body and we've also seen now he can go into the midfield."

Flying for marks has always been Weightman's way. A background in wakeboarding, surfing and skiing might explain his fearlessness, but it's come naturally.
"I wasn't super small throughout my juniors so that helped. I've been able to jump and try to use other people to get up there," he said.
"I try to have my moments where I can hopefully change the balance of a game and have a really big impact in a short space of time."
CAL TWOMEY'S PHANTOM FORM GUIDE The top 25 ranked after the U18 Champs
His rise has led to one regular question this year: is he related to Richmond great Dale 'The Flea' Weightman?
"I'm not, I don't think so. We haven't really tested the theory, but I don't think there's anything in it," he said.
Find Road to the Draft on Apple Podcasts, Google Podcasts and Spotify.
"I said to one club 'I'm not, but I claim it sometimes, it depends who I'm talking to'. It's pretty much the first question I get asked. We're pretty matchable I guess."
Weightman doesn't have much spare time in between finishing school, training, playing, recovering and doing it all again, but a little of it is spent selling cows.
You read that right. As a kid, Weightman's dad offered him and his three siblings the opportunity to make some money. If they invested $400, he'd help them sell cows to market and they'd double their money.
Cody was the only one who took up the offer, although as the youngest he didn't have any cash himself so worked off his debt with jobs around the house.
The Angus cattle are sold to a company after being raised on Weightman's expansive land, with Weightman pocketing the money every year.
"I don't really do much for it. I just give dad the money, they come along and then I get my pay back," he said.
"I try not to get too attached to them, it's a bit brutal for my liking. It's a benefit of living somewhere with a bit of land. It would've paid for my car."
FULL FIXTURE Every round, every game
The car has come in handy this year for the hour-long trips to school every day and the multitude of extras he does on top of that.
Although he's not leaving things to luck, he still hopes it's on his side.
"I'm a bit superstitious," he said. "Ever since I was super young when I've had a packet of chips and got the wish chips (the ones that are folded over each other), I've always wished to be a footballer. I can't remember how long I've been doing that. It's the one thing I've aspired to."