NO OTHER League team has produced a quarter quite like it.
When reigning premier South Melbourne hosted a middle-of-the-road St Kilda in round 12, 1919, not even the most astute observer could have expected the goalscoring orgy that would explode in the last quarter.
The 17 goals South piled on against a crippled and self-destructing St Kilda smashed the League record for the highest-scoring quarter. The record remains unchallenged 100 years on, and looks unlikely to ever be broken.
How football's fourth-quarter slaughter unfolded
The third term at a packed Lake Oval went disastrously for St Kilda. Four players went down injured, "rendering them practically useless". The team was down to 14 fit men and South piled on a 10-goal lead, 12.11 (83) to 2.6 (18).
But far worse was to come.
St Kilda became fragmented by off-field infighting that spilled onto the field in the final term. Several players stormed off in protest.
The Southerners spared their almost comically depleted opponents no mercy.
Sending their home crowd into a "frenzy of delight", the league leaders delivered a ruthless half-hour onslaught. They piled on 17 goals and four behinds for a total of 106 points in a single term.
A century on, no other quarter has come near it.
Highest VFL/AFL scores in a quarter

| | | |
| --- | --- | --- |
| Score | Quarter | Match |
| 17.4 (106) | 4th | South Melbourne v St Kilda, Lake Oval, Rd 12, 1919 |
| 15.4 (94) | 1st | Essendon v Gold Coast, Docklands, Rd 6, 2011 |
| 14.3 (87) | 4th | Geelong v Brisbane Bears, Carrara, Rd 7, 1992 |
| 14.2 (86) | 2nd | Adelaide v Fitzroy, Football Park, Rd 17, 1996 |
| 14.1 (85) | 2nd | Carlton v Essendon, Windy Hill, Rd 14, 1975 |
| 13.7 (85) | 4th | Sydney v Essendon, SCG, Rd 17, 1987 |
South carried out its fourth-quarter slaughter without the aid of a breeze, while keeping St Kilda scoreless.
South Melbourne finished with a then League-high total of 29.15 (189) and won by 171 points, shattering more records than perhaps in any other League game ever played.
Records broken or equalled on the day
Highest score in a quarter (17.4)*
Biggest winning margin (171 points)
Highest score (189 points)
Most goals in succession (between 23 and 27)*
Most goals in a game by a player (14)
Most goals by a player in a quarter (7)
South Melbourne/Sydney's biggest win (171 points)*
St Kilda's biggest loss (171 points)
St Kilda's highest score conceded (189 points)
*Record still standing
How the Argus called the fourth-quarter slaughter at Lake Oval.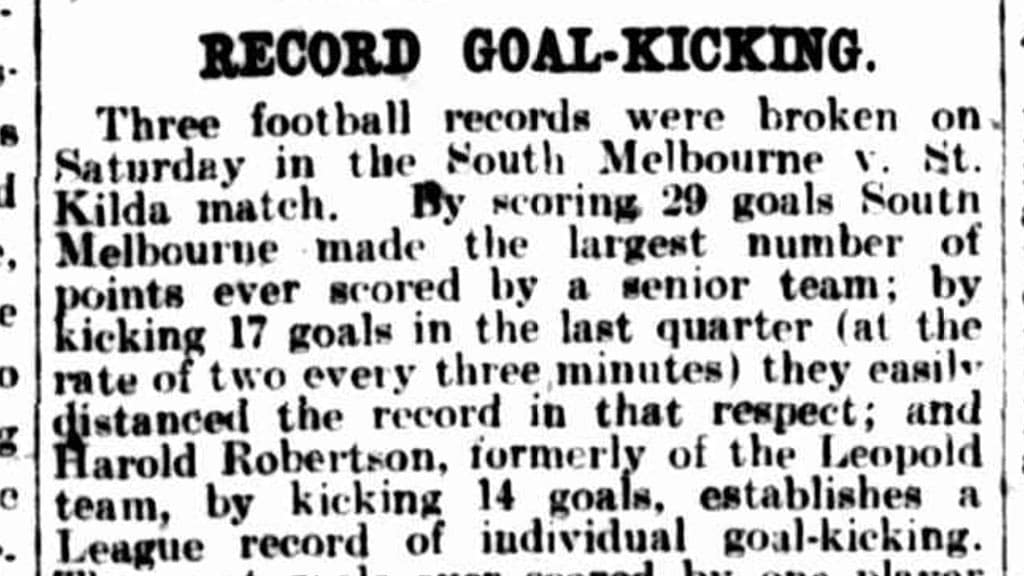 The demolition was a historic low point for St Kilda, which boasted the legendary Roy Cazaly and several other stars, and had just a few weeks earlier been a top-four combination "playing the most dashing football" in the League.
Even allowing for all the factors in South's favour, it was a phenomenal achievement in a low-scoring era.
The previous year South had won the flag with a League-high average score of 68 points.
In their previous 22 seasons of League football the Southerners had tallied 17 goals just five times. The most recent time had been six years earlier against the hopeless and soon-defunct University, and they'd do it again just once in the next nine years.
It is almost impossible to believe that such a debacle could occur with opposing players doing their best."
The Southerners might well have also kicked the most successive goals in a game. They certainly rattled on all 23 goals in the second half, which would mean they share the record with Geelong's sprees in 1899 (also against St Kilda) and 2018 (against Fremantle at GMHBA Stadium).
It's possible they amassed many as 27 goals in a row – our uncertainty is the result of vague newspaper accounts.
In any case, The Age smelled a rat, declaring: "It is almost impossible to believe that such a debacle could occur with opposing players doing their best." Incensed St Kilda supporters also called for their club's committee to launch an investigation.
A three-game goalscoring wonder
For the winners, the hero was pint-sized South Melbourne spearhead Harold Robertson, who was chaired from the field by delirious fans after bagging a then League record 14 goals (with just one miss), smashing the previous record of 11.
Harold Robertson (circled) in South Melbourne's premiership team photo.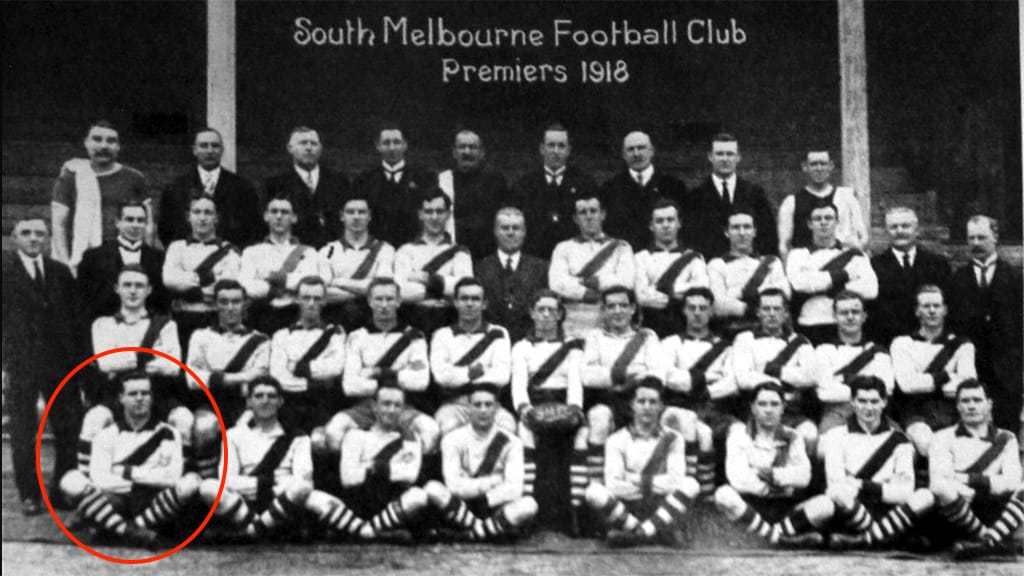 It's difficult to imagine a bigger breakout performance by a player. The 24-year-old, a half-forward flanker in the 1918 premiership side, had entered the game with 45 goals from 40 games, including just nine goals in 10 games that season, with a career-best haul of three.
Held goalless in the first quarter, Robertson ignited with three goals in the second quarter, four in the third term and an equal-record seven in the last quarter.
He followed it up with hauls of seven and five, for a three-week tally of 26 goals, but mustered just 22 goals in his next 21 games before his League career ended.
Robertson, who died at only 39 in 1935, was the eldest brother of Austin Robertson senior, who also became a South Melbourne star but rose to greater fame as a world champion sprinter. His nephew, Austin Robertson junior, was a legendary full-forward for WAFL club Subiaco.
Round 12, 1919, Lake Oval
South Melbourne 2.5 6.7 12.11 29.15 (189)
St Kilda 0.0 2.2 2.6 2.6 (18)
GOALS
South Melbourne: Robertson 14, Brereton 6, Barber 3, Laird 3, Power 2, Hynes
St Kilda: Sinclair, Talbot
BEST
South Melbourne: Robertson, Tandy, Samson, Doherty, Lugg, Daly, Rademacher, Brereton
St Kilda: Eicke, James, Dangerfield, Cazaly, Kenley, Cubbins