RICHMOND superstar Dustin Martin has succeeded in having his two-match suspension downgraded to a one-game ban at the AFL Tribunal on Tuesday night.
The Tigers successfully argued Martin's elbow to the back of Adam Kennedy's head last weekend only constituted a low impact grading, reducing his ban to just one match.
RECAP All the action from the Tribunal
He will subsequently only miss Richmond's round four clash with Port Adelaide.
Dustin Martin leaves the Tribunal on Tuesday night. Picture: Getty Images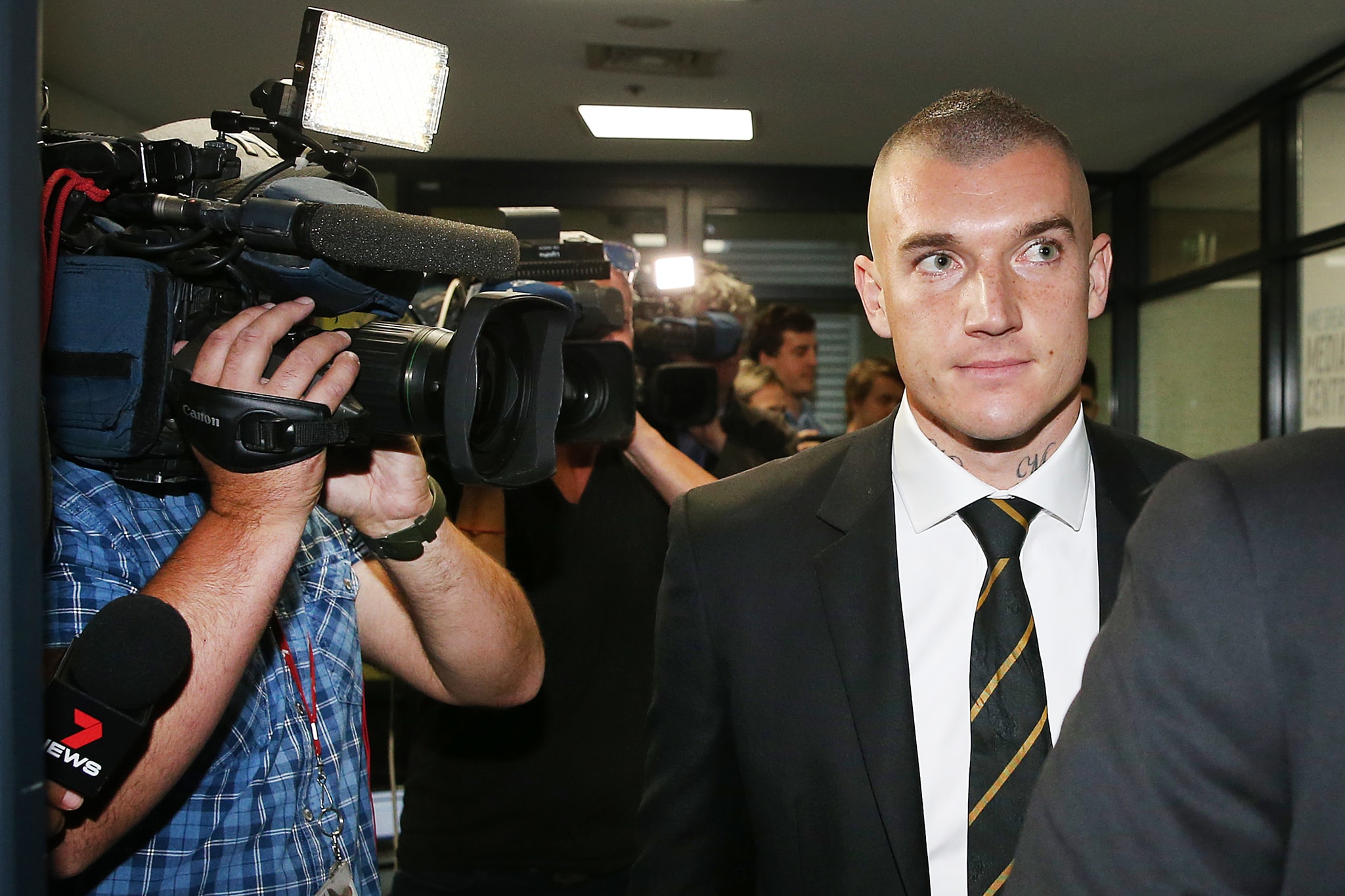 Richmond's representatives did not attempt to get Martin off his ban altogether, rather they simply attempted to reduce the severity of his penalty from two games to one.
The AFL's legal counsel, Jeff Gleeson QC, told the Tribunal that "strong consideration" must be given to the fact the penalty was raised due to the potential to cause serious injury.
FULL INJURY LIST Who's ruled out and who's a test?
He then pointed to the clauses in the AFL's guidelines that suggest strikes similar to the one Martin did will "not usually" be graded as low impact, due to that potential.
However, the Tribunal deliberated for 14 minutes before agreeing on a low impact grading.
"It's always pretty tough," Richmond footy boss Neil Balme said afterwards.
He still gets a week, which is a bit sad. But it was a good hearing. They listened to us.
"He's just got to take a breath. He's a very, very good player. He gets the treatment because that's what he is, so he's just got to go past it and we need to help him a bit with it.
"It would be nice if he did get a couple of extra free kicks, but he's got a week off which is disappointing for us. But in two weeks' time, we'll be back at it."
Kennedy, the victim of the clash on Saturday afternoon, was called to provide evidence during the 90-minute hearing, saying that Martin's forearm initially made contact with the middle of his shoulder before glancing towards his head.
The Giants player said the fact the strike eventually hit him in his head gave him "a bit of a shock" and laughed as he described the force of the contact as "a good knock".
However, he also crucially said that he didn't feel any pain as a result of the strike.
Field umpire Nathan Williamson, who laid the report, was also called to give evidence and revealed Kennedy told him he was "fine" and that he didn't believe the strike was malicious.
Martin was initially offered a two-game ban by the Match Review Officer, with his strike assessed by Michael Christian as intentional conduct with medium impact to the head.
Find AFL Exchange on Apple Podcasts, Google Podcasts and Spotify.