NORTH Melbourne midfielder Trent Dumont has opened up on his battle with mental health after the "hardest time in my life" as an AFL footballer.
In a confronting discussion, the 23-year-old has revealed how he shut himself off from all human interaction in a two-and-a-half-year period from 2014-2016.
The South Australian also believed his AFL career would be cut short after being levelled with charges – which were later dropped – following an altercation with a taxi driver in his home state in 2014.
"It was a really, really large emotional rollercoaster," Dumont told Channel Nine on Monday night.
Trent Dumont had 26 disposals against the Eagles last round. Picture: AFL Photos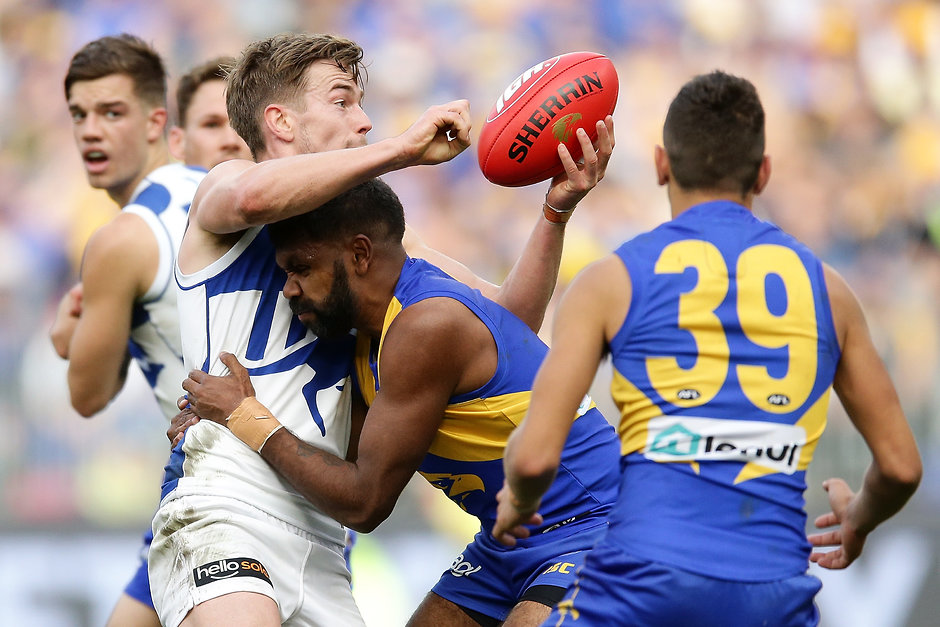 "I felt like my career was going to end. I let my family down, I let myself down, all the hard work I'd done to get in the position of life I was (in) at that moment.
"In 2016 around my 21st birthday, it was the hardest time in my life, that period, that's when I was at my lowest.
"Things were just piling up, sometimes I still struggle to speak about it but I had some times where I was really flat.
I couldn't see light at the end of the tunnel. I called off all 21st celebrations, closed myself off to everyone in those times.
"I did think about potentially what it would be like if I wasn't around anymore, would I be doing everyone a favour?
"But I never put it into action, but I definitely had thoughts about potentially suicide."
BARRETT The lesson Rance must learn from Dog's disaster
Dumont praised his family, friends and North Melbourne for supporting him through the incredibly challenging period.
"Fortunately for me I've got some terrific people in my life, lots of them," Dumont said.
"My mum, my sisters and my best mate had organised a surprise 21st.
"That moment there when I realised everyone that has a lot of love for me in that room, it was a big weight off my shoulders. It gave me a little bit of breathing room.
"I started looking into getting help, I started jumping in with club psychs, from there I've just slowly built up my work in the mental space."
Trent Dumont puts the finishing touches on a big play from the Roos!#AFLNorthGiants pic.twitter.com/wtzaTH9XQH

— AFL (@AFL) June 16, 2019
Dumont, who is this year enjoying a career-best season for the Roos, has started working as an ambassador for the I Am Worthmore organisation.
"Mindfulness is probably the biggest part of my mental health strategies that I use day-to-day," he said.
NINE THINGS WE LEARNED The 45-goal Tiger who's made for finals
"Simply, it just gets you thinking about all the things that are worth living for, I guess you're thinking out of your own head, out of your own little bubble.
"These things do happen to people, people are not alone, reaching out and asking for help, it's the first step.
"We're starting to normalise the conversation around mental health. The more people can open up and normalise that, we're going to have a completely better life for everyone, a more mentally healthy community."
If you or someone you know is experiencing emotional distress, please call Lifeline on 13 11 14 (24 hours/seven days) or chat to a crisis supporter online at lifeline.org.au (7pm – midnight)
If life is in danger, please call 000.