WHEN Greater Western Sydney spearhead Jeremy Cameron nailed the goal that clinched his first Coleman Medal on Saturday night, the first teammate he embraced was promising small forward Brent Daniels.
Or, more accurately, Daniels leapt into Cameron's arms before the rest of their teammates arrived to celebrate the achievement on their way to securing sixth spot with a big win over Gold Coast.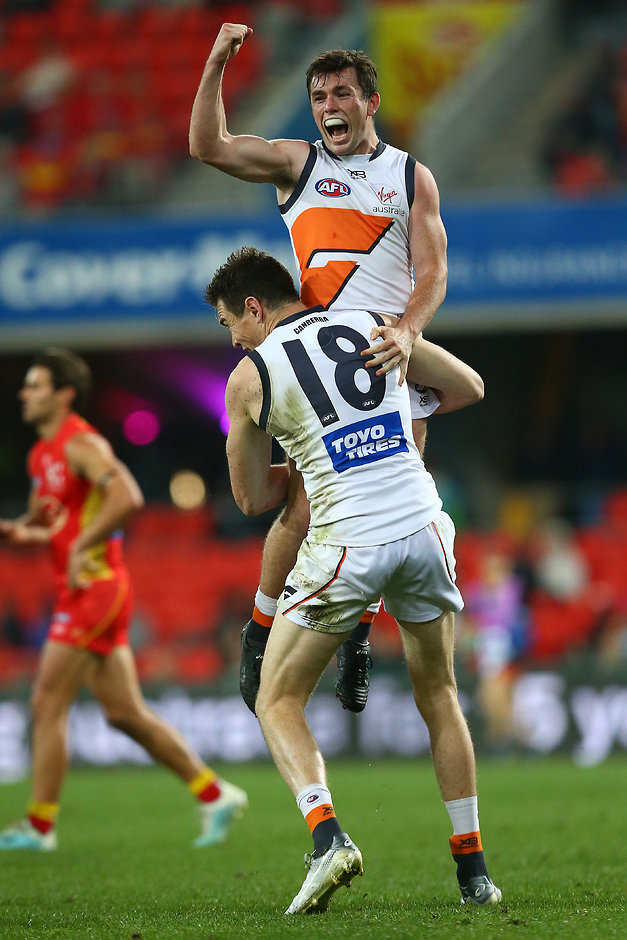 There was more to Daniels' reaction than simply joy for a teammate. Key forward Cameron, 26, and pocket-sized Daniels, 20, share a friendship based around their mutual love of fishing, golf and country life given both hail from country Victoria. (Daniels is from Swan Hill in the north-west and Cameron is from Dartmoor in the south-west).
"Before the game we had a joke about how Jeremy had to kick seven to win it – and he kicked nine," Daniels, the round 23 NAB AFL Rising Star nominee, told AFL.com.au.
"It was a special moment when he kicked that goal. It was well deserved and I'm so happy for him."

The pair have had plenty of fun together off the field since Daniels joined the Giants as the No.27 pick in the 2017 NAB AFL Draft.
"Jeremy's a great fella and I've been lucky enough that he's taken me under his wing," Daniels said.
"We're country boys and we have similar interests so we just naturally clicked. He's got a nice boat so he always takes me out for fishing sessions, and we also play golf together.
"It helps on the field too when you're a young bloke and you've got someone like Jeremy who's backing you in each week."
Brent Daniels gives the Giants a spark! #AFLTigersGiants pic.twitter.com/cHI400YVMs

— AFL (@AFL) July 14, 2019
Cameron should also be grateful to his little mate for his contribution to his competition-high tally of 67 goals this season.
"I've given Jeremy a few goals this year and I let him know that too. But when he's running onto that left boot it's hard not to give it to him," Daniels said.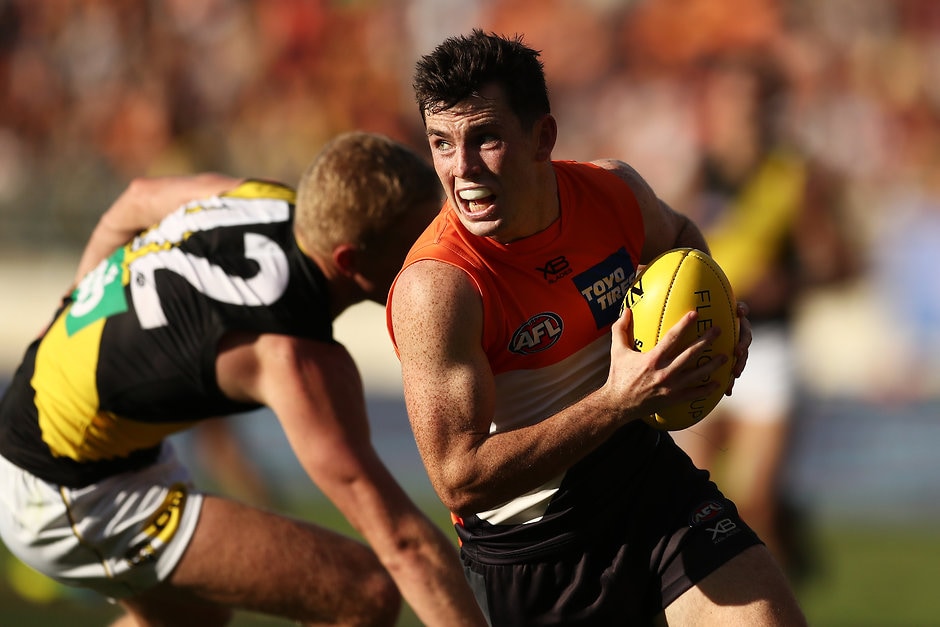 Plenty of other Giants have received similar service from the unselfish second-year player, who has blazed 9.16 but has compensated by being equal-third in the AFL for goal assists with 22, behind only teammate Harry Himmelberg (26) and Geelong's Tom Hawkins (24). This statistic goes some way to highlighting Daniels' impressive vision, decision-making and disposal efficiency.
"I haven't kicked as many goals as I would have liked personally but I'm happy to give them off to other boys in better spots, which is probably even better than kicking them yourself," he said.
Brent Daniels puts on the jets!#AFLGiantsFreo pic.twitter.com/Zk773hLlQX

— AFL (@AFL) April 20, 2019
"I didn't even know about (the stat) until a couple of weeks ago when (Himmelberg) mentioned it to me. We've joked about it. I've been trying to chase him down but unfortunately I haven't got there yet."
Daniels' first pre-season with the Giants was ruined by a knee injury that required surgery, but he broke into the senior side in round 16 and played seven successive games but lost his spot before the finals.
Daniels, whose father Greg played five games for Collingwood in 1986, finally completed the first full pre-season of his career. (Until he was drafted he'd play cricket in summer.) The continuity has been invaluable. He hasn't missed a game this year.
"I'm much fitter and stronger this year and my confidence has grown as the season has progressed," he said.
At just 170cms, Daniels is the second-shortest player in the AFL. However, the fierce competitor doesn't see it as a shortcoming.
FINALS FIXTURE REVEALED Who plays who in week one
"When I was younger people would say, 'You're probably going to be too small (for AFL)'. But Dad always told me, 'It shouldn't be an issue if you bring your best effort'. I've always taken that with me and it's held me in pretty good stead," he said.
"I've always been small, even as a junior, so I've always had to be pretty hard and tackle hard, and that's helped me make the transition to AFL level.
"I don't look at it as a disadvantage; I see it more as a positive because the ball's on the ground more than it's in the air."
Find Road to the Draft on Apple Podcasts, Google Podcasts and Spotify.
Along with Cameron, fellow Giants star Toby Greene has been another teammate to have a significant influence on the youngster.
"I try to pick things out of Toby's game to use in mine. He's also had an impact on my mindset. He says, 'Your height shouldn't matter. The most important thing is how you think and how you go about it'," said Daniels, who is contracted to 2021.
Daniels is set to play his first AFL final when the Giants host the Western Bulldogs in a cut-throat clash at Giants Stadium.
"Second-year players don't often get the chance to play finals so I'm pinching myself. I hardly even played finals as a junior. I started in under-11s and I've only played three or four finals in my life at any level," he said.