MELBOURNE is dangling a three-year deal in front of brilliant Collingwood forward Jamie Elliott as it attempts to lure the goalkicker out of the Magpies.
Elliott has had his fair share of injury troubles, with his hamstrings troubling him in recent seasons, and lined up in 16 games this season.
AFL TRADE HUB All the latest news
He booted 11 goals in the Pies' final four matches of 2019 and was ranked No.7 for tackles inside 50 per match this year.
The Pies met with Elliott on Thursday and the Demons have also presented to the 27-year-old.
Melbourne football manager Josh Mahoney told Telstra AFL Trade Radio he expected a decision from the star Magpie soon.
"He's weighing up all the options that he's got and he's a quality player. He's obviously had an injury-interrupted career thus far but …he's at a very strong club and they've had a lot of success at Collingwood as well. I'm sure we'll find out something about that in the next few days," Mahoney said.
When asked, Mahoney confirmed the length of his club's offer.
"Ours is a three-year deal," Mahoney said.
Elliott didn't manage any games in either 2016 or 2018 after they were wiped out by injury.
Meanwhile, Nathan Jones' decision to step down as captaincy has thrown the leadership race wide open.
Inside bull Jack Viney has been skipper alongside Jones since 2017 and is coming off finishing third in the best and fairest but is no lock to stay on in the leadership position.
"The process we do every year is we'll use pre-season to work through that and generally at about January or February, we'd announce our captaincy and our leadership structure, and that won't change," Mahoney said.
Whether the Dees will have one captain or multiple is also undecided.
"They're the discussions we'll have. We thought it was the right thing at the time to have dual captaincy but it's a conversation that we have nearly every year, is about the benefits of dual captaincy versus sole captaincy," Mahoney said.
INDICATIVE DRAFT ORDER Your club's latest picks
The Demons are bracing to lose speedy tall backman Sam Frost, who has Hawthorn among his suitors.
While they spoke to the 26-year-old about how a new contract would look generally, the Hawks have put forth something more enticing and concrete.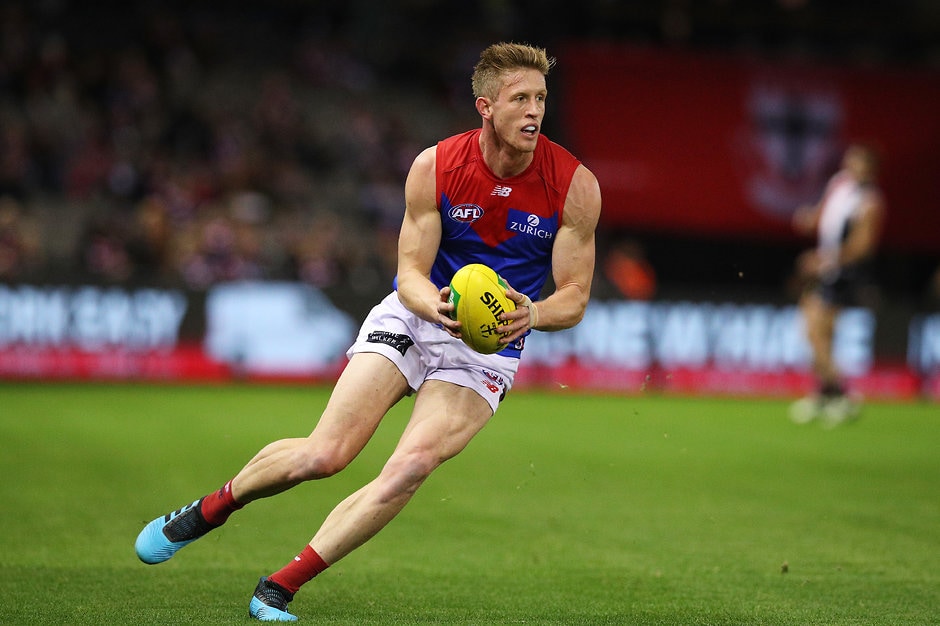 "We had discussions about what an offer would look like. Because we've got a few things happening this Trade Period, we couldn't talk too much in detail, but we said to him this is what the terms would look like and what the years would be…I think Hawthorn's deal is obviously better than ours, currently," Mahoney said.
Melbourne is also in the hunt for unrestricted free agent Adam Tomlinson. Mahoney expects both he and Fremantle wingman Ed Langdon to join the club, although the Tomlinson deal will likely happen first.
"Both players have the best and fairests and exit interviews to go through in the next few days. Free agency opens up today (Friday). If all things go well, we'd expect a Tomlinson deal to be done early next week," Mahoney said.
Despite Angus Brayshaw's struggles to replicate his excellent 2018, Mahoney quashed any thoughts he could be on the way out.
"Angus is going to be staying at the Melbourne footy club," Mahoney said