Andrew Krakouer played 137 games for Richmond and Collingwood, including the 2011 Grand Final. He co-hosts 'Colour of Your Jumper', the weekly AFL.com.au show with Shelley Ware and Mathew Stokes.
Watching The Final Quarter documentary, about Adam Goodes, was an emotional, uncomfortable experience for me. I'm sure it has been for many other people as well, regardless of their background, because the treatment of Adam Goodes in the latter part of his career was just so unfair.
I felt real sadness for 'Goodesy' all over again. He's a legend of our game and a true leader – not just of Aboriginal people but of our society, and not just in football but in life – and yet he was booed mercilessly at games and was also subjected to so many hurtful comments. Adam left the game on bad terms in 2015 and it was heartbreaking. He deserved so much better.
BATTLE WHOOP How Adam Goodes' dance became the core of a whirlwind
Some people weren't ready to hear what Adam had to say. When he pointed out the young girl who racially vilified him in Sydney's game against Collingwood at the MCG in 2013, most people seemed to support him because he stood up against racism and tried to educate people at the same time. The tide turned against Goodesy, though, after he became the Australian of the Year (in January 2014).
The treatment of Swans champion Adam Goodes soured his final AFL seasons. Picture: AFL Photos

Adam just tried to use his status to make a positive difference. He's a very intelligent, educated, articulate man who reached a powerful position and he took that opportunity to speak from the heart about Aboriginal issues, history and culture. He wanted to make things better for Aboriginal people. He also wanted to have our rights recognised in the Constitution. And he tried to do it in a way that provided everyone else with some insight and understanding. He wanted to achieve all those great things – it's what Aboriginal people need – and he did an amazing job. Unfortunately some people found it all too confronting.
There was a bit of a smear campaign against Goodesy. He was almost a victim of his own honesty. He didn't tell lies or fabricate anything – he spoke about history and about facts. But people started questioning whether Adam should have been the Australian of the Year, and whether he should have been talking in such a way after receiving that honour. But he became Australian of the Year by being himself, and he was just continuing to be true to himself.
People prefer to come to things on their own terms, rather than have someone tell them, like Adam did. If they hear something that challenges their own beliefs, often they'll bag it and sweep it under the rug. But it's important for indigenous people to get that acknowledgment and understanding and support to grieve and heal so we can all come together. That's what Adam was talking about.
A lot of people also thought, 'He's just a footballer – I don't want to hear what he thinks about anything else.' So when Adam started talking about these really powerful indigenous issues, a lot of people didn't know how to react, and a lot reacted the wrong way. And leaders who could have had an influence on the situation were slow to react.
People need to ask themselves why they booed Adam. Was it because he pointed out the young girl for making a racist remark? Was it because they thought he was staging for free kicks? Was it simply because they were racist? It could be a number of things, and some people didn't even know what they were booing for. It kept building to a point where it got completely out of control and it started to have a negative impact on people's lives, and especially Adam's.
Some views expressed in the media contributed to the backlash Adam copped. lll-informed and ignorant comments were made by people who seemed too set in their ways to open their minds to other views. They had strong opinions when they hadn't walked in the other person's shoes, so they couldn't empathise. Unfortunately, people in the media have very little accountability for what they say. In this instance a lot of things were said that were out of line and Adam had very little support.
If people hear something that challenges their own beliefs, often they'll bag it and sweep it under the rug."
The media has a huge responsibility, particularly with such big, sensitive issues. Unfortunately, a lot of people take what's said in the media to be gospel, so it's important that there's balance in any debate. Who better to speak about indigenous issues than indigenous people, but I'm not sure enough indigenous people were sought out for their views, which would have provided a more rounded perspective.
If something similar happened now, it would be handled differently. We'd deal with it better as a football community and as a society because we're a bit more enlightened. People seem more aware of their words and actions now and how they might be perceived, and how they have the potential to offend people. If anyone acts in a racist manner now, the AFL and the clubs call it out and take action. And AFL players – not just the indigenous boys – take to social media. More people are willing to stand against it.
WE FAILED ADAM AFL, clubs unreservedly apologies to Goodes
I'd love to see more indigenous people in the mainstream footy media – and I want to be one of them. With all the amazing talent among Aboriginal players and the way they see the game, they can provide something different with their knowledge of the game and of just being an indigenous person.
Andrew Krakouer (left) with 'Colour of Your Jumper' co-hosts Shelley Ware and Mathew Stokes.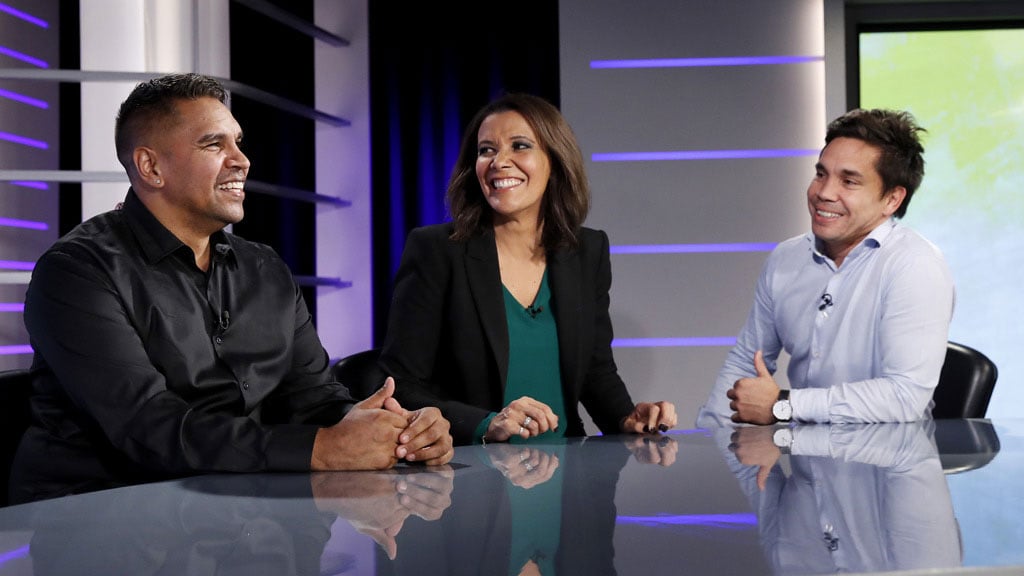 To see (former St Kilda and Brisbane star) Gilbert McAdam get a gig with Channel Seven is inspiring. I really look up to Gilly – he's a legend. It raises the prospect that a pathway might also be there for someone like me.
That pathway was non-existent when Dad (former North Melbourne and St Kilda rover Jim Krakouer) played, and even when I played (for Richmond and Collingwood) there weren't any Indigenous voices in the media. On reflection, that's disappointing.
I've become passionate about working in the media. The Marngrook Footy Show gave me a platform and I'm also doing some radio and The Colour Of Your Jumper show with (former Geelong player) Mathew Stokes and Shelley Ware on AFL.com.au. I'm learning and improving and I want to see where it takes me.
The documentary special 'The Final Quarter', about the last years of Adam Goodes' career, airs in Australia on Thursday, July 18 on Channel 10.
You can watch the latest episode of 'Colour of Your Jumper' here.
Read more
SOMETIMES YOU'VE GOT TO STEP UP How Michael Long found his vision