THIS WEEK, 18 women with varying sporting backgrounds from around the world will descend on Melbourne with just one aim in mind.
To win an AFLW rookie contract with the competition's 2018 premiers, the Western Bulldogs.
Bulldogs coach Paul Groves and key defender Lauren Spark (who played football while living in London) have developed the 'Crosscoders' program in conjunction with international Australian Football bodies.
After a week of intensive training, testing and classes starting on Saturday, one player will be offered a rookie contract. The women can also nominate for the NAB AFL Women's Draft on October 23 if they choose to do so.
Eight of the women are Gaelic footballers, with other sporting backgrounds including gridiron, rugby union, netball and even camogie, the female version of the Irish sport of hurling.
Some have played and learned Australian Football overseas, including American April Lewis.
The 28-year-old only picked up the sport in April last year, but has quickly fallen in love with it, playing for the Seattle Grizzlies in the American domestic competition.
She was approached at a gym and asked if she was interested in trying out football, a sport she knew nothing about.
"I went out with the Seattle club, had a kick and it was just the most interesting sport I had stumbled upon," Lewis said.
"I grew up playing a variety of sports like soccer, volleyball and lacrosse … and then when I went to college, all the team sports went out the window, because I was on a full athletics scholarship to run cross-country and track.
"Aussie Rules is a combination of all of the strengths I used to utilise playing ball and field sports. I'm an aggressive person, and it being a full-tackling sport is something else I like."
Lewis contests the ruck. Picture: Dan Wix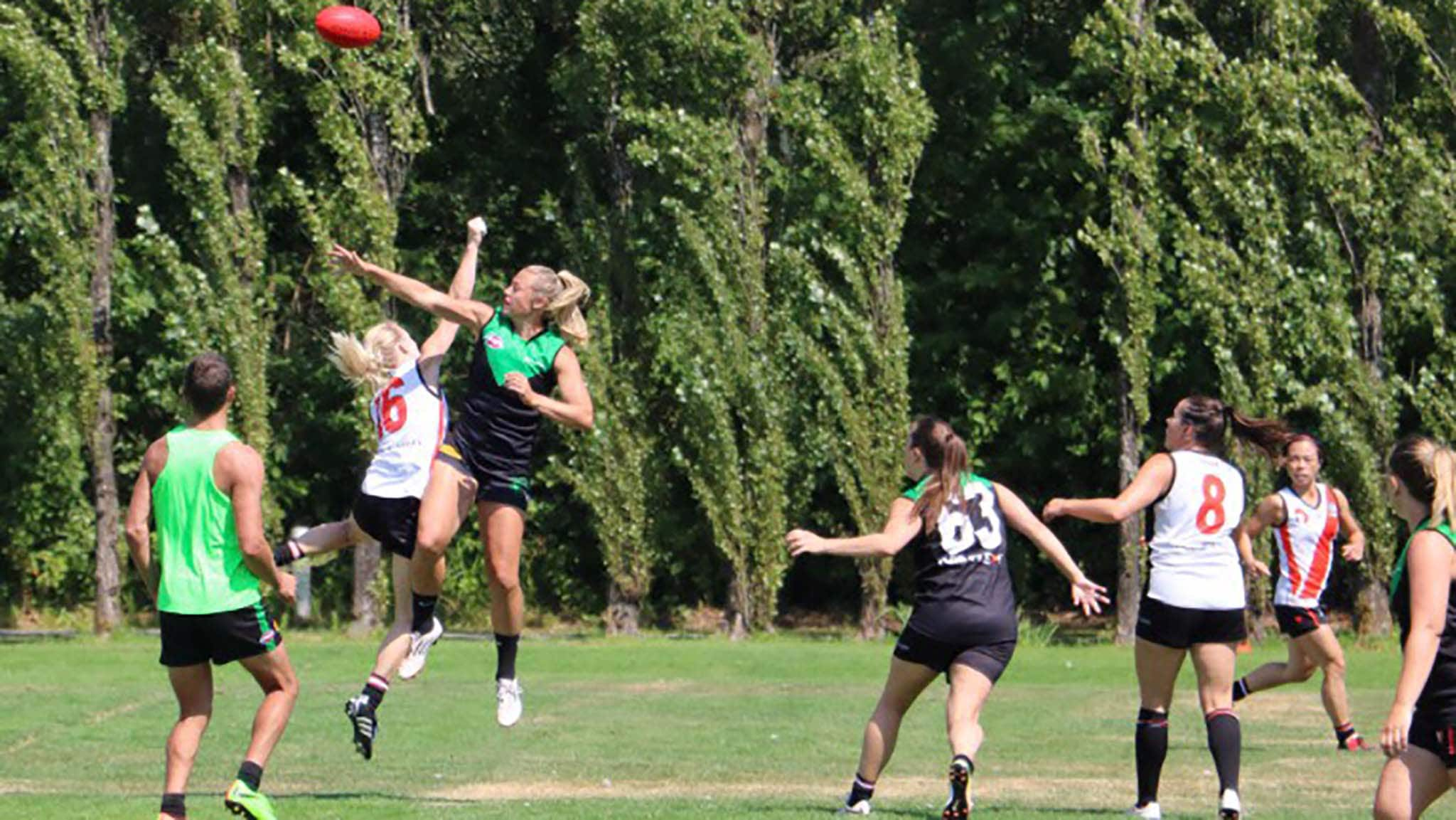 The 177cm Lewis is a ruck but is prepared to move to another position if she's considered undersized in Australia.
"For the Seattle Grizzlies I ruck, but one of the first articles (USAFL media manager) Brian Barrish wrote about me, he interviewed one of the girls on my team and she said I was 'Very short for a ruck, she might win a few taps'. I remember reading that and being upset and wanting to win every single tap, because 'short for a ruck' really rubbed me the wrong way," she said with a laugh.
"I'm a very competitive person and I definitely am short for a ruck. Every person I play against has two to three inches (five to eight centimetres) on me at the very least, and I think I win 90 per cent of the tap outs."
Lewis also attended Brisbane's recent rookie talent search day.
"It was good to get some nerves out, have a run and do some skill work. It was a really warm day and coming over from our summer, I had a bit of an advantage compared to some of the other girls who seemed to be struggling," she said.
"I had a lot of fun challenging myself and playing in a new environment … by the end of the day it felt like everything went really smoothly.
"I'm a Lions fan, so I go on their website a bit. I saw they had an open call, I applied, then it was on an invite-only basis after the application.
"Because I was already planning on coming to Melbourne, I figured I'd make the most of the opportunity and swing by Brisbane."
Off the field, Lewis works in bioinformatics (software development for biology) and as a personal trainer.
"I've put everything on pause to come here and all my energy and effort into this to see what comes of it. I'm in the mecca of footy, Melbourne, and I'm really excited I've been invited to be part of that," she said.
PLAYERS TAKING PART IN THE CROSSCODERS PROGRAM
Canada
Nicola Kirwan, 30 years old, Etobicoke Kangaroos (Australian Football) and Northern Lights (national Australian Football team)
Fiji
Matelita Tuilevuka, 24, AFL Fiji
France
Coline Duquet, 25, Darebin Falcons, Paris Cockerelles and European Crusaders
Ireland:
Muireann Atkinson, 21, O'Neill Shamrocks Gaelic Football
Ailish Considine, 26, Clare Gaelic Football and AFL Ireland West Clare Waves
Mairead Coyne, 29, Ireland's national rugby union and handball teams
Aisling Curley, 24, Moorefield GAA club and Kildare Gaelic Football Association
Eimear Gallagher, 18, Red Hughs Gaelic Football
Amanda Maginn, 26, St Kilda Sharks and the Irish Banshees (national Australian Football team)
Aisling McCarthy, 22, Tipperary Gaelic Football
Yvonne McMonagle, 31, Donegal Gaelic Football
Mary Ryan, 30, Tipperary camogie (hurling)
Aishling Sheridan, 22, Cavan Gaelic Football
Fiadhna Tangney, 17, Kerry Gaelic Football
UK
Frankie Hocking (England), 29, Newton Breakaways (Sydney) and Great Britain Swans (national Australian Football team)
Nia Jones (Wales), 25, Welsh national netball and soccer teams
USA
Amelia Kahr, 26, Seattle Grizzlies and gridiron
April Lewis, 28, Seattle Grizzlies and athletics