JASON Carter wants to put his home town on the AFL map, and the Wyndham dasher has been soaking up words of wisdom from Fremantle stars Michael Walters and Bradley Hill to help him do it.
A member of Freo's Next Generation Academy, Carter could become the first player from the club's Kimberley catchment zone to graduate to the senior squad via the NAB AFL Draft.
NAB AFL DRAFT HUB Latest news, video and more
The Dockers have nominated the 18-year-old, meaning they have first right of refusal on him in the draft, and he is just weeks away from finding out if he will get to the club he has grown up supporting.
It would be a special moment for Carter, who left home behind as he entered his teens and moved roughly 3000km away to study at Aquinas College and pursue football in Perth.
PHANTOM FORM GUIDE Cal Twomey's latest update
But it would also mean plenty to family and friends from his small community of about 800 people if he followed in the footsteps of other Kimberley products like Sam Petrevski-Seton and Cedric Cox by hitting the big time.
"If I were to get drafted, I'd be the first one from Wyndham. I contact my parents nearly every day and they tell me how Wyndham is very excited," Carter told AFL.com.au.
"Pretty much everywhere they go someone is asking how I am, how's footy going and all that.
"It would mean the world to them and put Wyndham on the map (if I was drafted)."
It has already been a big year for Carter, who was moved to Fremantle's WAFL-alignment outfit Peel against original club Claremont's wishes in February in a bid to fast-track his development.
The arrangement saw the athletic 182cm wingman move in with a Dockers host family and work closely with Tendai Mzungu, who rejoined Freo from a stint at the Giants late last year to head up the club's academy program.
BEST OF THE BEST Combine's standout performers
Carter and Mzungu have been in almost daily contact since, with the 102-game former Docker offering guidance on nutrition, strength and conditioning and skills.
"He's a good bloke and he's awesome as a coach. He gives that insight of what it takes to be an AFL player and ways to get there," Carter said.
"(My professionalism is) definitely a big difference from when I first started to where I am now."
INDICATIVE DRAFT ORDER Your club's latest picks
In addition to his own knowledge, Mzungu has called on triple-premiership ex-Hawthorn wingman Hill and gun mid-forward Walters, whose career almost ran off the tracks when he was banished to Swan Districts for being overweight in 2012.
"Hearing stories from them and from when 'Sonny' (Walters) first started, the struggle he went through to what he had to do to stay on the list, he shared that with me and then guided me as well to stay on the straight and narrow path," Carter said.
Carter at the WA State Combine. Picture: WAFC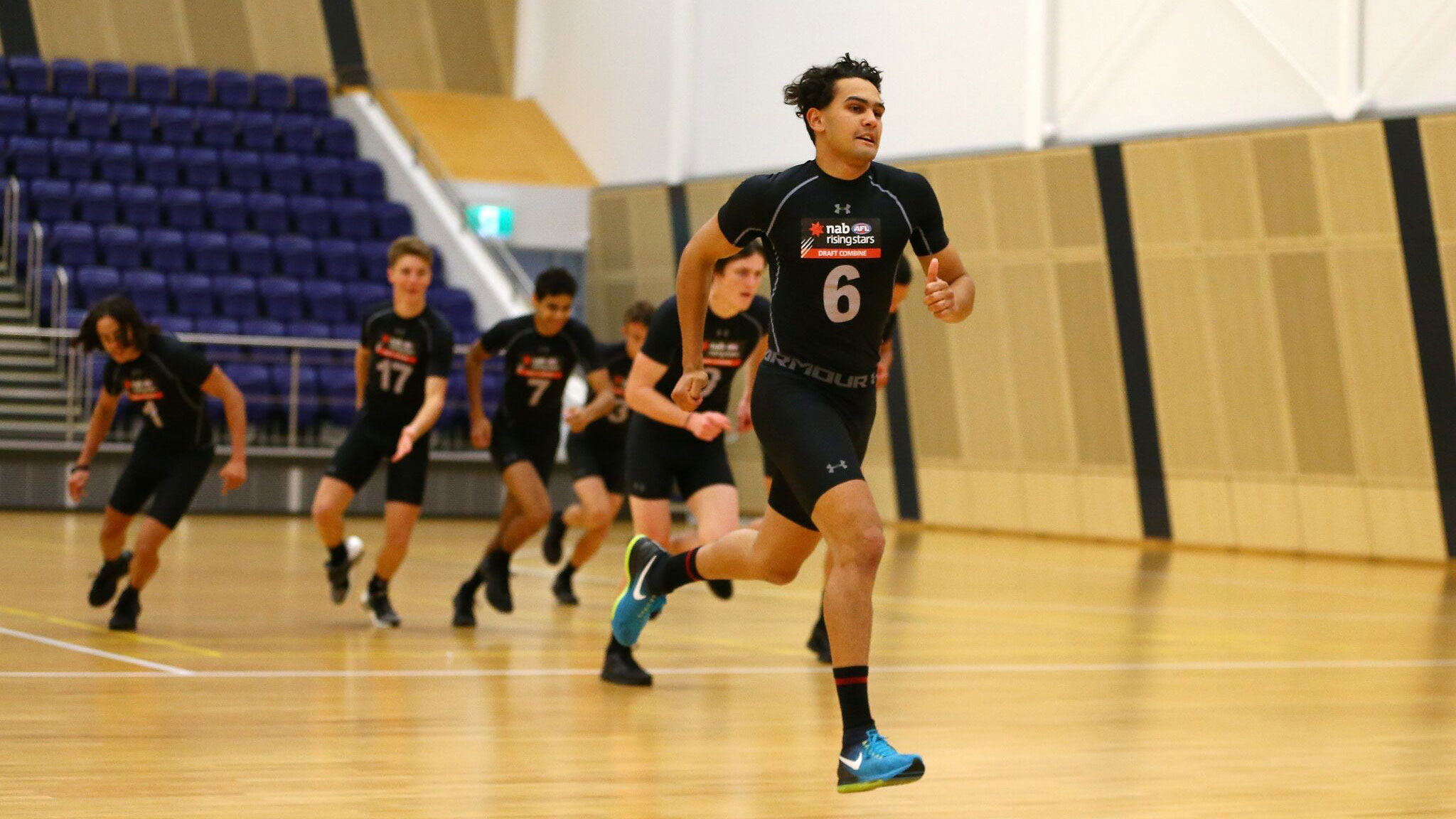 Carter rose to prominence at the under-16 national championships two years ago when he was named All Australian and booted a stunning five-bounce goal after taking possession on the defensive side of the wing and setting off on an 80m dash.
His 2017 was ruined by a serious knee injury suffered in WA's final trial match, and it took some time to adjust after returning this year at a different WAFL club.
WHO'S LEAVING YOUR CLUB? All the latest retirements and delistings
In an up-and-down campaign, he averaged nearly 16 disposals for Peel's colts, with his 20 touches in a qualifying final loss to Swan Districts a highlight.
"I thought my season was a bit on and off coming from my knee injury last year and having (almost) the whole year off. I thought I played the best I could," Carter said.
"It was a big difference going to a new club, new environment, new coaching staff, new players and being able to trust in the players and them to trust me as a player on and off the field.
"I thought it was pretty good once I got settled in and got to know everyone."
Blessed with pace (he ran a 2.87-second 20m sprint at the WA State Combine) and a sizeable leap (90cm running vertical jump), there is no denying Carter's raw attributes, even if he has some rough edges to refine.
"He's a funny one. He's a kid that I reckon can be a very, very good AFL player, but he could be one that could be on a list and gone in two years," WA under-18s coach and ex-Freo assistant Peter Sumich told AFL.com.au
"His run, speed and carry is at a high level, but he fumbles. If he can correct that, I think he can be a very good player.
"He's harder than what I thought as well. He doesn't mind winning the contested ball and hitting some bodies, which is a good sign for a player that can run and carry like he can.
"I'd be taking a punt on him if I was Fremantle."
Carter, who models his game on versatile Swan-turned-Cat Gary Rohan, has his fingers crossed he will live his dream when the draft is held on November 22 and 23.
"When I was little kid I watched football every weekend and kept telling my parents 'I'm going to be on TV', and they kept pushing me and pushing me to do my best," he said.
"They got me down to school and I spent five years at Aquinas and from year nine onwards footy started getting a bit serious.
"I was thinking to myself I can take it to the next level, keep improving and hopefully now I'll make it on a list."