Some say Mel Whinnen had a habit of doing just that: winnin'.
The West Perth champion is revered for winning a WAFL-record nine best and fairests as a centreman; selection in a league-record 371 games; four premierships (including the Simpson Medal for best-on-ground in the 1975 triumph); the most Sandover Medal votes under the old 3-2-1 system without claiming a medal (he was twice runner-up and was also fourth and fifth); universal respect for his brilliance, tenacity, durability and scrupulous fairness; and an MBE for services to football (in 1976).
Yet the modest-to-a-fault Whinnen, one of the game's gentlemen, doesn't feel worthy of his induction into the Australian Football Hall of Fame.
"I'm surprised I was even considered," Whinnen, 75, told the AFL Record.
"It's very special, and it's beaut for my family and my club."
Broadcasting great Dennis Cometti, a teammate of Whinnen's in 1967-68, compensates for his modesty.
"Mel has probably been the best player at one of the two most famous clubs in Western Australia," Cometti said.
Allan Melvyn 'Mel' Whinnen learned his ball skills from his father Allan snr, who had played for West Perth's crosstown rival East Perth but soon changed allegiances to follow young Mel.
"I was a local West Perth boy, I loved the club and loved watching my heroes play - and then I got to play with them. How lucky was I?" Whinnen said.
At 17, Whinnen progressed through the colts (under-19s) and the reserves to the seniors, where he sat on the bench in a premiership side.
Cometti highlighted that newspapers named Whinnen among West Perth's best three players in 13 of his next 21 finals.
"Mel was a wonderful player who had this Ablettesque quality where he'd be running full pelt with the ball and stop suddenly and go the other way, and it would throw everyone out. I've only seen three or four players do that," Cometti said.
To stop Western Australian champ Mel Whinnen, first you had to catch him. All pictures: AFL Photos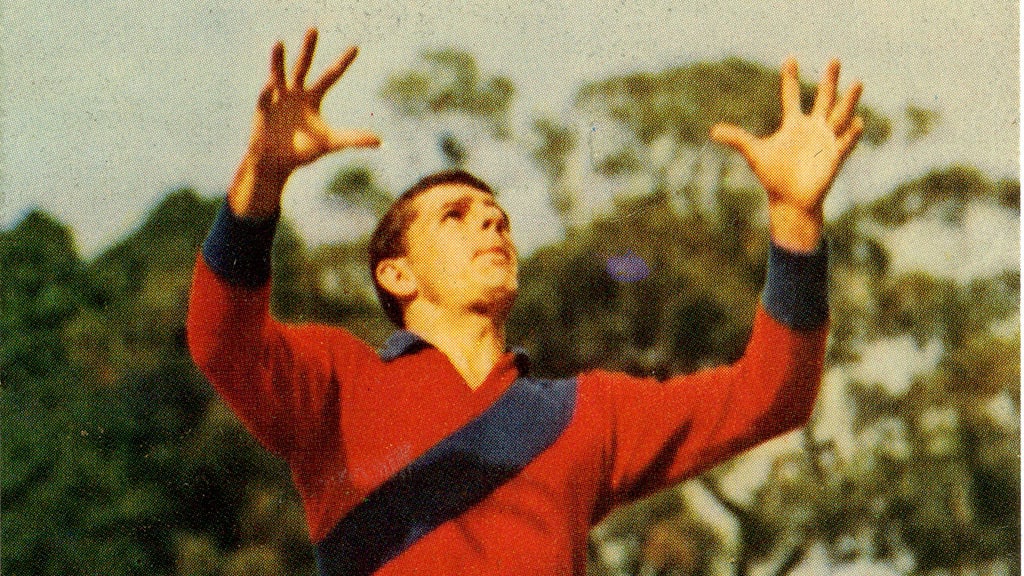 Whinnen, who earned the nickname 'Slippery' for his electrifying speed and elusiveness, suggested in typically self-deprecating fashion: "Perhaps it was fear that helped me run quicker to get away from players who wanted to tackle me."
Whinnen's duels with East Fremantle's superstar centreman Ray Sorrell were much anticipated. Cometti, a childhood East Fremantle and Sorrell fan, believed they would have broken even. Whinnen isn't so sure. He has enormous respect for Sorrell.
"East Fremantle are the wharfies, the tough nuts, so I couldn't believe it early on when Ray actually helped me with some advice on the field," Whinnen said.
Whinnen says he was in his prime during the legendary Graham 'Polly' Farmer's stint as West Perth's captain-coach from 1968-71 when the club won two flags and Whinnen claimed three best and fairests.
He credits much of his success to the heavy work of Farmer and, in particular, fellow ruck great Bill Dempsey.
"Bill and I were like brothers - we knew one another like the backs of our hands," Whinnen said.
Whinnen attributed his longevity to training hard and good fortune in avoiding injuries, although he was once sidelined after getting a finger caught in a lawnmower.
Getting to training was never an issue, either, given Whinnen worked nearby with the WA water authority.
Mel Whinnen

| | |
| --- | --- |
| Club | West Perth |
| Born | October 6, 1942 |
| Recruited from | Perth Boys High School |
| Playing career | 1960-77 |
| Games | 371 |
| Goals | 72 |
| Player honours | 2nd Sandover Medal 1964, 1971; best and fairest 1962, 1964, 1967, 1968, 1970, 1971, 1972, 1973, 1975; premiership team 1960, 1969, 1971, 1975; Simpson Medal 1975; West Australian representative (14 games, 1 goal); captain 1977; West Australian Football Hall of Fame |
There were overtures from Victorian clubs, including a lucrative offer from North Melbourne in the mid-1960s, but he never entertained the idea.
In the summer of 1963-64, the then engineering student did several months' work experience at the Shell refinery in Geelong but didn't like the cooler climate.
Whinnen was also deterred by the mud he encountered on the MCG in a couple of state games against Victoria.
"I was pretty happy with life in Perth. Family, work and footy all fit together well," he said.
WHO'S IN THE HALL OF FAME? Find every legend and inductee