JEREMY Cameron will miss the next five weeks after the Greater Western Sydney star copped a hefty suspension from the AFL Tribunal for his crude strike on Brisbane youngster Harris Andrews.
Cameron pleaded not guilty to striking Andrews intentionally, arguing that his hit on the defender should be graded as the lesser charge of careless.
However, after 33 minutes of deliberating, the Tribunal upheld the view that his strike was intentional and ruled the Giants forward ineligible from playing until round 20.
"I'd just like to say I didn't mean to hurt Harris," Cameron said afterwards.
"Unfortunately, I did. I'm very sorry for that and I hope he gets back to playing football very soon."
Cameron caught Andrews flush with a forearm to the head on Saturday, in an incident that left the Lions defender with a severe concussion and a "small bleed" on his brain.
LION HOSPITALISED Andrews suffers bleeding on the brain
The incident had been referred directly to the Tribunal by Match Review Officer Michael Christian on Monday, graded intentional conduct, high contact and severe impact.
However, Cameron rejected the suggestion that the hit was intentional.
He argued that he couldn't brace for contact with Andrews without raising his elbow, saying it was his intention to spoil the ball – and that he was in the action of spoiling – until the moment the young Brisbane defender made contact with the footy.
Jeremy Cameron collides with Harris Andrews on Saturday. Picture: Jono Searle, Getty Images/AFL Media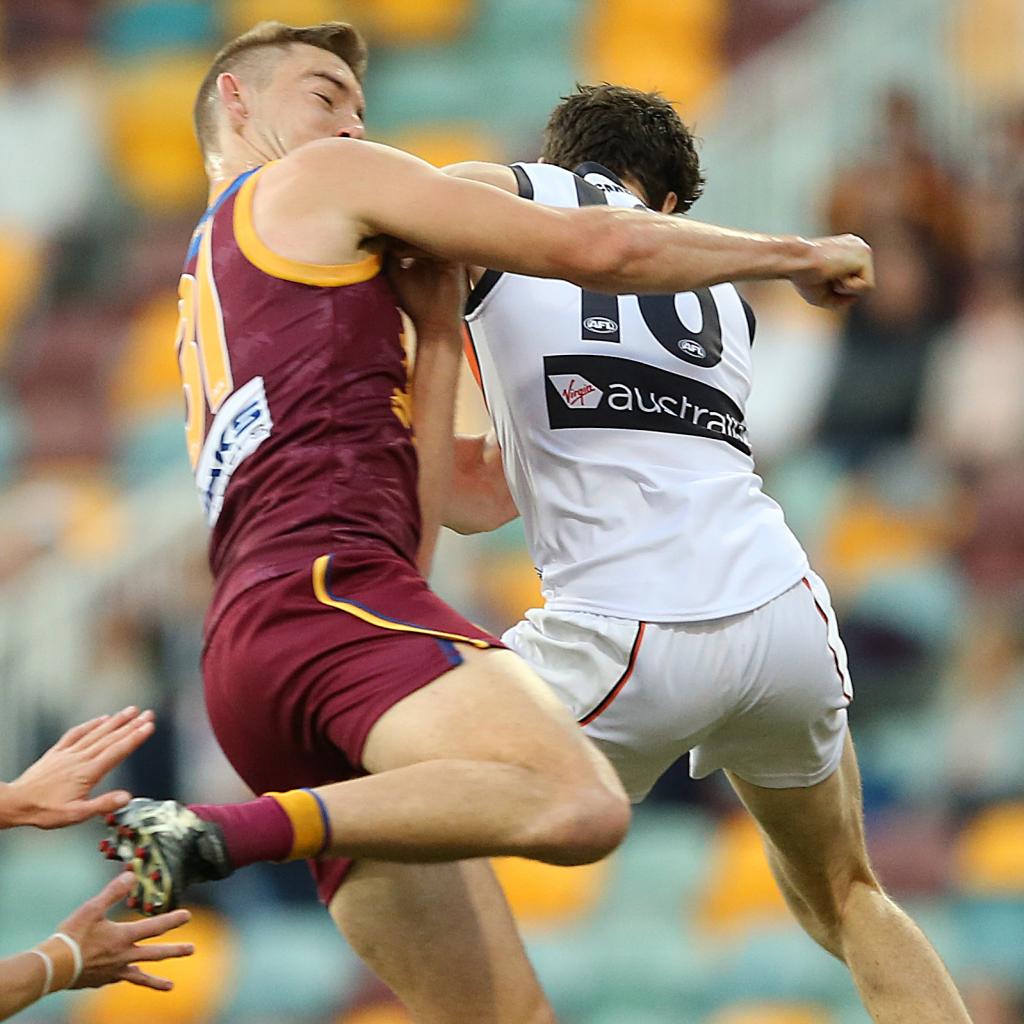 In making that point, Cameron's representative Rob O'Neill gave the members of the Tribunal a document with frame-by-frame images of the incident. He argued that Cameron had 6/50ths of a second to brace for contact after Andrews executed his spoil.
Having eventually been found guilty after a marathon hearing, AFL legal counsel Nick Pane QC argued that a minimum sanction of six matches should be appropriate for Cameron, while the O'Neill suggested a four-week ban.
After another short deliberation, the Tribunal settled on a five-week suspension, ruling Cameron out of games against Hawthorn, West Coast, Richmond, Port Adelaide and St Kilda.

"I think it was a fair hearing," Cameron told reporters.
"Like I said, my main concern is around Harris and his family. I'm sure it caused them a lot of stress over the past few days. I'm looking forward to seeing him back on the field, where he belongs."
Cameron had earlier revealed that he apologised to Andrews after the game and then again the next day, saying he "felt sick" about the way things had panned out.
He was flanked by Giants footy boss Wayne Campbell, CEO Dave Matthews and his manager Alex McDonald during the hearing.