COLLINGWOOD captain Scott Pendlebury says the finger injury that sent him to hospital for scans is "only minor", allaying fears of a significant setback to his pre-season.
Pendlebury sat out the second half of Australia's win over Ireland in the first Test of the Virgin Australia International Rules Series after suffering a finger injury to his left hand.
But the news wasn't so good for Gold Coast and Ireland midfielder Pearce Hanley, who is nursing a broken hand in a costly aftermath to Ireland's 10-point loss at Adelaide Oval.
It was Pendlebury's first game since he broke the middle finger on his right hand against the Suns in round 17 this year, forcing him to undergo surgery and miss the rest of the season.
However, a relieved Magpie skipper confirmed on Twitter that the injury wasn't significant.
"Only minor little injury tonight! Great to get the result tonight, loved pulling on the jumper," he tweeted late on Sunday night after receiving results of X-rays on his finger.
The news confirmed Australia coach Chris Scott's earlier suspicion that Pendlebury hadn't suffered a major blow.
Match report: Fyfe stars as Aussies go one-up in IRS
"He has been sent for X-rays, but I'm not sure of the outcome just yet," Scott said at the post-match media conference.
"I think it's probably a tomorrow thing before we can confirm it.
"As soon as there was any possibility of an injury there, we pulled him from the game.
"My understanding is it's at the top of his finger, (hopefully) it's not a serious one, but you never know.
"He finished last (season) with a finger injury that was a little complicated, expected to miss a game, ended up missing four or five.
"It's on his other hand."
Only minor little injury tonight! Great to get the result tonight, loved pulling on the Aus jumper.

— Scott Pendlebury (@SP_10) November 12, 2017
Is this the moment Scott Pendlebury injured his finger? Picture: Getty Images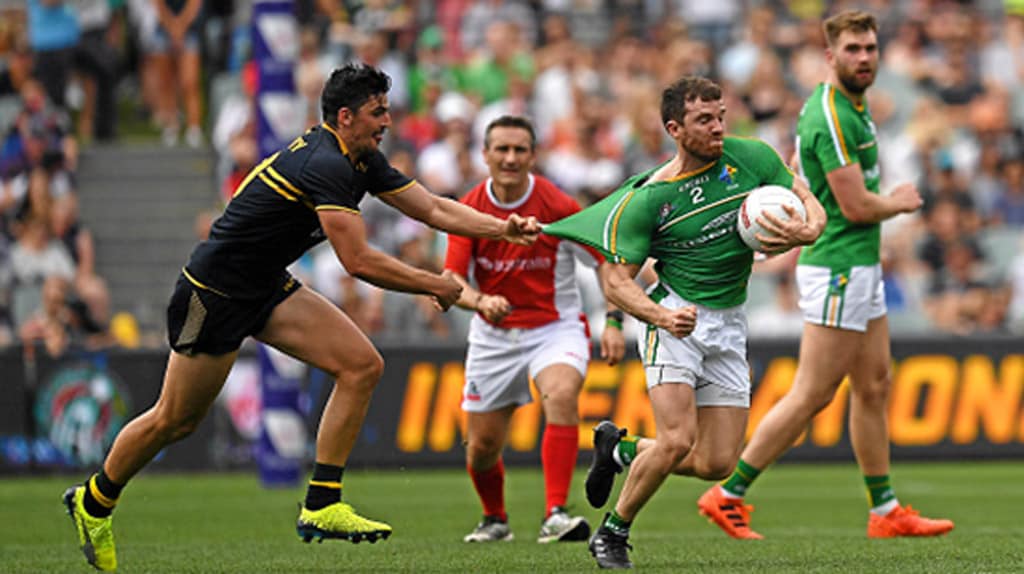 Hanley also left the game in the second quarter and Ireland is already resigned to being without him for the second Test in Perth on Saturday.
"Pearce is out, unfortunately," Ireland coach Joe Kernan said.
"Disappointing for Pearce and disappointing for us, so hopefully we get somebody out in the next day or two.
"The doctor thinks at the moment it's a broken hand, so that's him gone unfortunately."
Scott knows the injury to Pendlebury will raise questions about the future of the International Rules Series.
"It's clearly something that's on our minds, and I'm sure it's on the minds of the Irish as well," he said.
"But if we want the series to work, we've got to continue to push to get the best players out there.
"To a man, this is my third series now, every player that's been involved has just loved the experience.
"There would be a little bit of surprise among those who haven't been a part of it as to how passionate our guys are.
"As far as I can tell, the series has the support of the clubs and the best players, I think it's got a really bright future."
Scott confirmed Cats captain Joel Selwood (ankle) would be fit for the second Test in Perth on Saturday night.
"I was a little bit tight, my preparation was a little slower than the boys after the season," Selwood told Channel Seven.
"Off the back of the ankle injury towards the end of the season, it was a little bit of a limp in.
"I'm feeling pretty good with the training.
"I get another week of training heading into next week, which I look forward to playing."