HE IS one of football's most intriguing figures who has polarised opinions and led success-starved clubs St Kilda and Fremantle to the brink of premiership glory.
And on Saturday night, Ross Lyon will take charge of his 250th match when the resurgent Dockers face the Crows at Adelaide Oval.
While Lyon has fallen agonisingly short of the ultimate success, his 61 per cent winning record (153 victories) and four Grand Finals – three at the Saints – is testament to his coaching ability.
As much as Lyon's tactics and game-style has stirred debate over the years since he took charge of St Kilda in 2007, his media performances have fascinated fans in equal measure.
To mark his 250th match in the coaches box, AFL.com.au has compiled some of Ross the Boss's most memorable quotes.
"I sit here very comfortable with my integrity and my honour." - after defecting from St Kilda to join Fremantle in 2011.
"That's the best question you can come up with after two hours of footy? You're quite brilliant, Shane. Yep, terrific." – responding to a question about Fremantle's physicality after a feisty 2013 qualifying final victory over Geelong.
"I tell them it's (the Grand Final) another game. Tonight was round 26." – his message to the players after Freo reached the first and, so far only, Grand Final in club history by defeating Sydney in 2013.
"He's like (the racehorse) Might and Power - just give him a tickle on the ribs and away he goes." – on Matthew Pavlich.
"You can't just roll along and all have a milkshake and pretend everything is hunky-dory when you're not giving us output." – after a seven-point win over Collingwood in 2015 improved Freo's record to 11-1.
"The Eagles could be on the moon. They don't interest me at all." - ahead of 2015 finals series when Fremantle finished on top of the ladder and West Coast was second.
"I don't sit here and think I'm a genius. Clearly my fundamentals are strong and we win, but we need to improve to achieve the ultimate success." – speaking last pre-season after he was recontracted until the end of 2020.
"We don't rebuild but re-stump, we re-wire, we re-plumb." - after the Dockers slipped to 0-5 last season following a home loss to lowly Carlton.
"The Bulldogs went into a finals series (last year) with the 12th ranked attack and were the sexiest team alive." – in response to a pre-season question about needing to change his method towards a more attacking style.
"You can't head down to Hay St and buy confidence, can you? There's no confidence shop." - on Shane Kersten's fumbly start as a Docker in round one.
Ross Lyon chats to David Armitage after drafting him to St Kilda in 2006. Picture: AFL Photos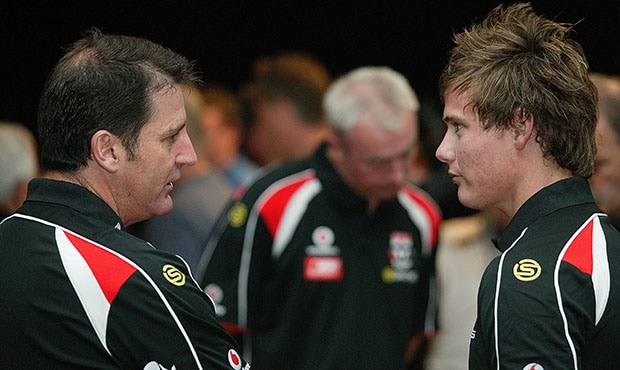 And as for some of Lyon's favourite phrases (or 'Lyonisms') …
"I'll let the cobblers do the cobbling."
"We support the person and challenge the behaviour."
"We're a no excuse football club."
"Failure is feedback."
"Anyone, anywhere, anytime."
"It's not ideal."
"I left my crystal ball at home."
"I feel like I've already answered that question."
"It's an opinion business."
"Is that fair and reasonable?"
"Action builds confidence"
"There's no magic here, it's all about unrelenting action."
"It's never as bad or as good as it seems."
"There's no witch-hunt here."
"I don't have the luxury."
"I don't flush anything down the toilet."