DARCY Fogarty hasn't always been the big, burly prospect that lays heavy tackles, hits the ball at pace and has a presence whenever he's around the play. Even though we have to go back a fair way to find it.
The South Australian, who has emerged as a possible top-five pick at this year's NAB AFL Draft, grew up in Lucindale, a small town of approximately 400 located three-and-a-half hours out of Adelaide.
When he was eight, he started playing for the under-14s side.

"I probably wasn't too flash. I was a fair bit smaller than everyone then," he told AFL.com.au.
Fogarty eventually caught up with his own age class, but then started playing twice a day: one in his own group and then against the older boys. He made his senior debut for the Lucindale Roos as a nervous 15-year-old, something he had aimed towards since he started to train with the men at 11.
Fogarty's experience then is shining now. The versatile 192cm and 88kg teenager is tough and competitive, not afraid of receiving contact or dishing it out. He can play as a physical midfielder, as a marking and smart half-forward and has even spent time learning what it takes to be a centre half-back. Wherever he plays the same intensity goes with him.
"As soon as we cross the line I get pretty competitive and I'm not a big fan of losing, whether it's one-on-one or the game itself. I get pretty dirty on myself if I do lose," he said.
"I see my strength as a big part of my game, and being able to use it in one-on-one contests, whether it's in the midfield or elsewhere. I couldn't really use my pace to get away from people because I'm not the quickest bloke out there so I've got to use my size."
Darcy Fogarty flies high during the NAB AFL Academy v Northern Blues match. Picture: AFL Photos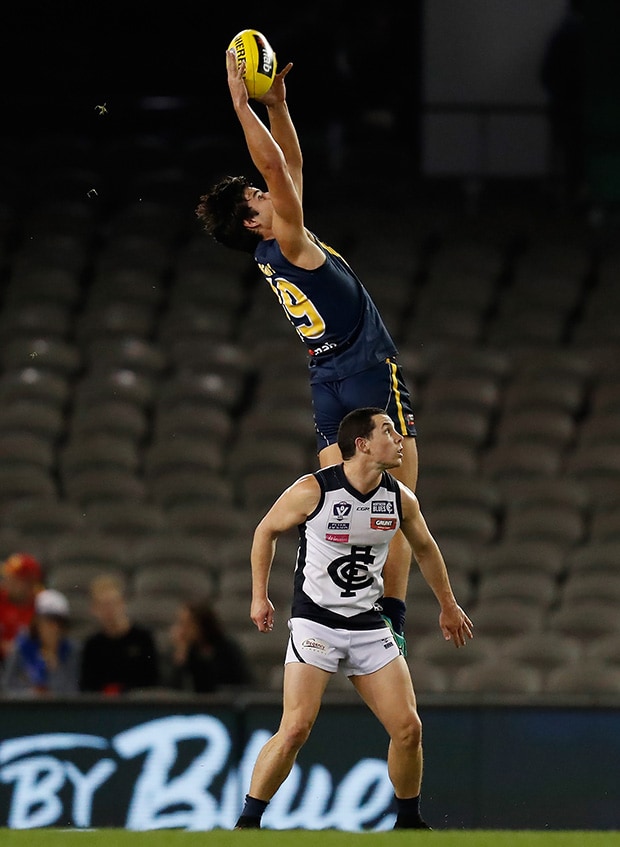 That doesn't make Fogarty one-dimensional. His 17-disposal and one-goal effort in last year's Grand Final curtain-raiser for the NAB AFL Academy earned him best-on-ground honours, and developed an inner confidence to the 17-year-old.
He was a standout on the Academy's training camp in America in January, and was named the Ben Mitchell medallist for the 2016/17 Academy intake last weekend as the player who best represents the program's values. Past winners have included Josh Kelly, Joe Daniher and Jacob Weitering.
Against the Northern Blues' VFL side on Saturday night, Fogarty was one of the Academy players to further his claims: he wasn't intimidated, he laid seven tackles, and took some excellent marks running hard at the ball. He's been moved around a bit this year already but knows where he'd like to make his name.
"I want to play in the midfield this year. I want to try and get a bit fitter so I can run out games more, and be there more in the last quarter," he said.
"I'd like to play in the midfield then rest forward instead of playing the majority of time forward and then going into the midfield for short bursts."
Fogarty has also moved around a little bit already off the field. He lived in Lucindale until he was 15, but always had an eye on moving to Adelaide to pursue his football at a school there.
"I always asked the question but my family could never really afford it. But I was lucky enough that my uncle and aunty offered to pay for my tuition and my boarding at Rostrevor College. It's a great opportunity that they provided me and I'm very lucky. It's led to good things," he said.
The good things look set to keep coming. Fogarty's range of skills and attributes make him an enticing player for scouts, and in a draft that contains a bunch of different types at the top end, his power and explosiveness stand out. Not that he is the type to get carried away by the fuss.
"Obviously it's a good feeling to know everyone has some confidence in you and what you might achieve. It's a bit unrealistic to go that high I think. But obviously people can see a little bit of potential in me and if I can start playing some decent football it might start becoming a bit more realistic to me," he said.
Moving into his school's boarding house has assisted Fogarty's game. He no longer has to travel hours for games, and training with Glenelg, his SANFL club, is a short enough drive.
It took some time to get used to living in Adelaide compared to Lucindale, but he has been won over by the benefits that have come his way because of the transition: the extra time he has to spend on footy, the more care he takes with his education, the fun times with his friends. But he knows Lucindale's lessons won't leave him.
"They're the things that I value most highly in my life: my family and home town. They've done an extreme amount for me and I'm not really doing it for myself anymore, I'm doing it for them," he said.
"If I was to quit now I'd feel like I'd be letting them down and it would be a waste to my family for carrying me around all the time."