COLLINGWOOD great Scott Burns isn't prone to making big statements, so his lavish praise of Scott Pendlebury demands attention.
Burns has observed the Magpies skipper from various vantage points – as a teammate for three years (the last as captain) when he was immediately struck by the then youngster's dedication to improvement; as West Coast's midfield coach for five years (2009-13) when Pendlebury proved almost unstoppable at times; and working with Pendlebury for the past four years as the Pies' midfield coach.
Burns concedes he might have developed some Pendlebury bias – for instance, he can't fathom how the superstar midfielder was overlooked for a sixth All-Australian selection last year, other than to speculate that Pendlebury must have been a victim of his own lofty standards.
However, Burns is emphatic when asked where Pendlebury stands among Collingwood's greatest players.
"Everyone talks about Bobby Rose and Nathan Buckley. Well, Dane Swan should be in that conversation, too – and 'Pendles' certainly isn't behind them," Burns told the AFL Record in the lead-up to Pendlebury's 250th game.
In other words, Burns believes Pendlebury must be the equal of any player in Collingwood's rich history.
It's a significant statement, particularly given Burns' close association and enormous respect for Buckley, his former longtime teammate and now Pies coach, but Burns says no one should be surprised.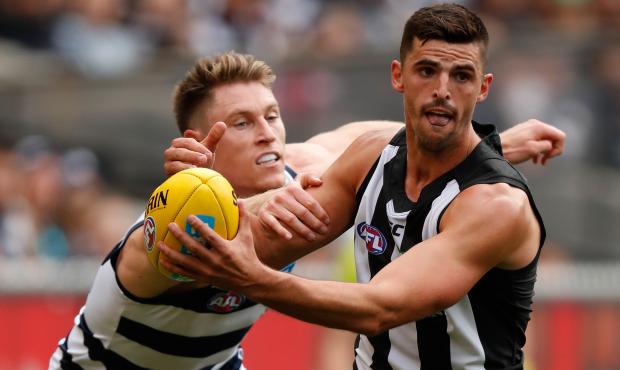 Pendlebury's consistency has been his calling card. Picture: AFL Photos
"It's not (a big call) when you look at Pendles' record – his All-Australians, his best and fairests, Brownlow votes, Norm Smith Medal, and his consistency that's kept him top-three in the comp for his midfield role for eight or nine years.
"His record is the equal of 'Bucks'.
"Different players of course. Bucks could play multiple roles, and Scott could too – we just haven't used him as much in other roles. I'm pretty sure he could be an All-Australian half-back flanker.
"And Pendles isn't done yet either."
His consistency has been such that, only recently, Swans captain Josh Kennedy passed Pendlebury's record for the most consecutive 20-possession games (61) since weekly stats were first recorded in 1965.
And of those who've played 200 games since 1965, only Greg Williams (26.88) and Swan (26.85) average more touches than Pendlebury (26.45).
The 29-year-old has also claimed five Pies best and fairests and is favoured to equal Buckley's club record this season.
Though flattered by Burns' glowing appraisal, the ever-modest Pendlebury is too immersed in the now to even think about it.
"It's like when (president) Eddie (McGuire) talks about the best and fairests – when I'm old and retired I'm sure I'll mention those compliments left, right and centre," Pendlebury told the Record. "But right now, I'm too focused on the next thing to sit back and smell the roses."
It hasn't exactly been rosy for Pendlebury. The Pies have missed the finals in each of his three completed seasons as captain – a trend he still believes they can rectify this season – and he has fought on manfully in this period with various ailments, including leg, shoulder, hip and rib injuries.
He has missed just 12 games since 2007 (his second season).
This elicits further admiration from Burns.
"What's underestimated about Pendles is his incredible toughness – both mental and physical," Burns said.
"He's trained and played with severe injuries when few others would've been able to.
"The only other bloke I can compare to him is (ex-Eagle) Beau Waters, who could've starred in Monty Python movies because he could've had limbs cut off but he'd just see it as a flesh wound."
On this front, Pendlebury explained he was driven by both the privilege of playing AFL football and a fear of letting his team down.
"There's been a few games where I looked no chance to play early in the week, but I got up at the last minute; and at times I've played when I probably shouldn't have, but a lot of AFL players would say the same thing," he said.
"You challenge yourself to see if you can still play your role."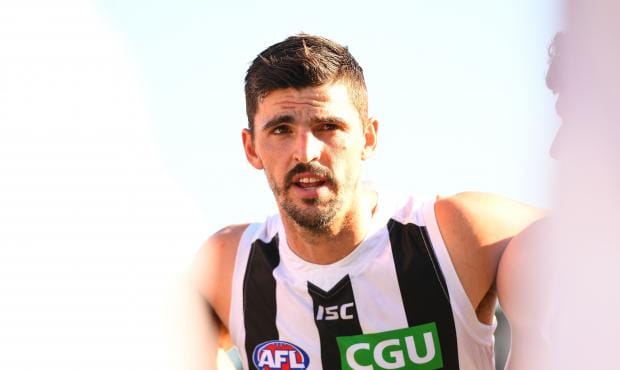 Pendlebury remains optimistic that brighter days are ahead for Collingwood. Picture: AFL Photos
Pendlebury is also renowned for his preparation and professionalism. Pies assistant coach Robert Harvey, the St Kilda great who took gut-running to unmatched levels, once told the Record: "I haven't seen anyone prepare like Pendlebury."
Swan marvels at Pendlebury's capacity to conduct and complete early-morning gym classes at Progression Fitness Club (where Pendlebury and nutritionist wife Alex are part-owners) before arriving at the Holden Centre at 7.30am.
"It's absurd," Swan says, "but that's one of the reasons why Pendles is so good."
Taylor Adams, who shares the Pies' vice-captaincy with Steele Sidebottom, aspires to play and lead like Pendlebury.
"Pendles trains at such intensity that there's no difference between his training standard and his playing standard. He literally trains as he plays," Adams said.
"He puts pressure on himself to use the ball well at training and that's why he uses it so well under pressure in big moments in games."
Teammate Levi Greenwood, an ex-Kangaroo, respected Pendlebury as an opponent and has gained an even greater appreciation of him as a teammate.
"He's ultra-professional, so I wouldn't be surprised if he plays until he's 35 or 40," Greenwood says.
The man himself hasn't even pondered where the finish line might be – he's conditioned to looking no further than a week ahead.
"Body-wise, this is the best year I've had in a few years," Pendlebury said, "so hopefully I won't have to contemplate the end any time soon."
More recently, Pendlebury has been forced to adapt his famously meticulous preparation – but he wouldn't have it any other way.
On May 15, the Pendleburys celebrated the arrival of their first child, a son they named Jax.
Amid the initial whirlwind, the proud new father hardly slept for three successive nights before finally getting a full night of shut-eye on the eve of Collingwood's round nine clash with Hawthorn at the MCG.
"I wasn't sure how it was going to play out, and it didn't look too good halfway through the second quarter when we were getting smacked," he said. "It worked out OK – we won and I played all right – but I was so exhausted that I thought I was going to fall asleep in the rooms.
"I like to stick to my routine because it gives me peace of mind, but now I just make sure it gets done, and it doesn't matter what time it gets done."
Fatherhood has proved a profound experience.
"Little Jax coming into the world has changed my life. My priorities shifted quickly," Pendlebury said.
"Even spending the mid-season break just with Jax and Alex was amazing.
"You celebrate all the little wins – a smile, or anything else he might do.
"It's stopped me being as selfish as I was about myself and my footy. Now it's all about making sure Jax and Alex are all right."
As for the type of father he hopes to be, Pendlebury said: "I want to be a relaxed dad and be someone Jax can turn to with confidence.
"Hopefully he'll see his dad as a loving, caring, good-natured guy."
In many ways, that mirrors how the Pies players view their skipper.
"Most players like being around Pendles because he's a genuinely nice guy who treats everyone with respect, and everyone respects him immensely," Adams said.
"He's found a great balance between being really demanding and also understanding his teammates' personalities and what makes them tick.
"He's so cool and calm under pressure and adversity – he just doesn't let the emotion of the game control him. That's something I've found difficult personally, so it's great to have someone with his personality around.
"Pendles has ambitions to coach and he's already like a coach – on and off the field. He takes on that responsibility to help us improve."
Greenwood was 26 when he played his first game for Collingwood in 2015 and believes he has become a better player under Pendlebury's influence.
"Pendles is a terrific leader, an absolute champion and he knows the game inside out, so when I'm unsure about something or I want to change something in my game, he's the one I go to – and he always has the right answer for me," Greenwood said.
"As a player he's already a really good coach, and down the track I'm sure he'll become a great coach."
Of Pendlebury's coaching aspirations, Burns says: "He seems to have all the attributes to go down that path."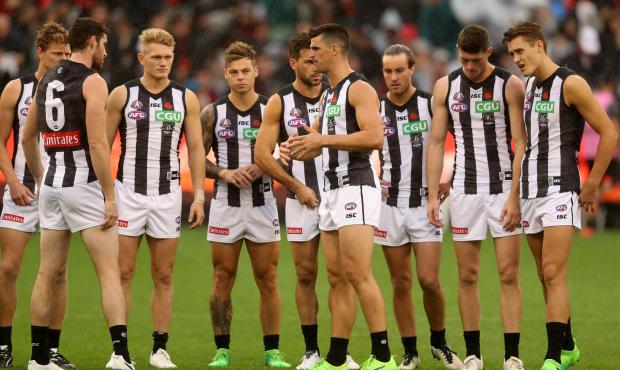 Pendlebury's leadership qualities make him a coach in waiting. Picture: AFL Photos
In the meantime, Pendlebury is determined to lead the Pies back to the promised land. His leadership style was heavily influenced by the likes of predecessor Nick Maxwell and fellow 2010 premiership players Luke Ball and Ben Johnson.
"They gave me great insight and different views – 'Maxy' and 'Bally' just did everything right, and Ben Johnson was one of the most intelligent guys in reading how different guys were going and he had a different perspective," Pendlebury said.
"I tried to take a bit from them while staying true to myself. But I'm learning all the time."
Johnson, who with Swan was a member of the Pies' famed 'Rat Pack', observed: "Pendles understands that everyone's different and they need to do different things. He doesn't judge people. He gets it."
Burns said Pendlebury had helped deputies Adams and Sidebottom become better leaders, which had in turn made him a better leader.
Adds Pendlebury: "They've helped share the load, and guys like Jeremy Howe and Tyson Goldsack are also great resources to lean on. Hopefully we'll keep building on the leadership we have in the group."
Matrix man
Scott Pendlebury boasts an uncanny ability to find time and space where there appeared precious little of either – a trait usually attributed to skills gained as an elite-level junior basketballer.
Pendlebury has revealed the catalyst was actually Collingwood's former development coach Alan Richardson (now St Kilda coach), who had a huge impact on a young Pendlebury.
"I learned it from 'Richo'," Pendlebury said. "One of the things we practised a lot, and still do, is making it look like you're about to dispose of the ball, which naturally makes the opposition move to try to defend that disposal, when you're really just buying time to assess the options and make a decision.
"It's something Sam Mitchell does really well."
Tagger shredder
A mark of Scott Pendlebury's greatness, Pies assistant coach Scott Burns says, is his ability to overcome taggers.
Burns recalls being on West Coast's coaching panel when Pendlebury torched in-form Eagles stopper Adam Selwood.
"Speaking to Adam after the game, there were just too many physical aspects to contend with – his physicality, his power, his run, his height, his reach," Burns said.
Pies teammate Levi Greenwood, an ex-Kangaroos tagger, knows exactly how Selwood felt.
"I went to Pendles at times and I wasn't too successful," Greenwood said.

"He's tough to match up on because of his size and his smarts. When he gets his arms above his shoulders, he's really hard to restrict."
'Swanbury' and 'Pendleloar'
Geelong's 'Dangerwood' duo of Joel Selwood and Patrick Dangerfield are the AFL's most prolific midfield double act, but they're still a long way behind the achievements of 'Swanbury' – Pies premiership pair Dane Swan and Scott Pendlebury.
The Magpie champions easily hold the record for most games in which two teammates have each amassed 30-plus possessions.
Yet in many ways Swan and Pendlebury are opposites. For example, the laidback Swan says: "If I was forced to prepare as meticulously as Pendles does, it'd fry my brain and I'd burn out."
But they had great chemistry on the field and got along well off it, sharing a love of American sport.
They rate each other as the best player they played with.
"Pendles is still as good as anyone going around now. He's an absolute star," Swan said.
"We played 200 games together in the midfield, so I was privileged to see him up close and form a great partnership with him.
"We understood each other's idiosyncrasies, how each other moved, how we liked to play, and I loved playing with him."
Pendlebury: "We didn't have to say anything – a look was all it took … I was really fortunate that 'Swanny' set the standard for how to perform."
Since Swan's retirement, Pendlebury has developed a strong rapport with Adam Treloar – a union dubbed 'Pendleloar'.
"Me and 'Ads' are slowly developing that chemistry," he said.
"His game's a lot different to Swanny's, but they're both more offensive than defensive and they work extremely hard.
"Taylor Adams (right) is another one.
"And (ruckman) Brodie Grundy gets it all going for us. It reminds me a bit of Darren Jolly, who was a really dominant ruckman. That enhances your chemistry."