GOLD Coast seems confused about contracts.
In the Suns' eyes, it is unconscionable for superstar player Gary Ablett to attempt to break his contract with them for 2018, but fair business if they attempt to prise Ken Hinkley out of his contracted senior coaching position at Port Adelaide.
The Suns can't have it both ways. They have no right to assume a seat in the rarefied moral high-ground air on Ablett, and at the same time try to wreck another football club's well-established, documented plans.
Cats leaders in the dark over Ablett plans
Particularly when they are being run by AFL headquarters. Surely AFL CEO Gillon McLachlan ends this immediately, and tells the Suns to abort the Hinkley plot. And if not him, Richard Goyder, the AFL Commission chairman, who is near-peerless in Australia when it comes to business class and smarts.
Think about it. The AFL has lectured clubs for years about the financial waste in sacking contracted coaches, and now an AFL-run club is daring to coerce a rival coach out of a contract.
Hinkley, clearly, has issues with Port Adelaide president David Koch. He loathes Koch's regular public comments about his team.
Granted, Koch's ways are not normal in this industry where everyone at a football club likes to present to the public a united and unified operation.
But so what if Koch steps outside protocol? This column has a strong view that Koch has actually sharpened up the Power through his strong, confrontational public comments.
Hinkley should harden up. Koch's board has already provided him with five years as senior coach as well as a contract for 2018. It stuck with him despite non-finals finishes in 2015 and 2016, when finals were expected.
But if Hinkley cites a publicly outspoken chairman being the main reason for considering breaking a contract, and then heads to a club run by an even more outrageously publicly outspoken person in Tony Cochrane, well, sorry Ken, you're going to need a better reason than that.
If Hinkley, like Brad Scott did at North Melbourne, wants to use the interest from Gold Coast as leverage for an extension at Port Adelaide, then that is fine. The North board blinked, and extended Scott through to the end of 2020.
But when Hinkley speaks on Adelaide radio on Monday he needs to be very, very clear on where he sits with his current club, and not simply hide behind the fact that he has a contract with the Power for 2018.
There can be no ambiguity in what he says. He's either coaching Port Adelaide in 2018, or he's not. He needs to state that publicly today. If you need help, Ken, something like this would work: "I will be coaching Port Adelaide in 2018. Fact. I will not be coaching any other club in 2018."
And what would Paddy Ryder, Charlie Dixon and Jared Polec think, players with whom Hinkley pleaded to join him at Port Adelaide, if he was to leave for Gold Coast?
The Suns were introduced to the AFL when then-CEO Andrew Demetriou reacted instantly and angrily to North Melbourne's refusal to relocate to the region.
The club, with full AFL backing, fell for the financially laughable gimmick of recruiting Karmichael Hunt from rugby league, and watched him, in embarrassment, exit leaving a terrible behavioural legacy for young, impressionable teammates.
They sacked their first coach, Guy McKenna, after four years, and their second coach, Rodney Eade, after three years.
They invested everything in Ablett as captain, and have known for 18 months he could think of no place worse to be.
And yet Cochrane is on record saying there is no chance the Suns will allow him to break his deal that takes in the 2018 season.
After minutes of conversation on the topic in an interview for The Footy Show this year, it was put to a by-then riled Cochrane: "So, under no circumstances will you allow (Ablett) to break that deal?", to which Cochrane, smugly, said: "Correct."
Cochrane said it was a Melbourne media beat-up that Ablett wanted out. It's not and he knows it.
Koch and Cochrane were all smiles at media conference in Shanghai. Picture: AFL Photos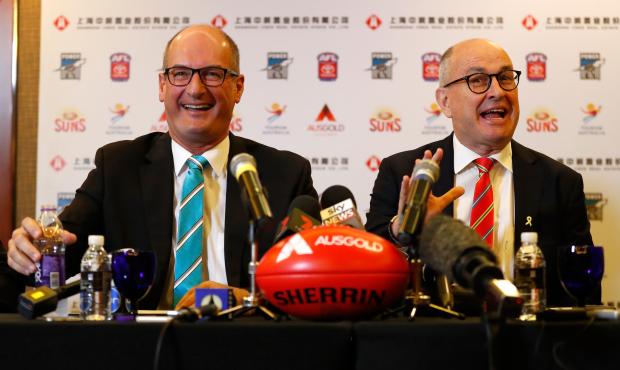 Cochrane and Koch were involved in a brawl over matters relating to a round eight match played by their clubs in China this year.
Would love to hear what Koch really thinks of a rival club run by Cochrane making an approach to his contracted coach. We've asked Koch for comment, with no response.
Reckon he won't be able to help himself on his own media outlets on Monday morning. Should make for an interesting day, given Hinkley himself will be speaking publicly in the afternoon.
We'll soon know who is the bigger AFL bull, Koch or Cochrane. And we'll also have a better understanding of what an AFL-industry contract really means.
Twitter: @barrettdamian