SIX YEARS ago, the Victorian under-12s state schoolboys team claimed the national title in a dominant carnival. But that won't surprise when you look at the line-up now.
In that side were 11 players who are hoping to be selected at the NAB AFL Draft later this month, headed by the likely top two picks Matt Rowell and Noah Anderson (pictured below in 2013).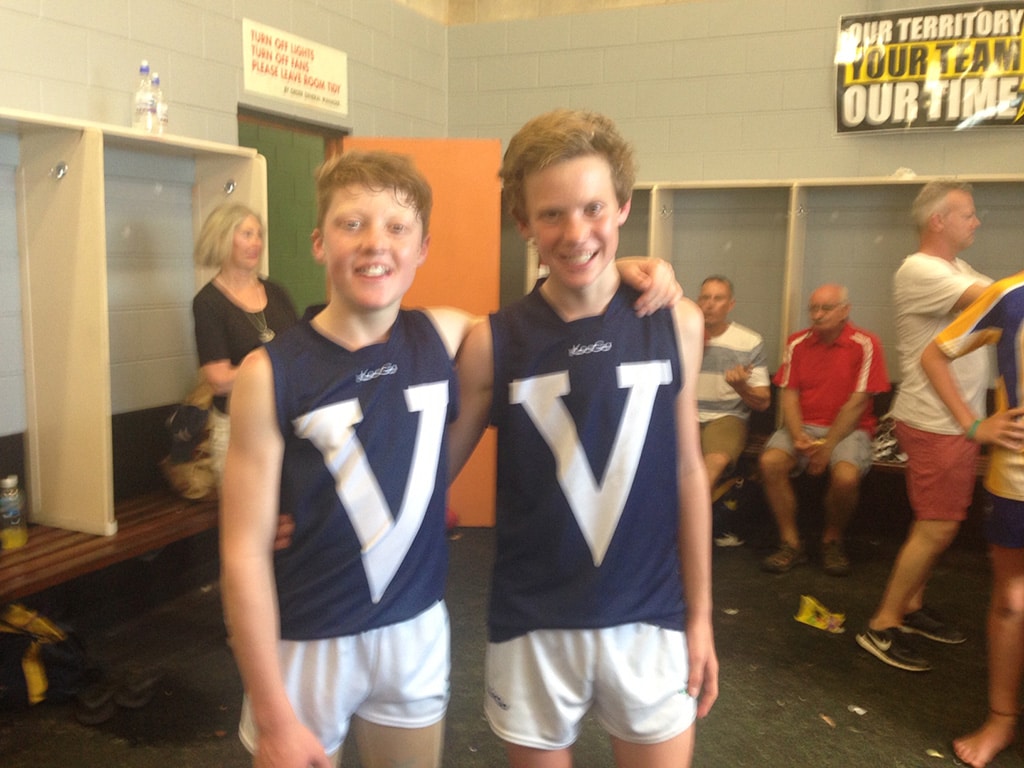 Fischer McAsey and Caleb Serong, other possible top-10 selections, were in the team, as was Cooper Stephens, Dylan Williams, Finn Maginness, Jack Mahoney, Brock Smith, Ryan Sturgess and Adam Carafa. Hugo Ralphsmith, another possible top-30 pick, didn't make the final cut.
CLASS OF 2019 Round one debut firmly in likely No.2 pick's sights
"We were pretty dominant, we had a pretty good team," Anderson recalled to AFL.com.au. "We won the Grand Final by more than 10 goals and most games by nearly 100 points."
It is no wonder given the quality players, even at that age. The tournament was held in Darwin, with the decider played against Northern Territory at TIO Stadium.
Noah Anderson and Matt Rowell at the reecent AFL Draft Combine. Picture: AFL Photos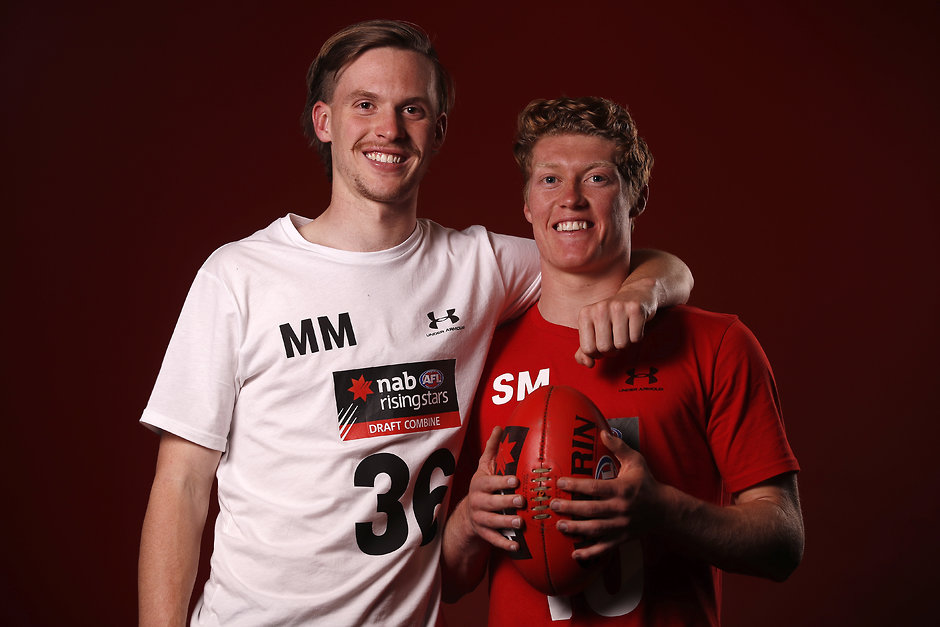 The state schoolboys system sees Victoria – a combination of players from country and metropolitan areas – take part in the nation-wide championships.
The Victorian captain was Rowell, who is headed to the Suns as the likely No.1 choice next week, in what was the start of their close bond and the first time the pair had played together.
"He was the same then as he is now. He was a bit smaller and one of the littler guys, but he was still very tough," Anderson said. "That was the first time we played together. It's funny how similar everyone is."
Find Road to the Draft on Apple Podcasts, Google Podcasts and Spotify.
Maginness was a hard-running midfielder, "just doing Finn Maginness things," said Anderson, while McAsey was at centre-half back, "clunking marks".
MUST READ How potential Hawks father-son's greatest day turned into devastation
Mahoney, now a smaller midfielder who could be a second-round pick, had his growth spurt ahead of others and was a key player, while Williams was whizzing about taking marks and snapping goals.
"Dyl had heaps of X-factor as a junior footballer, and still has. He took the best marks and kicked heaps of goals. The marking was a thing that stood out as a junior, he was very dominant in the air," he said.
CLASS OF 2019 Tough year fails to X-factor's belief
"He wasn't that big, either, it wasn't like he was a massive player, but his leap was insane. He stuck 'em. 'Mahns' was really good, probably one of the best players on the team. He was a bit taller at his age then so definitely had an advantage."
Anderson counts himself as one of the few players to have changed his game in ensuing seasons, moving from half-back at that stage into a full-time midfielder who goes forward.
"I was a bit skinny and a mostly outside player," he said.
The team was stacked with players from the metropolitan region, with Anderson recalling his confidence about future clashes with the country boys once the groups split at under-16s level.
STATE OF PLAY How the first round of the draft is shaping up
"I remember saying to the other boys, 'There's only a few country guys here, we're going to smash Vic Country in a few years'," he said. "Little did I know at the under-18 championships it'd be the complete opposite."
Serong appeared a star on the rise at that age, being stationed mainly in attack and being crafty around goal, Smith was also in attack (he's now a lockdown defender) and Stephens was settled in the midfield, using his bigger body to smash through. He also swapped across half-back.
Caleb Serong celebrates a goal for Vic Country during the U18 champs

It's still a strength for Stephens, who could be a top-25 pick in the draft despite breaking his leg earlier this season.
"I was from Colac so I didn't know anyone, but we had a bit of a meet and greet when I got in and made some good friendships. It's great to still know all those boys and follow their stories, it's been awesome," he said.
"It was the first professional environment really that a 12-year-old can get into. We played together as little kids and then lined up against each other basically as men this year which is pretty cool.

He also remembers Rowell as the standout player. "He smashed it. He's been the best player since under-12s so as you could imagine he had the ball on a string just like these days," Stephens said.
As the first step into representative football, the under-12s state team is an introduction for what's to come for top-end prospects. Stephens says even back then the big goal was in sight.
"After the championships and after the combine you think back and I've known these guys for six or seven years now and to go through the system together," he said.
"There's always talk when you're 12 in that team that a certain percentage of players from the team makes an AFL list. To actually go through and see how many will hopefully make an AFL list is pretty good to reflect back on."