SAM WEIDEMAN knew something was wrong; he just couldn't work out what it was.
In the latter part of last season, the key forward would arrive at his TAC Cup games with the Eastern Ranges feeling tired, and was flat throughout them.
To get things back on track, he started to train more during the week, but found that just made things worse.
His promising start to the year as a bottom-aged key forward had been slowed, and he was struggling for a solution.
"I just kept playing bad games with no energy," Weideman told AFL.com.au.
"I was losing confidence. There's expectations on you and you want to help the team, and I tried to fight through it, but I couldn't. I was doing everything possible to get right, but it just didn't happen."
After a quiet day against the Bendigo Pioneers, Weideman visited a doctor, had a blood test and found he was very low in iron and almost anaemic, a condition which causes tiredness. "I was glad there was a reason for why I was feeling like that," he said.
An iron infusion fixed the issue, and two weeks later Weideman was running again, into a fitness program and feeling well again. A recent blood test showed he's at standard levels, a relief as he heads into his biggest year of footy.
Expectations have already grown for the 17-year-old, who at 196cm and 91kg is one of a handful of tall forwards who have been tipped as possible early picks in November's NAB AFL Draft.
His 15 games and 19 goals for the Ranges last season saw him added to the NAB AFL Academy group, which is taking part in a high performance camp this week in Florida.
Weideman has been on limited duties – he's four weeks away from resuming full training after a stress fracture in his ankle surfaced post-season – but wanted to still make something of the 10-day trip to America.
"Obviously I would love to be out there on the track, but I'm trying to work the best I can so I can get something out of it," he said.
"I've loved my time here. The gym sessions are big for me, and I'm doing my boxing and swim work and trying to make those my main sessions."
Weideman has found no shortage of people to talk to about his game, injury struggles and development, with a strong family connection to the top level.
His grandfather, Murray Weideman, is a Collingwood legend after captaining its 1958 premiership, being named in the Magpies' team of the century and winning three best and fairest awards. He also coached the club in the 1970s for a short stint.
Murray Weideman on his induction into the AFL Hall of Fame in 2007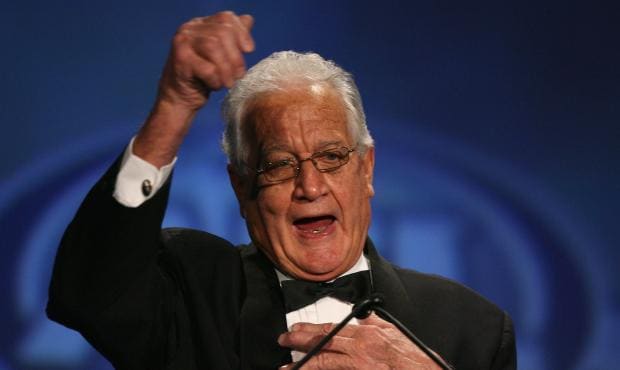 Murray's son Mark (Sam's dad) played 28 games for the club before two knee injuries set back his VFL career.
It took Sam some time to realise the significance of his surname at Collingwood, and only when Murray moved to Melbourne from Adelaide for a year did it really dawn on him.
Weideman doesn't mind where he gets drafted as long as he does, but knows his grandfather has some more specific hopes.
"When he came over to Melbourne to live he'd tell me a lot of stories and show me his Copeland Medals," Weideman said.
"He mentions the 1958 Grand Final a fair bit and how unbelievable that was, and how he shared many moments with Ron Barassi.
"They're phenomenal stories to hear as a grandson and I try to take them in as much as I can and learn from them.
"I'm sure Grandpa would like me to go to Collingwood but I want to create my own fate and see where I can take myself. If it's to Collingwood then so be it, but if it's somewhere else then I'll try to do the best that I can there as well."