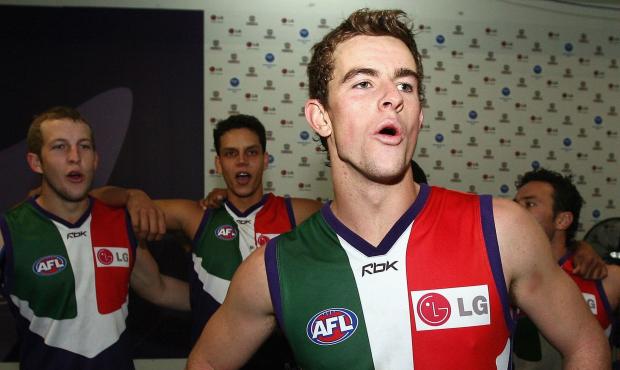 I never had a back operation, but I used to get a lot of injections to release the lower spine – epidurals
Marcus Drum on his injuries
WHEN Marcus Drum arrived at Fremantle in November 2005, aged 18, he was understandably nervous.
Having been selected by the Dockers with pick No.10 in the NAB AFL Draft, his dream of playing AFL footy had seen him move 3400kms across the country from his home town of Shepparton in north-east Victoria.
But in those early days at Freo, he was set at ease by the club's player welfare manager, Lee Walker.
"He was a great support for me," Drum told
AFL.com.au
. "He always had a big smile when he came into the club, and you could see he had a real passion for helping players have the best careers they could."
In a twist of fate, Drum's career in footy since then has mirrored that of Walker.
Talked up as a potential superstar in his mid-teens, Walker spent time on both West Coast's and Collingwood's lists but was restricted to only 16 games by a series of knee injuries.
"He used to say he had more operations than he played senior games," Drum chuckled.
Also highly rated as a junior, Drum's reputation as a teenager was boosted by his bloodlines (he is a nephew of ex-Geelong player and Freo coach Damian Drum and is a nephew of Richmond legend Francis Bourke as well).
But although he was on Fremantle's list for four years and Geelong's for two, a multitude of injuries, including ankles, hamstrings, a smashed nose and a detached retina, meant he played just 22 games.
Now Drum is following Walker's off-field path. Last month, he was appointed player welfare manager at Port Adelaide.
"It was probably five or six years ago that I identified this was the area I wanted to get into," he said. "Then it's probably a bit of a coincidence that all the experiences I've had along the way have made me more passionate to work in this area. It's funny how it all works out."
Drum retired from AFL footy midway through the 2011 season, and he admits there were occasions during his elite playing days that he became angry about his many setbacks.
Below: Drum training with the Cats in 2010.
"I think at times throughout my career I did feel like that," he said. "I'd be lying if I said I didn't."
Nowadays, however, Drum's passion for the game is stronger than ever. He never fell out of love with footy, but his trips back to Congupna – the bush club where his career began – over the past two years certainly had a positive influence on his frame of mind.
He played nine games for Congupna (the club's nickname is 'The Road') in 2012 and another nine this year.
"It was great to prove to myself that I could play a some sort of level without getting injured," he said. "Sometimes I found myself thinking, 'This is unbelievable. I'm packing my bag to go to footy four weeks in a row.' That hadn't happened for years."
When not playing footy, Drum has been intently working towards building an off-field career in the game.
"I had a year doing part-time work with the AFL Players' Association in 2012," he explained. "I was helping deliver the wellbeing sessions to the first-year players at about half the AFL clubs. I combined that with doing some labouring for a landscaper in Melbourne.
"Then I got employment with AFL Sportsready, helping out (ex-Hawthorn player) Rayden Tallis with all the career transition programs. It was all about trying to set players up with work placements outside their footy commitments. So it was a good grounding."
Drum was approached by Port Adelaide after being recommended to the club by Geelong's player welfare manager, Ron Watt, who remains in contact with Power coach Ken Hinkley. Good references from his former employers sealed the deal.
Since taking up his new office at Alberton Oval, he has been very impressed by the inclusive culture that Hinkley has fostered since being appointed senior coach late last year.
"He wants Port to be a club that really includes the players' families in everything we do," Drum said. "Being a non-Victorian club, communication with parents is a massive thing for us. We're very big on keeping the parents informed with what's going on.
"Kenny was even going as far as ringing parents himself last year. To do that on top of your coaching duties is a pretty big thing for a coach to do. He is a big advocate for making sure we don't only worry about the boys being good footballers, but that we ensure they leave Port Adelaide as better people than when they arrived."
With the younger Power players due back on the track on Monday, and a batch of new draftees set to arrive in the next couple of weeks, Drum's role will soon begin to take shape.
He will be tasked with finding accommodation for the draftees, many of whom will be placed with host families, and he'll also be developing work and education options for everyone on the Power's list.
"Kenny and Richo (Port's former director of coaching, Alan Richardson) are massive on bringing a holistic approach to the players," Drum said. "That's where my role is particularly important. In terms of the way the players present themselves and want to be portrayed, I'll play a big part in that."
Given all he went through during his playing days, and the fact that he's still just 26, Drum feels well-equipped to empathetically deal with the many issues that elite footballers face.
"I guess I've gone through a lot, having moved interstate, been traded and copped a lot of injuries," he said. "I guess I've got a rounded perception and idea of what a player might be going through, be that getting drafted by a club far from home or to having 12 months out due to a knee reconstruction. I think I've got a lot of knowledge I can pass on in that regard."
SIX POINTERS
What do you like most about the game?
"The mateship. Certainly. You can't beat the mateship and the locker-room banter."
What don't you like?
"When I was playing it was probably the pressure and scrutiny that came with it."
What would you change about the game?
"I'd get rid of the emphasis on skinfolds, because I was never good at them!"
Favourite player and why?
"Joel Selwood. Just the way he puts his body on the line."
How many operations have you had?
"For all the injuries I had, it probably wasn't as many as you'd think. It would be about five or six, most of them in my last couple of years. I had one to repair my detached retina. I had a ligament that came off my ankle. That took a couple of ops. And I had to get my nose redone and straightened up. I never had a back operation, but I used to get a lot of injections to release the lower spine – epidurals."
How will your former clubs Fremantle and Geelong go next year?
"I wish both of them well next year, just not when they're playing Port. I was barracking for Freo in the Grand Final, hoping they would get up for the blokes over there that I played with. I'd say they'll both go pretty well."
Twitter: @AFL_AdamMcNicol