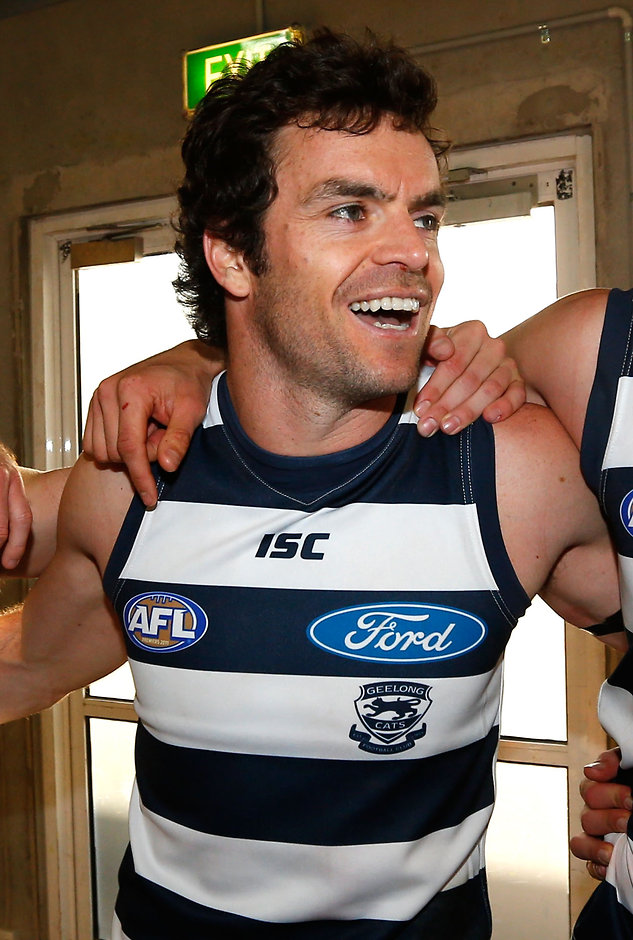 When he had something to say, you knew it was the truth
Max Rooke on Matthew Scarlett
GEELONG has officially inducted Matthew Scarlett as a legend of the club at its season launch at Simonds Stadium on Friday night.
Scarlett became the 22nd legend in club history, joining the likes of Doug Wade, Graham 'Polly' Farmer and Gary Ablett Snr.
The champion defender was, as usual, a man of few words as he thanked his teammates, family and those who had such a profound impact on him during his 15-year career.
Mathew Stokes' letter to Tony Abbott
"I'm not big on the personal stuff but it's such a great footy club and it (the honour) does mean a lot," Scarlett said.
Fellow Cats legend Garry Hocking, who now sits on Port Adelaide's coaching panel, was there to bestow the honour on Scarlett.
Premiership coach Mark Thompson, mentor and former Western Bulldogs coach Brendan McCartney, and ex-teammate Darren Milburn were also on hand to acknowledge Scarlett's achievement.
Premiership teammate Max Rooke spoke about how Scarlett made him walk taller on the field.
"He was so professional and so competitive and you couldn't help but want to be like that as well," Rooke said
"When he had something to say, you knew it was the truth and you had no option but to do what he said."
Scarlett received tributes from Cats premiership captain Tom Harley, Essendon star forward Matthew Lloyd, Fremantle adversary Hayden Ballantyne – who Scarlett infamously punched in an incident in 2012 – and even champion NBA coach Pat Riley.
Lloyd, who kicked 926 career goals, described Scarlett as the "hardest defender [he] ever had to play on".
Regarded as one of the best backmen of all time, Scarlett played 284 games for the Cats between 1998 and 2012.
He was a three-time premiership player (2007, 2009 and 2011) and a six time All Australian (2003, 2004, 2007, 2008, 2009, 2011).
The aggressive defender, who was recruited to Geelong with the 45th pick in the 1997 draft (via the father-son rule), also won the club's Carji Greeves Medal in 2003.
During Friday night's address to the faithful, captain Joel Selwood urged supporters to get behind Geelong as it approaches its Easter Monday showdown with Hawthorn.
In keeping with the 'fans first' theme the AFL has adopted this season, the Cats decided to move their season launch back to Geelong, rather than have the event in Melbourne, which it had done in recent years.
Selwood demanded that Cats fans make Simonds Stadium a hostile environment for opposition teams this season, while also hinting at how ready the players were to have another crack at the reigning premier.
"We need to make Simonds Stadium a cauldron again. We need to make opposition teams fear coming down to play here," he said.
"Our focus is solely on the Hawks in 10 days time. We're going to be ruthless and relentless in the way that we play our brand of footy.
"We're going to put them (the Hawks) under as much pressure as possible and take the game on come Easter Monday."
Cats chief executive Brian Cook said the club was focused on signing up 48,000 members this season.
The existing membership figure sits at 39,000 and the Cats hope to nudge that up to the 40,000 mark before their first game against the Hawks.
Geelong legends
Henry Tracker Young
Bill Eason
Alec Eason
Cliff Rankin
Jocka Todd
Carji Greeves
Reg Hickey
Fred Flanagan
Bob Davis
Bernie Smith
Peter Pianto
Bill Goggin
Doug Wade
Polly Farmer
Sam Newman
Ian Nankervis
David Clarke
Gary Ablett Snr
Paul Couch
Garry Hocking
Dick Grigg
Matthew Scarlett