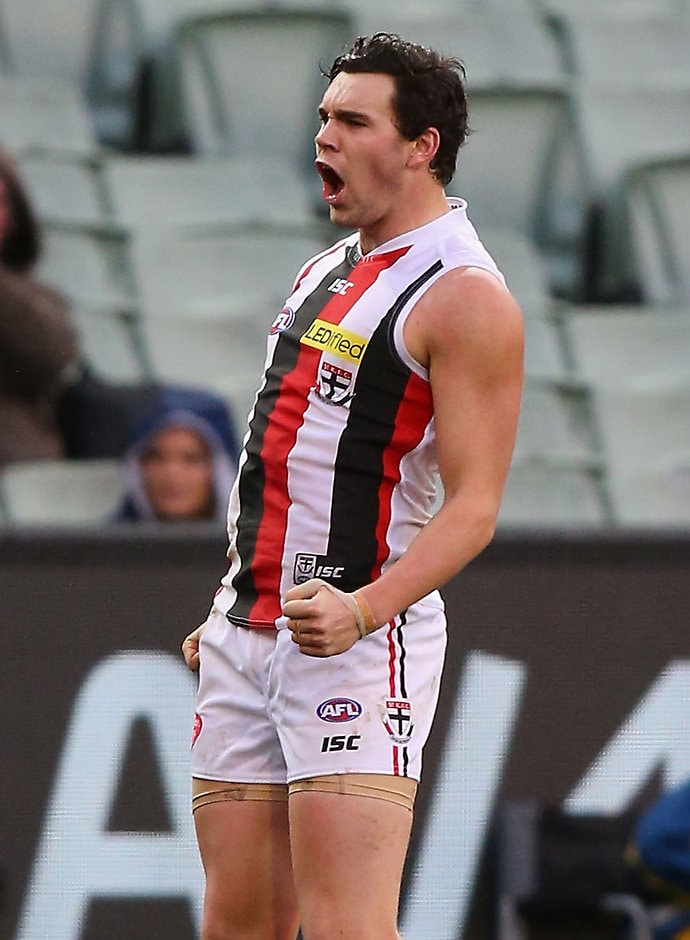 It'd be fantastic to be a one-club player. That'd be awesome, but I'm just a small part of it. I'm on the journey
Paddy McCartin
In 2014, AFL.com.au's Going Places series tracked four players through the year on their way to the draft. This week, we check in to see how each has handled his debut season.
THE FIRST time St Kilda's Paddy McCartin stepped on to the field as an AFL player, he doubted he was ready. The same thing happened the second time, as he wondered if he could keep up, if he could contest and if he belonged.
But by the time he started his fourth game, his view of himself and what he could produce had changed.
McCartin made his debut in round three, as a very late call-up to replace captain Nick Riewoldt. It was a slippery Friday night, the Saints were smashed, and the club's No. 1 draft pick from 2014 had a quiet outing.
The next week he flew to New Zealand as the team prepared to play Carlton on Anzac Day. He managed only a handful of disposals, was dropped a few days later and spent three months in the VFL. But by the time he returned to the senior team, in round 16 against Richmond, his mindset was different.

GOING PLACES: Cal Twomey's piece on McCartin leading into last year's Draft
"I felt like I had earned it a bit more. When you get put in a situation like I had for my first game, there was a bit of uncertainty about whether I could do it or not," McCartin told AFL.com.au.
"I'm sure that would go through the mind of every other player who makes his debut. You go on to the ground and you're walking into the unknown. The second time around I'd had a bit of a taste of it, I'd had a good block of form in the VFL, and I knew I was ready to go."
McCartin's first AFL season has been as busy, hard, quick, long, fun and eventful as he thought it would be. His first three weeks at the club before last year's Christmas break had provided him with a strong indication of what was to come.
He spent a week living with one of the club's welfare managers, was off to Queenstown, New Zealand, in the second week (where he ran 70km in scheduled training sessions), and then stayed at teammate Jack Billings' house for a few nights.
He was prepared for the increased training demands. In the gap between his 2014 season ending and draft night in late November, he regularly trained with the Geelong Falcons to improve his conditioning.
One night in that period he asked his mum Jo for some money. He had been paying a personal trainer to help out. It was perhaps confirmation the Saints' recruiting team needed to choose him at No. 1.
After a couple of early barbs from his teammates about being the first pick, McCartin hasn't noticed any extra pressure from them because of his status. He thinks he is judged like every other first-year player: on how hard he works and how he carries himself.

McCartin is swallowed by teammates after kicking his first goal in the AFL. Picture: AFL Media


Nevertheless, he was aware of the attention he was getting, how football people were discussing his progress. He knew that attention would only increase when he played his first AFL game.
"It was weird. That whole 'Will he play round one?' thing got hyped up a bit, but when I wasn't picked, everyone forgot about it," he said.
He didn't have to wait too much longer. Riewoldt had hurt his calf in round two, and McCartin was on standby against the Magpies. He was at the MCG by 5pm, and was inside the rooms when Riewoldt was doing a lap of the ground.
"He tweaked it again and came back down and said, 'Get ready, mate'. I thought, 'Oh shit, this thing's going to happen'. Then 'Richo' (coach Alan Richardson) came over and said, 'It's looking likely'," McCartin said. "It was all a bit rushed but I didn't mind it that way to be honest."

Saints will stick with Riewoldt-McCartin combination
Apart from one thing: he had forgotten to wear his lucky jocks. Since under-16s football, McCartin has worn the same pair of green underpants in every game. But in the craziness of his late call-up, he didn't get a chance to put them on. So at half-time he found a spare moment, rummaged through his bag, picked them out and got changed. "I had a bit more of the ball after that," he said.
McCartin didn't realise how much he wanted to stay in the Saints' team until he was back playing at VFL level. Three weeks into his stint there, he met with Richardson and sports science manager Simon Kearney.
They jotted down a list of targets he had to reach before he could get back into the AFL team, including increasing his high-intensity running, his body work, and making sure he applied forward pressure. "They kept me in the loop the whole time," he said.
He returned to the senior team in form and played his best game so far, a nine-mark, one-goal effort against Melbourne in round 17. During the game, he came off the ground five or six times to check his blood sugar levels as part of managing his type-one diabetes.
Paddy lines up and kicks his first of many goals for the Saints! #AFLSaintsTigers http://t.co/eVymKkvtMh

— AFL (@AFL) July 19, 2015
The club has been supportive and aware of his challenge. Early on, staff were asking how he was feeling after most drills. After a couple of months his endocrinologist and parents caught up with St Kilda's fitness team and talked about how it could be best handled. They wanted to leave management of it in McCartin's hands.
"At the start they were really conscious of making sure I had the best support around me. I said that I'd been handling it for 10 years, and while I was really happy to have them in my corner, they didn't need to make a big deal or stress about it," McCartin said. "They've been fantastic."
Living away from his family has been tough, but with most Wednesdays off, McCartin usually drives home to Batesford, near Geelong, every Tuesday night and then heads straight back to training on Thursday mornings. At the end of this year he'll move out of his host family home and in with teammates, having made plenty of close friends this year.
The Saints always knew he'd be popular, warming quickly to his genuine and no-nonsense approach. Before the draft they asked him what he would do if he were offered a multi-million dollar deal by another club early in his career. "I'd play for $50 a game if I had to," McCartin replied.
On draft night, recruiting manager Tony Elshaug shook McCartin's hand, gave him a hug and told him, "I love ya, son". Almost a full season into his career, McCartin feels the same way about his club.
"It'd be fantastic to be a one-club player. That'd be awesome, but I'm just a small part of it. I'm on the journey. I'll be around as long as the Saints need me," he said.
"It's a place I've absolutely loved so far. It's been unreal."