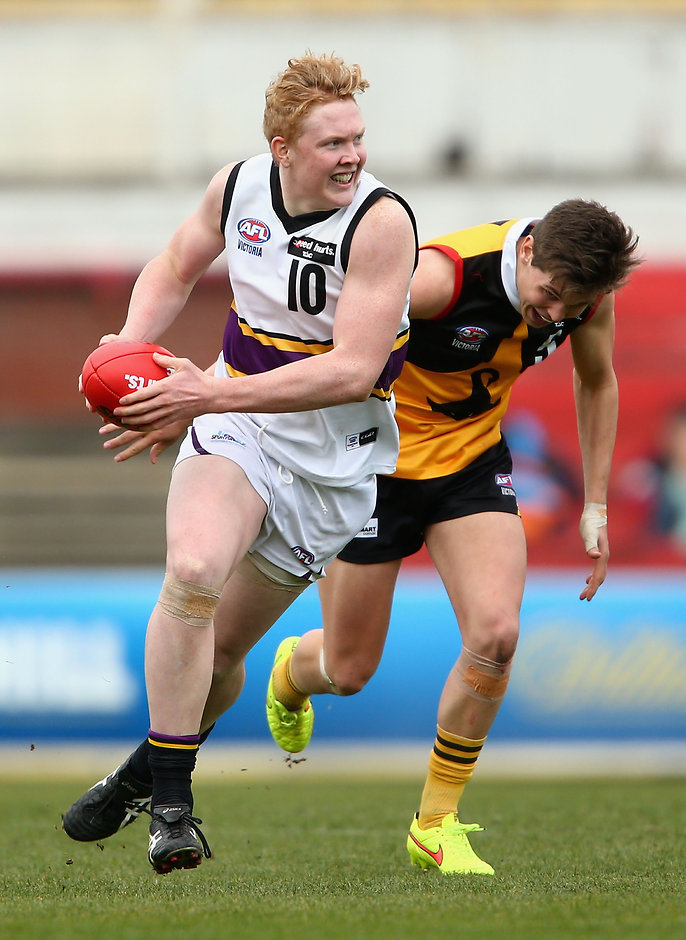 He'll have an impact at AFL level next year
Clayton Oliver's former coach Blake Campbell
BLAKE Campbell copped "a bit of flak" when he picked a 16-year-old Clayton Oliver in Mooroopna's senior team last year. The Goulburn Valley Football League in country Victoria is a tough one, known for its mature bodies and hard style. But Campbell saw something in Oliver.
"As soon as he started playing we knew we had something special with him," said Campbell, Mooroopna's coach at the time. "He's got that real competitiveness, and you can't teach that. It's either in you or it isn't."
17 prospects to watch at this year's Draft Combine
At that stage, Campbell, Mooroopna and the Bendigo Pioneers were the only ones to really know of Oliver, who had played for Victoria as an under-12 but then drifted out of the regular talent programs.
But 18 months on, the midfielder entered this week's NAB AFL Draft Combine as one of the late risers of this year's crop. After a second half of the season that got better with every game he played, Oliver looks a likely top-25 pick at November's draft.
It's taken the player himself a little bit by surprise. Oliver switched TAC Cup clubs at the end of last year, moving from the Pioneers to the Murray Bushrangers, which is closer to Mooroopna and his school. He always wanted to get drafted, but thought his chance might come in 2016, not quite so soon.
"The season started off pretty slowly, and I had some injuries at the start with the Bushrangers," Oliver said.
"I didn't really think I'd be in the draft this year, I thought I'd play VFL next year or go back to the Bushrangers as a 19-year-old. I saw that as probably my main chance of getting picked up. It's all happened a bit quicker than I imagined."
There were a couple of points where the journey gathered speed. The first came at the end of last year, when his schoolmate Josh Schache convinced him a move to the Bushrangers would benefit his footy.
Oliver played just three games in 2014 for the Pioneers, and found it difficult to fit into the squad or know if they rated him. He lived with his family in Echuca, which put him in Bendigo's region.
But entering his final year of school, Oliver wanted to cut down the hours of travel to and from Goulburn Valley Grammar each day, so shifted to Mooroopna, where the family has a house.
He lives there by himself, but his mum and dad have split time with him during the year, coming down from Echuca to cook, clean and help out.
Oliver's season started with a bout of osteitis pubis, but he was still invited to train with Vic Country's under-18 squad mid-year. He didn't make the final team, but the experience made him think he was closer to being drafted than he had previously realised.
Road to the Draft podcast: Combine preview
He played a couple of VFL games for Richmond, and then started a barnstorming second half of the year, which saw him poll 14 votes in the last nine rounds to win the Morrish Medal as the best player in the TAC Cup.
Oliver racked up big numbers of the ball, but made an impact, too. He showed his grunt at the clearances, his ability to break away from them and hit targets, and his smarts near goal. Oliver plays with the swagger of a natural footballer who knows which way the ball will bounce.
In the Bushrangers' final home and away game he gathered 27 touches and kicked six goals, and he was their best player throughout the finals. "I really like winning the ball, tackling and getting it out for my team," he said.
Campbell doesn't think it's a coincidence Oliver's footy has lifted since settling into Mooroopna at the end of last year. "It's closer to his schooling and also pretty much across the road from the footy ground. There wouldn't be a day go by where you don't see him down at the rooms, going to the gym or having a kick on the oval," Campbell said.
"The way he dominated at senior level, we knew if he came up against young kids he'd go really well. I think he can go to another level if he can get into an AFL system and environment and get a full pre-season under his belt. He'll have an impact at AFL level next year."
The town of Mooroopna, just near Shepparton, is proud of its role in bringing out Oliver's talent for all to see.
Last year, it had Nathan Drummond drafted by the Tigers. After more than 10 interviews with clubs, all indications are that Oliver will join him on a League list this year. And next year they are already excited to see where Jy Simpkin ends up after impressing as a bottom-ager in 2015.
"It's a great thing for the whole club. You like to see kids who are passionate about their footy and who do everything right, do well for themselves," Campbell said.
"I couldn't think of too many country towns who will have potentially three kids drafted one year after another. It's great for the whole community and will give us another player we can support at AFL level."