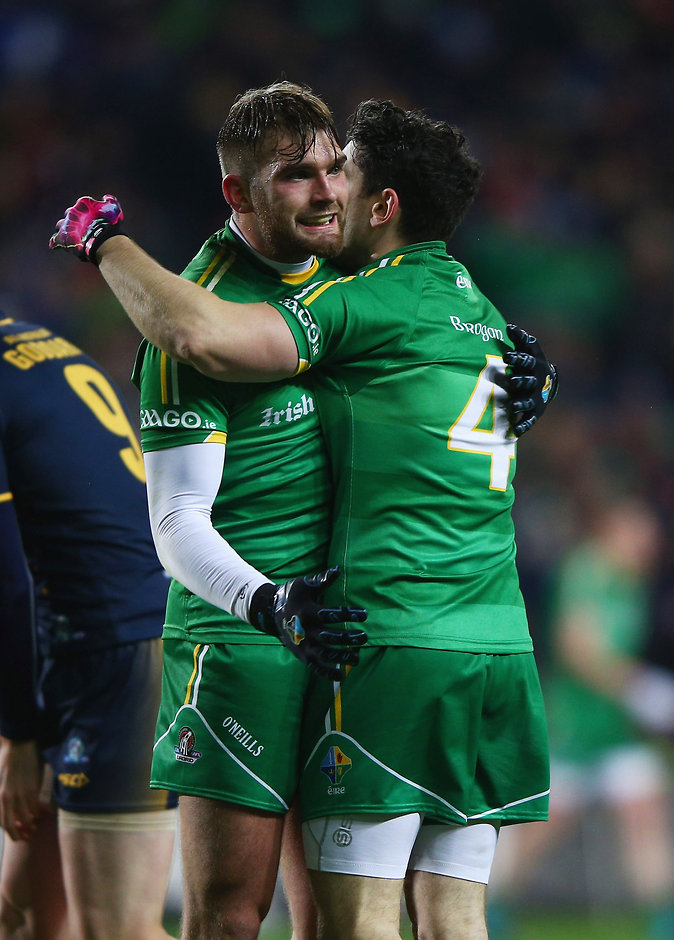 IRELAND has regained the Cormac McAnallen Trophy in thrilling fashion after Australia's dramatic comeback fell just four points short at Croke Park in the Virgin Australia International Rules Series.
Australia paid for a slow start to lose the absorbing contest, having trailed by 20 points in the first half only to draw within three points with three minutes remaining.
The Aussies restricted Ireland to just three overs in the second half as their defence became more organised and they stopped pressing as hard up the ground.
But Ireland prevailed to claim a 3.11.5 (56) to Australia's 1.13.7 (52) victory, with early inaccuracy in front of goal robbing Australia of any chance to gain early momentum.
Clarkson rues Australia's skill errors

Ireland captain Bernard Brogan was threatening up forward all night, finishing with four overs to win the GAA Medal as Ireland's best player, while teammate Aidan O'Shea scored two goals to set the Croke Park crowd alight.
Robbie Gray (three overs) led Australia's attack, and defender Harry Taylor was awarded the Jim Stynes Medal as Australia's best player for an outstanding display down back.
The final minutes made for compelling viewing. A video review was required to confirm Eddie Betts' late goal from a goalmouth scramble, before Gray's third over of the night drew Australia within three points.
But Brogan's last-minute shot on the fly soared through for a behind, giving Ireland some much-needed breathing space and the final whistle sounded moments later to hand the hosts a memorable victory.
Luke Breust struggles for space against Ireland in the IRS Test in Dublin. Picture: Getty Images

Earlier, Australia had scored the game's first over through Gray but the Irish began to find space and exploit the Aussies on the counter-attack.
Brogan was enjoying rare amounts of space to kick four first-half overs while the Irish scored three goals – two of which came as Australian skipper Luke Hodge gave away penalties as Ireland knocked through would-be goals.
Sam Mitchell was controlling play in the middle while Australia's small forwards Luke Breust, Eddie Betts and Hayden Ballantyne were dangerous.
The IRS Diaries: Ireland v Australia
At half-time Australia had just one fewer scoring shot yet Ireland led by 20 points because of its superior conversion.
Australia came out breathing fire after half-time with Nick Riewoldt dragging the Aussies back into the contest with two quick overs in the third quarter.
Andrew Gaff, Patrick Dangerfield and Dyson Heppell began to win the ball through the middle and they ran at the Irish.
They restricted Ireland to just two overs in the third quarter, but a costly turnover in the forward half cost Australia just when it had momentum.
The defence became more organised and Hodge lifted, playing the second half with fierce intensity and eventual Jim Stynes medallist Taylor was excellent all night.
Eddie Betts moves in Irish traffic at Croke Park. Picture: Getty Images


Badluck Aussie boys! Great fight back #VirginIRS #IRS2015 #earlyrise

— Scott Pendlebury (@SP_10) November 21, 2015
Captain Bernard Brogan lifts the Cormac McAnallen Cup as Ireland defeat Australia in this #EirGridIntRules test #GAA pic.twitter.com/9l2y2kbrSo

— The GAA (@officialgaa) November 21, 2015
While we came to win, it's been great to have the best in our league come together over the past two weeks. pic.twitter.com/03wDpkML2y

— AFL (@AFL) November 21, 2015
IRELAND 1.5.0 3.8.1 3.10.2 3.11.5 (56)
AUSTRALIA 0.4.1 0.6.5 0.11.6 1.13.7 (52)
GOALS
Australia: Betts
Ireland: O'Shea 2, McManus
OVERS
Australia: Gray 3, Riewoldt 3, Betts 2, Roughead, Ballantyne, Montagna, Mundy, Breust
Ireland: Brogan 4, McManus 3, Connolly, O'Shea, Keegan, Hughes
BEST
Australia: Taylor, Mitchell, Breust, Gaff, Heppell, Betts, Riewoldt
Ireland: O'Shea, Brogan, McManus, Keegan
Jim Stynes Medal: Harry Taylor
GAA Medal: Bernard Brogan
INJURIES
Australia: Nil
Ireland: Patrick McBrearty (kidney)
Reports: Nil
Umpires: Matthew Nicholls (Australia) Joe McQuillan (Ireland)
Official crowd: 38,387 at Croke Park, Dublin