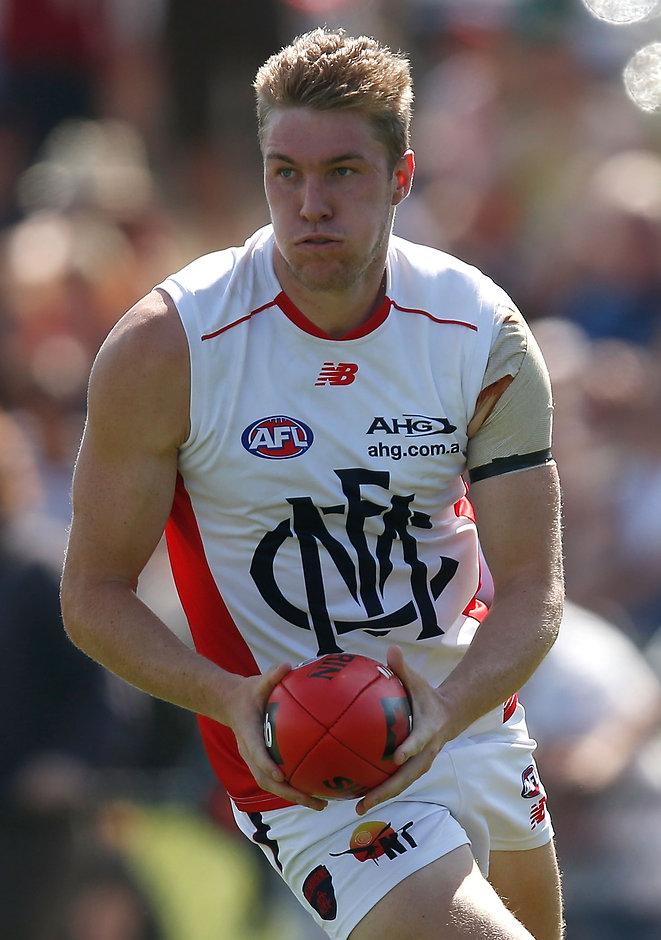 We've been having open chats with the club. It's not 'contract talks are on hold', like the newspaper said a couple of weeks ago
Tom McDonald
MELBOURNE defender Tom McDonald says he won't be signing a new contract any time soon, but he expects to remain a Demon beyond this year.
McDonald's deal expires at the end of the season, and at 23 his relative youth and abilities as a key tall make him one of the more attractive out-of-contract players.
He was ranked fifth in rebound 50s per game in 2015 and ninth in one-percenters per game, and finished third in the best and fairest.
"We've been having open chats with the club. It's not 'contract talks are on hold', like the newspaper said a couple of weeks ago," McDonald said.
"That's happening in the background. It's definitely moving on, but not anywhere near finalised just yet.
"I don't really know (when he will re-sign). My manager and the club are always talking. He gives me a call every now and then.
"They just take time, because we don't always like catching up on emails or phone calls.
"It will happen. It's slowly coming on, so I'm not too fazed."
McDonald dismissed the suggestion that he would only re-sign if gun forward Jesse Hogan signed a deal to stay at Melbourne.
Hogan's contract expires at the end of 2017.
"Jesse's contract is totally separate to mine. I'm not going to say Jesse's (contract) got to get done or I'm not signing."
"As much I'd love Jesse to be signing … it's not really my role to be asking him when he's going to be getting it done."
The Demons haven't made the finals since 2006, but in the final year of Paul Roos' contract as senior coach, McDonald says the club seems to be on the verge of sustained success.
"I see a really positive outlook for the club, which I haven't seen in the five or six years I've been here. I can't honestly say that it's always looked very bright."
Melbourne was unbeaten this pre-season, defeating Port Adelaide, the Western Bulldogs and St Kilda, but McDonald says there is room for improvement.
"I think I haven't even won two games in a row, let alone three. Even if it is the NAB Cup, it's still exciting to win and get a bit of momentum," he says.
"We've made so many mistakes – myself included – yet the core of our game has been really strong. That's been the contest and outnumbering (the opposition) at the ball.
"It's probably a little bit flattening that we've made the same mistakes three weeks in a row. We're still lacking a bit of polish going inside 50 and getting stuck deep in the backline.
"The actual finishing and the mistakes have meant we haven't played amazing yet, but still been able to win."
Hogan looked out of sorts against the Saints on Sunday, dropping marks and struggling with his kicking. McDonald said not playing in Melbourne's second NAB Challenge match against the Western Bulldogs could have left him rusty.
"I think (Hogan) just had one of those days where the marks don't stick and you don't kick amazing at goal. I'm not too concerned about Jesse, (especially) if he can still kick two goals," McDonald said.
"He's still got a bit of a weird run-up. It's not the most natural looking kick, but I don't see him miss many at training … so I'm not too worried."
The Demons have adopted more attacking tactics after finishing 16th in scoring last season. McDonald says the transition has been difficult.
"It's been a little bit bumpy. It's a tough way to get used to playing. You've probably noticed we're playing in front a lot more often," he said.
"We're trying to force balls to be turned over in the front half rather than waiting for it to get to full-back.
"It's a bit riskier, but when the pressure from the midfield is really strong, we can cut off the balls a lot earlier."