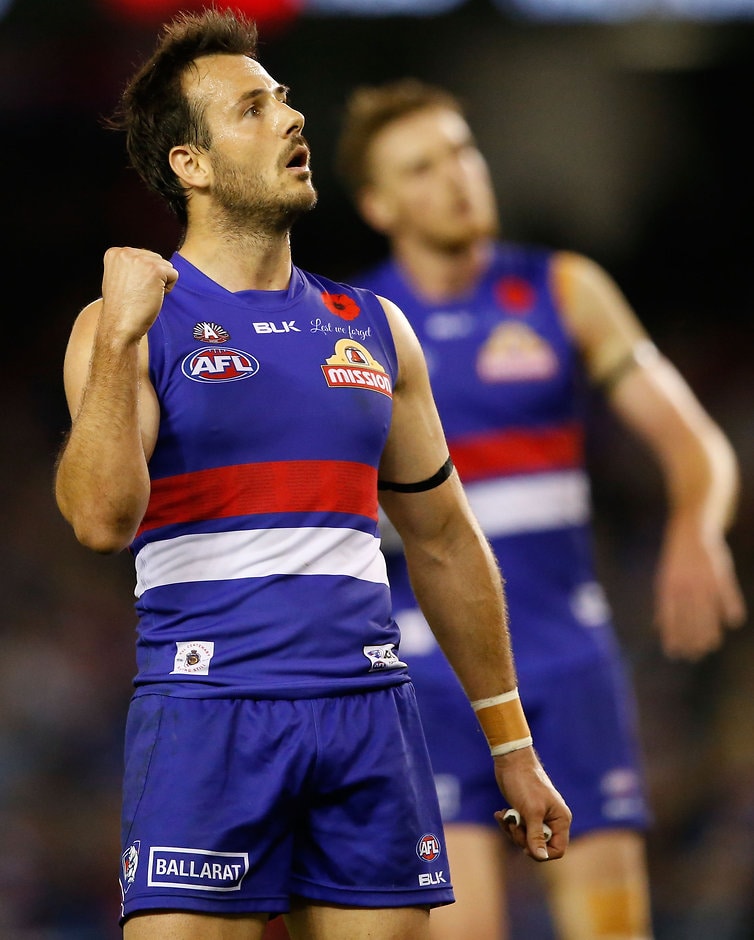 I bring my heart rate down with a few deep breaths, make sure my momentum is always going forward and just go through with it
Tory Dickson
TORY Dickson is such a good kick for goal that stats say the Bulldog goalsneak is the second best the game has ever seen.
In a day and age where goalkicking in the AFL is as unreliable as it's ever been, the 28-year-old's career average of 75.92 per cent is marginally behind 1980s and 90s journeyman Michael Murphy's record return of 76.83 per cent for players who have had 50 or more shots at goal.
Dickson, who has slotted 108.35 from 62 games, says the secret to his unerring accuracy is to keep the process simple.
"I wouldn't say it comes easy to me, but I don't have a total routine step wise," Dickson told AFL.com.au.
"I bring my heart rate down with a few deep breaths, make sure my momentum is always going forward and just go through with it."
Even though he's a natural forward with innate goal sense, Dickson puts in countless hours on the track perfecting a craft that's seen him become of the AFL's most dangerous marksman.
"We'll have 20 or more set shots and snaps, but you might have a few more after training if you feel you need to work on that with self-regulation," he said.
"And it makes a massive difference training under fatigue and pressure like in games compared to having a shot under no duress."
While he concedes it's easier to kick truly in the benign conditions of the Bulldogs' home patch of Etihad Stadium, Dickson doesn't agree with Brian Taylor's belief the indoor arena can play a few tricks on would-be goal kickers.
"If you hit the ball well it doesn't go any particular way," Dickson, who has kicked 77 goals at the ground, said.
"I think that happens because you're under a roof and the conditions are great."
After battling ankle and pectoral injuries in the previous two seasons, Dickson had a breakout 2015 campaign that saw him play all 23 games and register a season-best 50 goals.
Adductor and quad complaints threatened to derail 2016, but 10 goals in five outings so far this season showed Dickson has picked up wear he left off last year.
However, he hangs his hat on a defensive side that's contributed to the Dogs becoming the AFL's stingiest outfit.
"I know if I'm not kicking goals, I have to have an input through defensive pressure," he said.
"Jumping up and down on the mark, and causing a delay for the opposition as much as possible will allow us to get in better defensive positions and help us get the ball back.
"It's just getting in the opposition's faces as much as possible and laying as many tackles as I can."
While he's made a name for himself on the ground, Dickson recently got some recognition for his efforts off it.
The good Samaritan came across a damsel in distress, and the young girl's grateful mother rang a Melbourne radio station to sing the obliging Bulldog's praises.
"I was at the pool doing some rehab, and a mother and daughter dropped all their blueberries all over the stairs and she looked a little bit distressed, so I just helped her pick them up," Dickson said.
"It did get a bit of media attention, (but) I think most people would have helped out."
Dickson is well used to cleaning up children's messes, with washing son Riley's muddy footy gear part of the proud father's list of weekly chores.
While the eight-year-old knows how to find the footy, he's yet to notch up that glorious stat his old man is renowned for.
"Riley's playing under nines for the West Footscray Roosters, and he's being played all over the ground at the moment," he said.
"He hasn't kicked a goal yet, but I think he plays his best footy on the wing because he gets in and under.
"He likes to dive on the ball, which probably wouldn't work for him at AFL level because he'd get pinged for holding the ball."