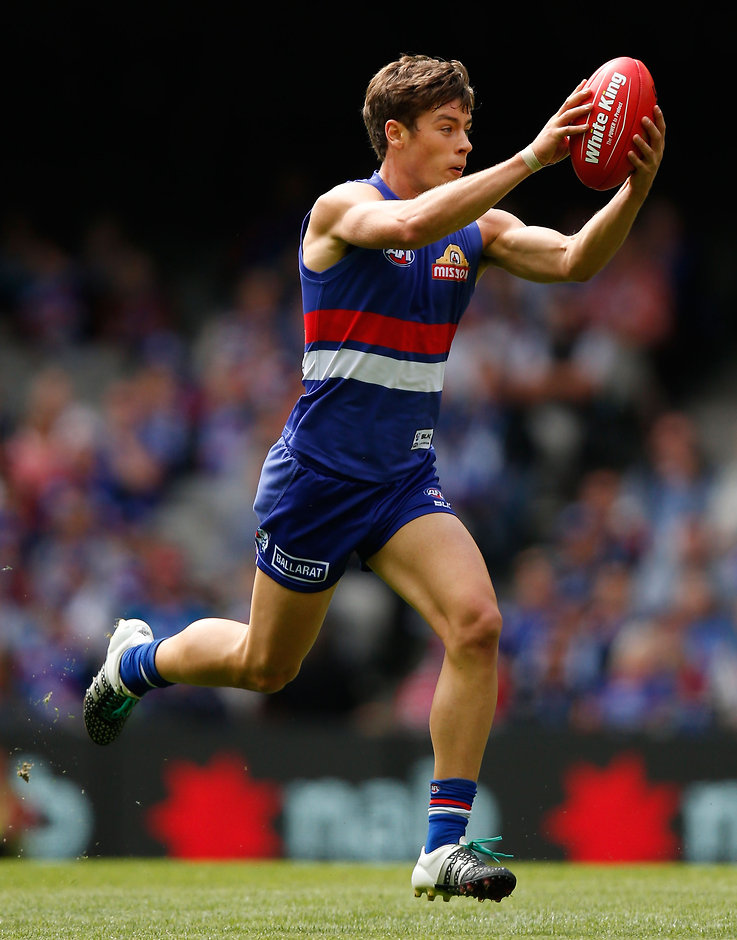 PLAYING alongside childhood friend Lukas Webb for the first time at AFL level was a special moment for young Bulldog Josh Dunkley.
However, it was not the only highlight of Dunkley's weekend, with the 19-year-old scooping the round 20 nomination for the 2016 NAB AFL Rising Star award.
Dunkley, pick No.25 in last year's NAB AFL Draft, collected 19 disposals and had three clearances, spending more time in an inside midfield role, as the Western Bulldogs defeated North Melbourne by 14 points.
"It was pretty special running out for our first AFL game. We've been mates for a long time so it was pretty awesome having him alongside me in the change rooms," Dunkley told AFL.com.au.
"We gave each other a massive hug and it was all smiles in the rooms after the game."
Dunkley and Webb are old high school friends, having attended Gippsland Grammar in Sale together before Webb moved to Caulfield Grammar in Melbourne in year 11.
"We'd played a lot of footy over the journey so we built that relationship straight away. I don't know how it really happened – two boys met, I suppose. And we've kept in contact ever since," Dunkley said.
"To end up at the same club is amazing. We sit next to each other in the locker room, as well.
"It's a bit surreal, it's a like a fairytale really."
• Vote for 2016's winner at the NAB AFL Rising Star hub
Dunkley, the son of former Sydney Swans defender Andrew, was not sure where he would end up on draft night.
After nominating the Swans as his preferred destination under the father-son rule, his father's old club declined to match the Bulldogs' bid of pick No.25 in last year's draft, much to the Dogs' joy.
"To be on an AFL list is great at the end of the day, but with the new bidding system it was pretty hard to know where you were going to go," Dunkley said.
"It would've been a massive thing to go to Sydney because Dad played there. But to end up at the Dogs and to be playing in my first year is pretty special, so I'm not looking back on that anymore."
Dunkley and Webb, for that matter, have benefited with opportunities due to the Bulldogs' extensive injury list. Dunkley has averaged 16 disposals and kicked five goals from 10 games, with his clean hands in congestion a feature of his game.
Dunkley said his father Andrew continued to play a key role in his development.
"He, and the rest of the family, come to every game that I play," Dunkley said.
"Having him and mum, who have been through it all before, helps with on-field but off-field with my preparation and how I go about everyday life as well."