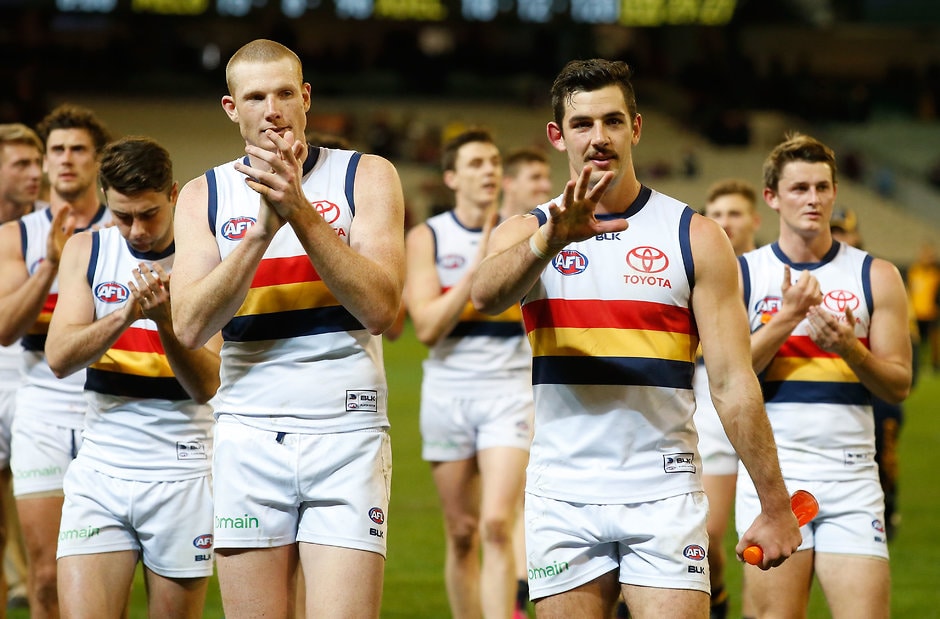 I don't think I've ever feel comfortable in the role
Taylor Walker
ADELAIDE captain Taylor Walker will continue to look to veteran duo Sam Jacobs and Richard Douglas for guidance, despite the pair not having official leadership roles.
Forwards Eddie Betts and Tom Lynch replaced Jacobs and Douglas in the Crows' six-man leadership group announced on Monday.
Walker was retained for the third straight year as the Crows' skipper, Rory Sloane was promoted to vice-captain and defender Daniel Talia and 300-gamer Scott Thompson rounded out the group.
"(Jacobs) and (Douglas) won't be in the leadership group this year, (but) I've told them both I'll still lean on them for their experience and knowledge," Walker told reporters in Adelaide on Monday.
"Whether (Jacobs) likes it or not, I'll still be poaching him and annoying him for information.
"I'm sure he's disappointed, he's a proud guy, but I've got no doubt that (Jacobs) will still be (Jacobs) and continue on what he normally does."
Jacobs, 28, has been a consistent performer for the Crows since joining the club from Carlton at the end of 2010, while 30-year-old Douglas is five games shy of his 200th appearance.
Walker, 26, has developed into one of the game's most respected leaders since taking over from Nathan van Berlo at the start of the 2015.
The AFL Players' Association last year voted the powerful forward as the best captain in the competition.
"I don't think I've ever feel comfortable in the role," Walker said.
"You're always learning and developing.
"When your peers vote on you for a certain thing, whether it be the captaincy or other things, it's pretty special.
"I've learnt a lot over the last couple of years and really enjoyed it."
Betts is elevated to the leadership group for the first time after becoming a cult hero at the Crows.
The 30-year-old was the club's leading goalkicker last season, earned All Australian honours for the first time and produced the AFL's Goal of the Year for the second year in a row.
Lynch has also had a terrific impact at the club, having developed into a wonderful link-up forward.
"Inside our four walls they're held in high regard," Walker said.
"You look at Eddie Betts, I love what he does in the community, his relationships he builds with not only the young guys, but everyone across the footy club.
"Tom Lynch is very similar.
"He's caring, driven, and they're going to bring some new challenges and different voices and opinions to our footy club."