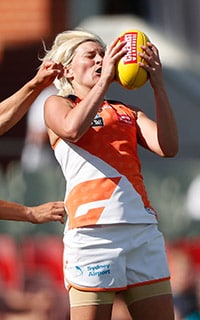 This is a big weekend, against Tayla Harris. I guess it'll really put me in my spot
GWS defender Renee Tomkins
RENEE Tomkins' transition from W-League soccer to the NAB AFL Women's competition is a story of methodical goal setting, relentless determination and impressive milestones.
But the most intriguing tale about the Greater Western Sydney defender might be written this weekend, when she faces the staunchest test of a whirlwind two years since she first set about learning the game.
The Giants' fortunes on their trip north to face the unbeaten Brisbane Lions might rest largely on the shoulders of the 30-year-old, whose task will be to tame the top Lion of the pride.
"This is a big weekend, against Tayla Harris. I guess it'll really put me in my spot," Tomkins said.
"I'm either going to make it or break it. Tayla's very good in the air – she contests and marks the ball very well. If I get on top of that and don't let her be first to the ball, I think I'll be right. But it's going to take a pretty big effort."
If all goes well it will be just reward for draft pick 96, who has proved a reliable competitor in a team that came close to beating Fremantle last Saturday but ultimately had to settle for a draw.
You can guarantee Tomkins will be prepared. After being introduced to footy through a friend who had "nagged me for years to come down and see her play" she quit a soccer career that had included a season with the Western Sydney Wanderers before she joined the Penrith Ramettes.
Tomkins spent countless hours working with Penrith's men's coach Kevin Kirk, learning the finer skills of kicking and handballing. She counts marking and spoiling as her strengths, aspects of her game she will need in ample supply against Harris.
"I always want to test myself against the best," Tomkins said.
"I always look for the best player on the field and if I can get close enough I like to mark them. My achievement in a game is to try to stop them getting the ball. That's how I work."
Although she acknowledged her football was a work in progress, Tomkins feels she's on track.
"When I heard the women's AFL was being planned I made it my goal [to play]. I put everything in so I could to make it to this level and it's paid off.
"It meant [learning] how to play AFL, but I'm pretty pleased with the way I've made the transition.
"I'm pretty pleased with the way I've been going. I came out of the ruck at my club to play centre half-back for [the Giants], so there's still a fair bit to learn. But we're getting there.
"To tell you truth, if women's AFL was around a few years earlier I probably wouldn't have played soccer.
"I love this game so much."