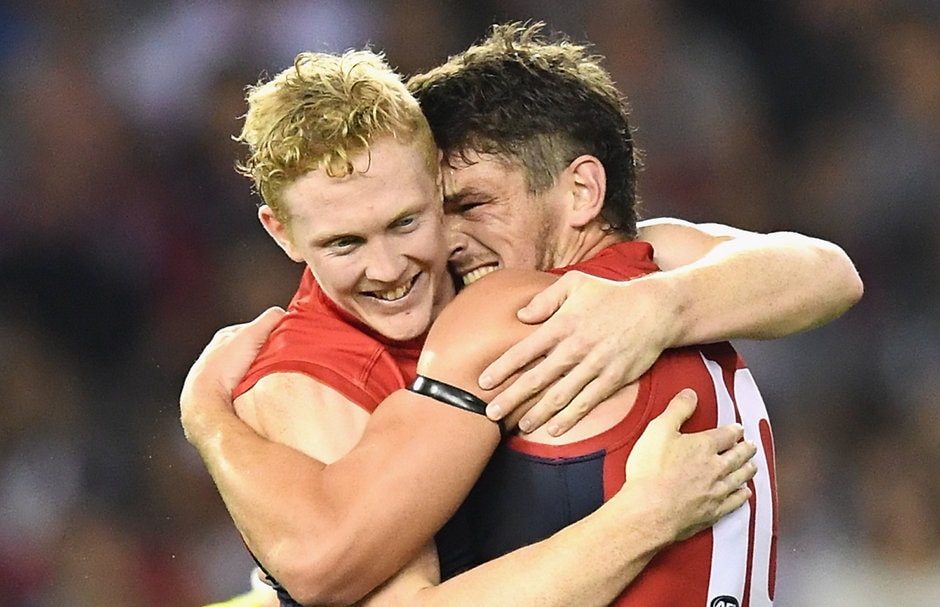 He's not scared of anything. He stands up to anyone. He's a fantastic young player
Brendan McCartney on Clayton Oliver
MELBOURNE has a recent history of draft blunders and the club's recruiters knew it was a high-risk/high-reward scenario with Clayton Oliver when it selected him with pick No.4 in the 2015 NAB AFL Draft.
Oliver could certainly play, but he was a late-developer. Moreover, he couldn't run as well as some of his contemporaries and had been hampered by osteitis pubis. He hadn't adopted the habits of a professional athlete – recruiters found out he had eaten chicken nuggets before playing a match for Richmond's VFL team – and there were queries over his discipline.
On the night of the draft, Melbourne placed a bid on Sydney academy prospect Callum Mills, knowing the Swans would match it. That left the Demons having to toss up between the talented but risky Oliver and Under-18 All Australian midfielder Darcy Parish, a blue-chip prospect they rated highly.
Parish, the hard-running on-baller from the Geelong Falcons, had enjoyed a sensational TAC Cup campaign (averaging 28 disposals per game) and starred for Vic Country in the NAB AFL Under-18 Championships. He was considered one of the classiest players in the 2015 draft.
Oliver, from the Murray Bushrangers, had been overlooked for Vic Country selection, despite averaging 24 disposals at TAC Cup level, and had only come into the Demons' thinking four months out from the draft.
Then-coach Paul Roos watched footage of nine players Melbourne was considering selecting with its first pick including Oliver and Parish (who would end up selected by Essendon with pick No. 5), as well key forward Sam Weideman (who would end up with Demons at selection No. 9).
It was late July, and the Demons projected Oliver might be selected anywhere from 15-25.
But as he kept poring over the vision, Roos was drawn to Oliver's clean hands, his strength and power at stoppages, his sharp decision making in tight and the 187cm midfielder's physical presence. The redhead was raw, but the veteran coach knew he was watching a natural footballer who would complement the previous year's top draftees Christian Petracca and Angus Brayshaw nicely.
"I remember saying to Jase (Melbourne recruiting manager Jason Taylor), 'If there are 14 players better than Oliver, it must be an unbelievable draft,'" Roos told AFL.com.au.
By the end of the season, Oliver had won the TAC Cup Morrish Medal as competition best and fairest (polling 14 votes in seven games to close out the year) and had lost six kilograms in the lead-up to the NAB AFL Draft Combine in Melbourne, where he ran a respectable 3km time trial (10:45).
Despite the queries, Melbourne was adamant Oliver was worth taking a punt on.
On the night of the draft, Oliver's selection raised a few eyebrows. Not even he could believe he was standing alongside All Australians Jacob Weitering (selected by Carlton), Josh Schache (Brisbane Lions) and Mills.
"I played with Schache (at the Bushrangers) and he was being touted as a top-two player all year. I was just hoping to go in the rookie draft," Oliver said.
Once the initial shock subsided and he arrived at Melbourne, Oliver quickly showed he deserved his standing as a top pick, although the Demons understood he was a work in progress.
The head-strong youngster was nominated for the NAB Rising Star Award after his debut game in round one last year. He had gathered 22 disposals (17 in the first-half), 15 contested possessions and seven clearances against GWS, despite playing only 58 per cent of the game.
Oliver, whose nickname is 'Clarry', played 13 matches in 2016 and averaged 19.2 disposals per outing, with the Demons carefully managing his workload.
Still, the snippets he had shown at AFL level and the top form he displayed in last year's VFL finals series for Casey underlined why the lad from Mooroopna, on the banks of the Goulburn River, had shot up Taylor's draft board.
Disappointingly, just six weeks later, Oliver returned to the club for pre-season training out of shape and failing to meet the skinfolds target he and club nutritionist Joanne Shinewell had set before he went on break.
The 19-year-old, still on his P-plates, had also lost his driver's licence after failing a roadside breath test during his leave period.
The Demons fined the youngster a four-figure sum for the drink driving slip-up and made him arrange and pay for a road safety education program. Oliver was also made to organise an expert speaker to deliver a presentation to the players on the dangers of drink driving and its link to road trauma.
"As an AFL player, you are the same as everyone else but in other ways you're not," Oliver said. "I learnt a big lesson from that."
Clayton Oliver joins the Demons' fans after their breakthrough round one win. Picture: AFL Photos

The incident was a turning point, with Oliver ramping up his attitude and commitment to professionalism. By round one, he had shed five kilograms.
Oliver's best-afield effort against St Kilda last week (he had 36 disposals, nine clearances and 14 contested possessions) was testament to his newfound habits, Melbourne performance manager Brendan McCartney said.
On the advice of McCartney, Oliver latched onto teammates Jack Viney and Billy Stretch, aiming to mirror what that pair did to prepare for training and games.
Oliver now completes an extra swim session on most days, and he's moved in with experienced teammates Jack Trengove and Aaron vandenBerg, who have helped him settle off-field.
"We weren't dealing with a young man with a heap of things wrong," McCartney said.
"[He] is a young man with prodigious talent who is learning to understand that when you couple talent with hard work and perseverance it's a pretty potent mixture."
Added Oliver: "When I got drafted I didn't realise how professional you had to be. Everything revolves around footy."
McCartney worked closely with his star protégé over pre-season on winning more "easy ball".
Oliver had already shown that when he was near the footy he was tough to stop, but finding the ball on the outside of contests is helping to make him a more complete player.
Oliver's balance of contested (14) to uncontested (22) possessions against the Saints highlighted the improvements he has made in his game.
McCartney said Oliver was just scratching the surface of what he was capable of producing at the elite level.
"He's not scared of anything. He stands up to anyone. He's a fantastic young player and just as importantly, he's a fantastic young man," McCartney said.
Roos said the Demons' list management team had discussed the perils of choosing a player with some jagged edges, but ultimately decided the risk was worth it.
"You're asking all the questions, certainly," Roos said. "If we hadn't have seen so much talent, then those other things would have become more of a query."