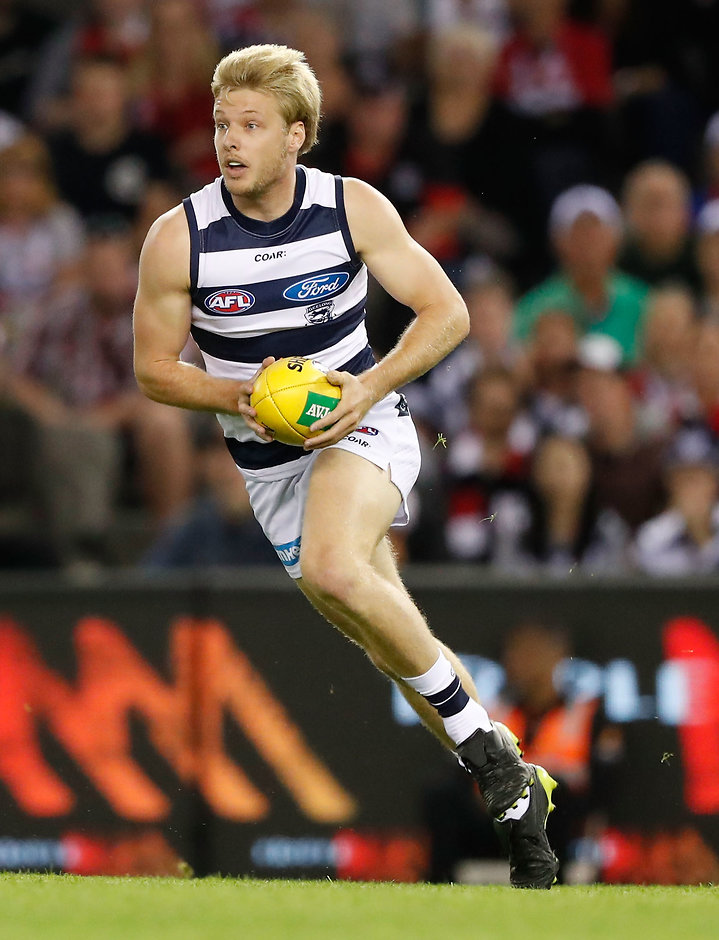 BIG MOMENTS are beginning to include the name George Horlin-Smith.
In round two, he kicked the winning goal against North Melbourne to put his hyphenated name into the headlines.
Unfortunately he broke a thumb in winning the vital free kick and was missing for the next two weeks.
But he hasn't forgotten how to stand up when it counts as he showed on Sunday night at Etihad Stadium.
Full match coverage and statistics
Against St Kilda with scores level he was instrumental in starting a passage of play that led to Geelong kicking the goal that started a last quarter avalanche.
He took the ball at centre half-back with hands as clean as a surgery floor to hand off to a teammate before running past to get the ball back, flicking the ball from behind his body to keep it in front of him.
It was quick, it was risky and it was a decisive moment.
As per usual, the understated 24-year-old was as quick after the game to hand off the bouquets as he was to hand off the football to someone in a better position in that moment.
"You just want to use your teammates and if they are in a good position you want to get the ball in their hands so if it initiates a scoring chain it is a good thing," Horlin-Smith told AFL.com.au.
Five talking points: St Kilda v Geelong
The outstanding junior cricketer knows all about scoring chains but he hasn't had too many chances to be involved in them at senior level at Geelong.
He has managed just 43 games in the hoops since being pick No.37 in the 2010 NAB AFL Draft, with 21 of those games coming in 2014 in what threatened to make him a one-year wonder.
But Horlin-Smith never lost confidence in himself and neither did the coaches who have backed his progress throughout his six seasons at the Cats.
This season his hard work seems to be paying off as he has shown good form in his three games but he remains on edge.
"It's certainly not cemented. There are a lot of good players who are around the mark ... there are a lot of players pushing for opportunities so as long as we keep doing what is expected of us we will keep playing each week," Horlin-Smith said.
He understands that Scott Selwood, Sam Menegola and James Parsons are all midfielders with claims on a spot in the Cats' best team.
"You don't need any more motivation to play AFL footy but it means you do a lot of little things right throughout the week to give yourself the best opportunity to perform well on the weekend, and more than anything not let your teammates down," Horlin-Smith said.
With two match-changing moments in his past two games to go with his 27 disposals and 15 contested possessions upon his return, he's certainly not letting his teammates down.