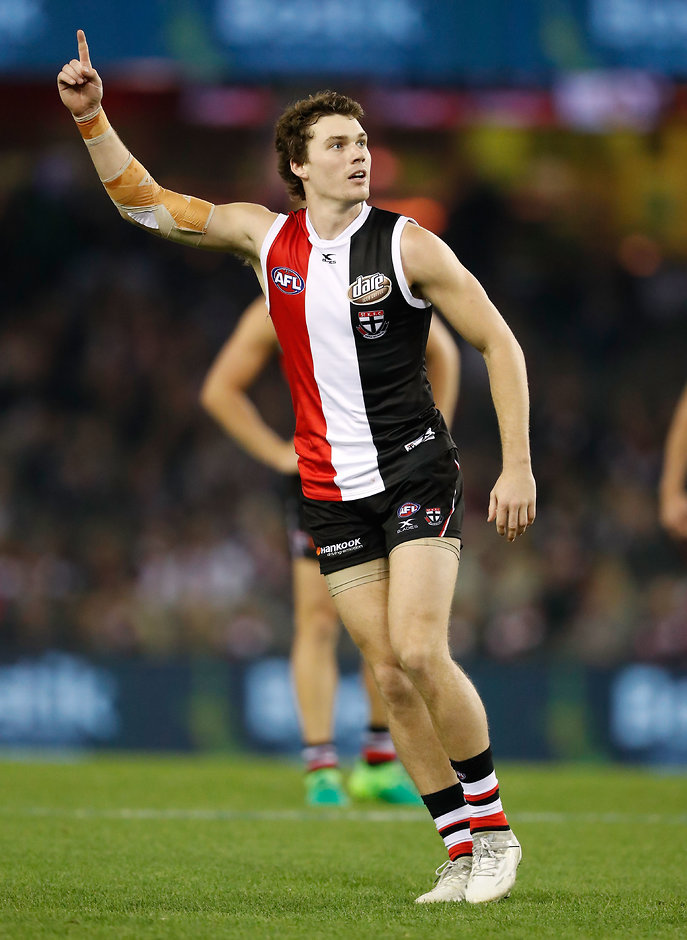 I suppose I just try to play my own way but if people think it looks a bit like Lenny then that's their opinion
Blake Acres
NEVER give up.
That's the attitude of St Kilda midfielder Blake Acres, and it's a lesson he learned early in his career from former Saints champion midfielder Lenny Hayes.
The Saints 2013 first-round draft pick (No.19 overall) is still developing his craft, but some commentators have likened the 21-year-old's game style and physique to that of his former teammate Hayes.
Hayes retired at the end of 2014, at the end of Acres' first year at St Kilda.
The young midfielder said comparisons between himself and Hayes, while humbling, were a little farfetched.
"Lenny is a great man and he was a star," Acres told AFL.com.au.
"I don't think I'm anywhere near his level. I'm humbled to be compared with him but I'm nowhere near him.
"He taught me a lot in my first year. I suppose I just try to play my own way but if people think it looks a bit like Lenny then that's their opinion."
Interestingly, Hayes was in the Giants' coach's box, watching Acres on Friday night at Etihad Stadium.
The Saints midfielder was brilliant in the final term, sparking a St Kilda revival with a 10-possession, two-goal quarter.
After a slow first half, Acres finished the game with 23 disposals, eight marks, three clearances and four inside 50s, and was among the Saints' best in the 23-point win.
In the 12 months Acres spent with Hayes, he said the most important thing the 297-gamer taught him was to never give up.
"He had that never give up attitude and I've got a big part of that in my game," Acres said.
"When it comes to the fourth quarter I feel like I'm at my best and able to run over the ground a bit better. I look at Lenny, and he never ever gave up so I try to be like that."
Improvements in his fitness has also been a key factor in Acres' ability to have a big impact late in games.
"Come late in games when some other guys might be tired, I look to use my running a bit more. Sometimes it opens up for me, sometimes it might not but I've just got to keep working through that."