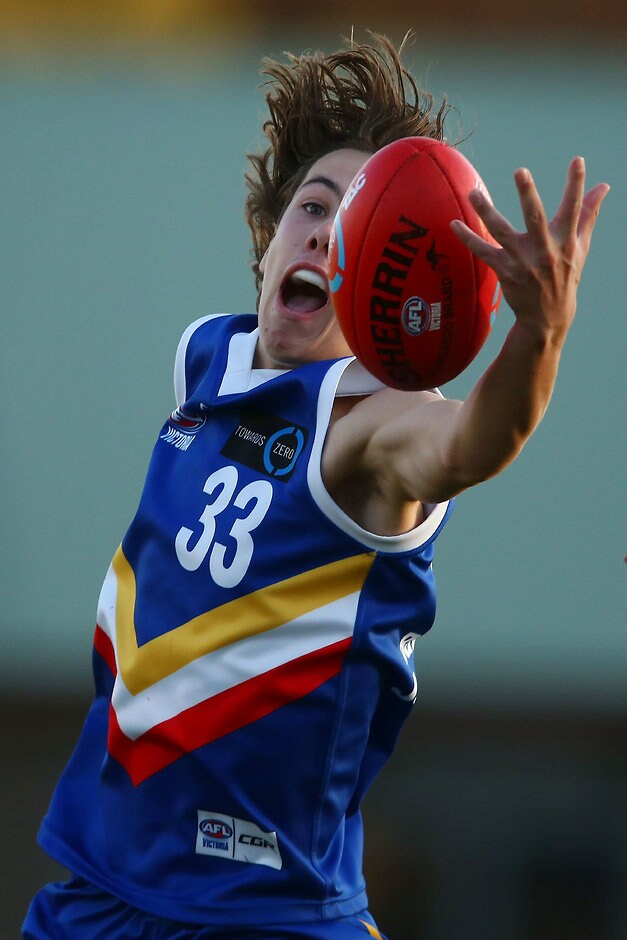 POTENTIAL Collingwood father-son pick Tyler Brown has been invited to test at this year's NAB AFL Draft Combine, which will be dominated by Victorian hopefuls.
Brown was overlooked for selection for Vic Metro during the recent under-18 carnival, but has shown impressive signs for the Eastern Ranges at stages in the TAC Cup season.
The son of Collingwood premiership player Gavin is taller than his brother Callum, who was drafted under the father-son rule last year and made his debut for the Pies earlier this season.
He is one of 83 players from around Australia to be invited to the October 3-6 combine at Etihad Stadium after winning at least four nominations from clubs.
There are 29 players from the Vic Metro region who have been asked to test, while Vic Country has another 25 players who will attend, meaning more than two thirds of the participants will come from Victoria.
Larke Medal winner Oscar Allen leads a group of 10 West Australians who have been invited, while possible early pick Darcy Fogarty is one of eight players from South Australia.
Among the other notable inclusions in the combine list is Nathan Murphy, a talented Victorian cricketer who looks set to follow the football pathway, and mature-agers Adam Sambono (from the NT Thunder) and Tim Kelly (South Fremantle). Two Irish hopefuls will also be added to the group of testing players later this year.
The players will be split into eight groups based on their positions for the four days of testing, which will include two groups of medium midfielders and, for the first time in recent years, separate groups of tall forwards and ruckmen.
In previous seasons the lower numbers of prospects in these positions has seen the AFL put them together for their tests.
The players invited to state combines around the country will be released in coming weeks after clubs have submitted their lists.
NAB AFL DRAFT COMBINE ATTENDEES
Vic Metro
Noah Balta (Calder Cannons)
Andrew Brayshaw (Sandringham Dragons)
Tyler Brown (Eastern Ranges)
Adam Cerra (Eastern Ranges)
Nick Coffield (Northern Knights)
Charlie Constable (Sandringham Dragons)
Matthew Day (Oakleigh Chargers)
Lachlan Fogarty (Western Jets)
Joel Garner (Eastern Ranges)
Sam Hayes (Eastern Ranges)
Jack Higgins (Oakleigh Chargers)
Hayden McLean (Sandringham Dragons)
Dylan Moore (Eastern Ranges)
Nathan Murphy (Sandringham Dragons)
Trent Mynott (Eastern Ranges)
Patrick Naish (Northern Knights)
Tom North (Eastern Ranges)
Ethan Penrith (Northern Knights)
Jack Petruccelle (Northern Knights)
Mitchell Podhajski (Calder Cannons)
Cameron Rayner (Western Jets)
Ned Reeves (Oakleigh Chargers)
Ed Richards (Oakleigh Chargers)
Jackson Ross (Eastern Ranges)
Jaidyn Stephenson (Eastern Ranges)
Ryley Stoddart (Eastern Ranges)
Angus Styles (Sandringham Dragons)
Will Walker (Sandringham Dragons)
Toby Wooller (Oakleigh Chargers)
Vic Metro teammates Cameron Rayner and Angus Styles are among the invitees. Picture: AFL Photos

Vic Country
Aiden Bonar (Dandenong Stingrays)
Jordan Butts (Murray Bushrangers)
Hunter Clark (Dandenong Stingrays)
Oscar Clavarino (Dandenong Stingrays)
Brent Daniels (Benigo Pioneers)
Luke Davies-Uniacke (Dandenong Stingrays)
Tom De Koning (Dandenong Stingrays)
Aiden Domic (Greater Western Victoria Rebels)
Paddy Dow (Bendigo Pioneers)
Kane Farrell (Bendigo Pioneers)
Ethan Floyd (Geelong Falcons)
David Handley (Geelong Falcons)
Bailey Henderson (Bendigo Pioneers)
Changkouth Jiath (Gippsland Power)
Jordan Johnston (Greater Western Victoria Rebels)
Harrison Jones (Murray Bushrangers)
Matthew Ling (Geelong Falcons)
Tom McCartin (Geelong Falcons)
Matthew McGannon (Gippsland Power)
Lloyd Meek (Greater Western Victoria Rebels)
Gryan Miers (Geelong Falcons)
Lochie O'Brien (Bendigo Pioneers)
Ben Paton (Murray Bushrangers)
Angus Schumacher (Bendigo Pioneers)
James Worpel (Geelong Falcons)
Western Australia
Brayden Ainsworth (Subiaco)
Oscar Allen (West Perth)
Callan England (Claremont)
Kyron Hayden (Subiaco)
Tim Kelly (South Fremantle)
Ben Miller (Subiaco)
Aaron Naughton (Peel Thunder)
Jake Patmore (Claremont)
Brandon Starcevich (East Perth)
Sam Taylor (Swan Districts)
Larke Medal winner Oscar Allen heads the list of WA attendees. Picture: AFL Photos

South Australia
Charlie Ballard (Sturt)
Callum Coleman-Jones (Sturt)
Darcy Fogarty (Glenelg)
Jordan Houlahan (Sturt)
Nathan Kreuger (South Adelaide)
Alex Martini (Glenelg)
Andrew McPherson (Woodville-West Torrens)
Harrison Petty (Norwood)
NSW-ACT
Jarrod Brander (Bendigo Pioneers)
Brendan Myers (Wagga Tigers/GWS academy)
Jack Powell (Ainsli/GWS academy)
Nicholas Shipley (St George/GWS academy)
Charlie Spargo (Murray Bushrangers)
Queensland
Connor Ballenden (Wests Juniors/Brisbane Lions academy)
Brayden Crossley (Labrador/Gold Coast Suns academy)
Jack Payne (Noosa/Brisbane Lions academy)
Northern Territory
Zac Bailey (Southern Districts/Norwood)
Adam Sambono (NT Thunder)
Tasmania
Hugh Dixon (Kingborough Tigers)