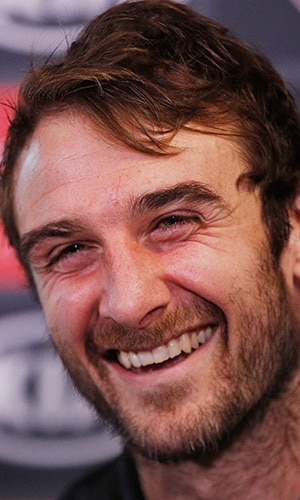 It's like you're in a relationship, a partner cheats on you, you might get back together but you don't love them the same way
Jobe Watson
ESSENDON great Jobe Watson will retire at the end of the season.
He announced his retirement at a media conference at Bomber headquarters, and said, "I know that the time is up, and I think the worst thing you can do is lie to yourself and try to convince yourself that it's not, but deep down you know."

Watson said he was looking forward to playing out the season and hopefully taking part in a finals campaign, but acknowledged that he did not love football as much as he used to after serving a 12-month ban in the wake of the 2012 supplements scandal.
"I'm content with my career. I suppose people ask ... it's like you're in a relationship, a partner cheats on you, you might get back together but you don't love them the same way. That's how it feels to me," he said.
"I think you move on. Life is too short, it just doesn't feel the same. That is how it feels to me now.
"There's probably just hurt associated with it, and when you get inflicted like that, with that sort of pain, then invariably the way you feel about something changes."
"The most difficult time was certainly after the WADA finding, having to be with teammates and go through that."
Watson won the Brownlow Medal in 2012, but returned it last year after serving his time for the supplements saga. The medal was then retrospectively shared by Sam Mitchell and Trent Cotchin.
"The medal didn't really matter to me. It wasn't important. It was the people surrounding me, what they thought about it. The people whose opinion I value and know me the best, they haven't changed because I had to hand back a Brownlow Medal."

Watson said he had enjoyed working with the younger players at the club.
"I always focused on leaving the club in a better place than I found it. Despite everything that happened, I feel it is in a good place," he said.
Watson said he loved most the "camaraderie and the mateship" and having the chance to "live out a dream" by playing for Essendon.
Watson said his career had been "built on hard work. I was a long way back when I started. In time trials they used to give me a five-minute head start. I learned some valuable lessons from people I worked under."
He said he felt "sad" for players coming into football now, "The scrutiny and pressure they're under. I couldn't believe the change in going away and coming back, the change in a short period of time."
Watson said for part of the time in future he would move back to New York, where he spent much of last season and has business interests.
"I will be heading back to New York. We got rated the fourth-best brunch spot in Manhattan ... it's Hole in the Wall, for anyone who doesn't know."
He returned to the Bombers this season only after strongly considering his future following his season-long suspension.
Jobe Watson talks to the media as he announces his retirement. Picture: Getty Images


Coach John Worsfold said Watson had been "an enormous source of advice and leadership" this season, while Essendon chairman Lindsay Tanner said the club owed "a great debt" to the retiring champion.
"On behalf of Essendon I would like to sincerely thank Jobe on his contribution, both on-field and off-field," Tanner said.
"The way that he displayed leadership, courage and stood up has been hugely important.
"We are not quite through it yet, but we have come an incredibly long way in 18 months and it is through the contribution of Jobe.
"Jobe will always be a great icon of Essendon."
Watson, 32, has played 17 games so far this season, averaging 24 disposals, but has been in poor form recently.
The son of Bomber legend Tim Watson made his debut in 2003, and has played 217 matches.
Watson won Essendon's best and fairest award three times, and was named All Australian twice.
He was club captain from 2010 until this season, when he handed over the role to Dyson Heppell.
Essendon faces Adelaide on Saturday night at Etihad Stadium.
An out & out champion. His impact on the Club can never be measured. Incredible footballer. Even better person. Well done JW. #ThankYouJobe pic.twitter.com/uhN5DF4tdl

— Xavier Campbell (@XCampbell79) August 9, 2017
A man of incredible intelligence & integrity. Congratulations to @JobeWatson on a career that will never be mirrored.

— Josh Jenkins (@JoshJenkins24) August 9, 2017
On top of all his onfield achievements Jobe left the greatest of legacies in that he held the Essendon FC together for so many years

— Ted Richards (@tedrichards25) August 9, 2017