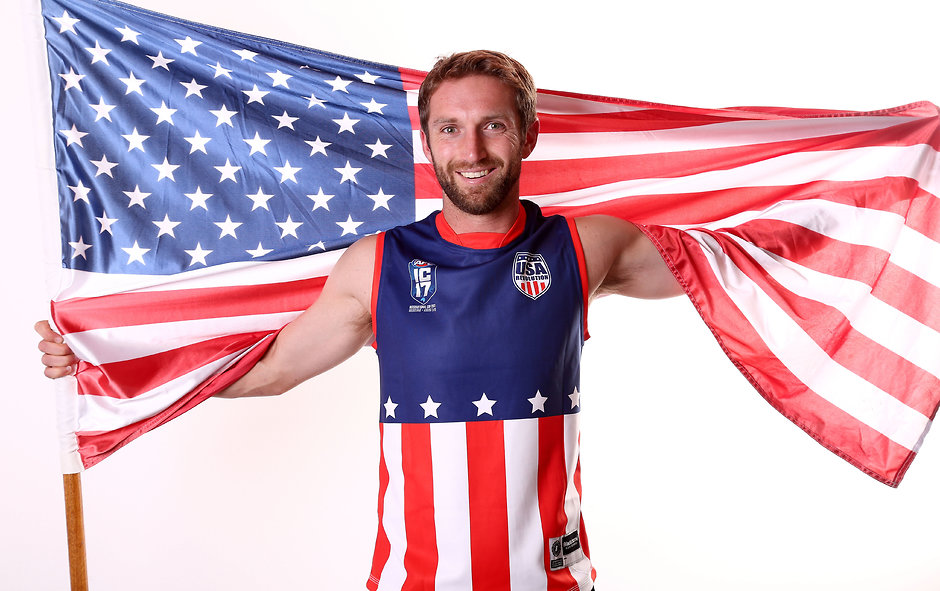 AT 185cms and 84kg, USA Revolution captain Kyle Johnson bears no physical resemblance to his footy hero, American-born Collingwood forward/ruckman Mason Cox.
But Johnson's authoritative, yet calm nature creates an equally impressive aura.
"As a side that learned footy just five or six years ago, we know it won't be our skills that take us over the line," said Johnson at AFL House on a wet and windy Melbourne night in the lead-up to this year's AFL International Cup.
"Our game relies upon grit, one-percenters, pride and hard-at-it footy. No matter what, we have to go in with 100 per cent heart and effort."
Despite Johnson's suggestion of a dogged approach to the game, USA Revolution displayed great technical ability and composure in their victory over a physical Canadian team in round one at Royal Park last Sunday. The Americans followed that up with a thumping 47-point win over South Africa at Wesley College in Glen Waverley on Wednesday.
"Of course, the No.1 priority is to get to the MCG [for the division one Grand Final on Saturday, August 19], but it's one game at a time," he said.
"And while it's important to focus on your next opponent, and work hard at getting playing time, I am hoping the guys enjoy every moment.
"You have this unique bond with teammates because our crazy game means so much. I've told the rookies to keep a journal, or just to stay in the present and remember every single day, every team dinner, every get-together, every walk-through.
"The games are awesome, but if you really put your heart and soul into every moment here, you'll be best man at a teammate's wedding in two years – even if he lives across the country. It's the intangibles on the side that are really easy to look past."
The 30-year-old Johnson, a financial planner for internet radio streaming service Pandora, first felt the leather of a Sherrin aged 10 when his father's job took the family to a town just outside of Fremantle.
"I played six months of junior footy and I was awful," he said with a wry smile. "I was just the worst. People thought I was a terrible athlete. Then the tee-ball season came around and I was a hero because we had been playing baseball at home. I was an anomaly. We went back to the US when I was just getting the hang of footy."
Returning to Australia nine years later – this time to study at Swinburne University in Melbourne – Johnson joined the school's team, trained twice a week and got involved in social activities, despite not getting a game.
Following the one-year course, he returned home to California where he learned about a developing league in the Bay Area and started playing for the Oakland Pirates, who compete in the five-team Golden Gate Australian Football League, which also has three women's teams. Players from the five teams represent the Golden Gate Roos at the annual US AFL National Championships.
Although Johnson, a former club president, loves his local footy, the real inspiration is the AFL International Cup.
"You can't match this. We [the American squad] are based all over the country so we only get together once a year at most," he said.
"With social media, we still get to communicate, but there is nothing like when you step off the plane and see all your mates. You don't get to represent your country very often. It's really special."
Johnson has played in the past two AFL International Cup tournaments; the USA finished eighth after losing a play-off to Nauru in 2014 and fourth in 2011 after falling to New Zealand in a division one semi-final.
"We played against the Peace Team [made up of players from Israel and Palestine] in 2011," he said. "We kicked off and I led out to offer myself as a target. The guy tagging me asked me if I could explain to him why I did that. He genuinely wanted to learn.
"It soon became clear that hanging 200 points on these guys wouldn't achieve much. We had a brilliant afternoon and ended up having photos together at the end, making some great friends. That is what this tournament is all about.
"Footy brings everything together. You have got to run fast, but you have to run all day. You have got to be able to use teammates. You have got to be able to talk, kick, handball – and do it all with accuracy. It is the best of every other sport combined.
"People at home think it's rugby. I was leaving work to come here and, despite the fact I have been talking about this for months, people don't get it. I have to tell them it's not rugby, it's not soccer; it's different."
Consequently, growing the game at home is top of the agenda for Johnson.
"The AFL International Cup is an awesome experience for us, but the point is to raise awareness. I would hope – both as a player and a guy who loves footy – that if somebody randomly streamed the game, they would Google local clubs afterwards and join in, because in three years they could be pulling on the Revolution jersey," he said.