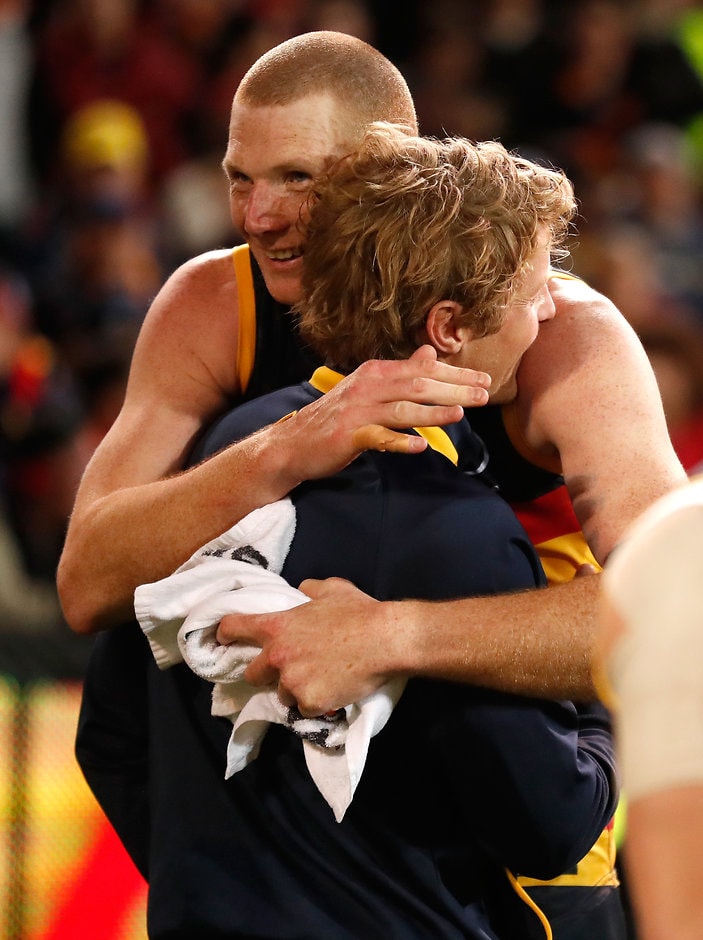 If we keep training, you can end up getting stale
Don Pyke
HAVING too much of a rest, or over-training and getting "stale" heading into a preliminary final?
It's the delicate balancing act Adelaide coach Don Pyke and his high-performance staff will attempt to tread with a premiership at stake.
Thursday night's 36-point win over Greater Western Sydney in the first qualifying final at Adelaide Oval has catapulted the Crows into their first preliminary final since 2012.

Click here for full match details and stats
It's also delivered the dilemma of keeping the Crows' players match-fit with just two games in the space of a month after last week's bye heading into the finals.
The Crows are desperate to avoid suffering the same fate as Greater Western Sydney and Geelong from last year, when they won their qualifying finals only to miss out on the Grand Final.
"We'll assess our program and look at what is going to be best for getting ready for a game in over two weeks, given we played on a Thursday night," Pyke said.
"We've got a few ideas.
"We'll bounce them around, it's hard to do too much pre-planning when you come into a game, but we'll bounce them around in the next 24 hours.
"We've got to find a balance between training on and letting the players almost freshen for a little bit and get ready to go again.
"If we keep training, you can end up getting stale because they'll be looking forward to the next game.
"We want to make sure if we need to give the players a break, we train with the right intensity and the right method so in two weeks' time we come out and we're cherry ripe, ready to go."

GAME BREAKER: Eddie excels under Thursday night lights
One player the Crows will have back in a fortnight is star midfielder Rory Sloane.
The 27-year-old dual club champion was unable to play against the Giants after having his appendix removed last Tuesday.
"It became pretty clear towards the end, nine days (after surgery) was always going to be tight," Pyke said.
"He was optimistic to start with, but the closer we got to the game, he was chasing his tail a little bit.
"The recommendation from the medical people and the doctors and the surgeons was it was clearly a higher risk than we were prepared to take, so we just made the smart decision."
The Crows' reserves will play the Giants' reserves in a scratch match at Football Park on Friday morning.

WATCH: Don Pyke's full media conference
Players and officials will also travel to Ardrossan to attend the funeral of Aaron Jacobs, the older brother of Crows ruckman Sam, who passed away last week.
Jacobs turned in an outstanding performance against Giants big man Shane Mumford.
"Sam was pretty adamant he wanted to play," Pyke said.
"You could see afterwards, each player and coaching staff were super proud of Sam and what he was able to do tonight, but at the same time, sad for Sam as well.
"He's lost his brother and tonight's result, as happy as we all are, we're still sad in our hearts for Sam."