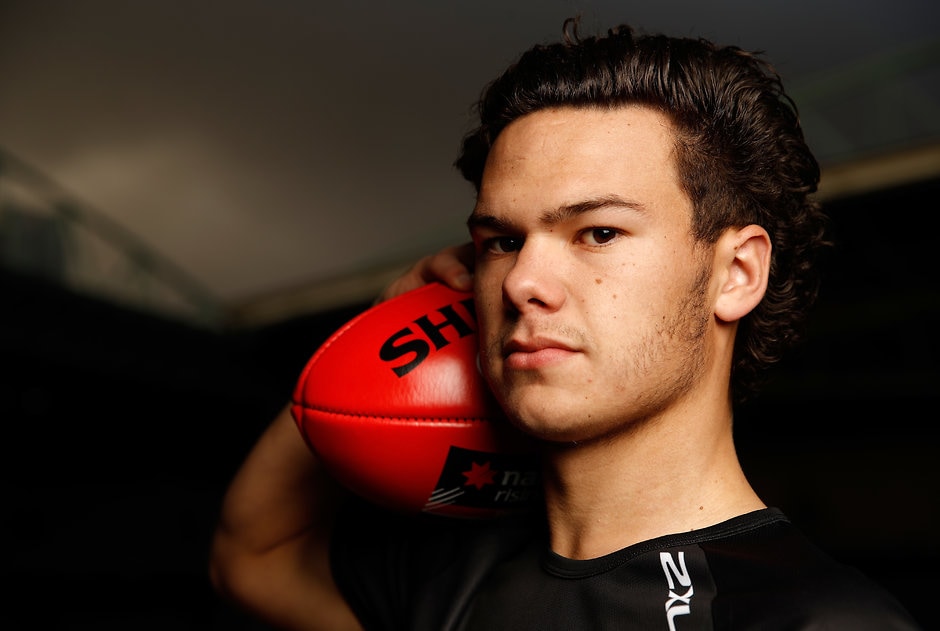 WITH the NAB AFL Trade Period done, all attention now turns to next month's NAB AFL Draft in Sydney.
With the draft order now settled, AFL.com.au has honed in on each club's first draft choice and found a player who might be in their thinking, plus some other names who could be in consideration in that range.
The draft will take place at Sydney Showgrounds on Friday, November 24.
Pick 12: Jake Lever's departure, then Bryce Gibbs' arrival, and then Charlie Cameron's exit, meant the Crows will start with pick 12 at the draft. It's a spot where the grand finalists may be able to add a player ready to help them next year. Darcy Fogarty could be that guy. Fogarty begun the season as a No.1 contender but isn't in that group now, however the South Australian is a big, strong and powerful forward who can impact games in a way few others can.
Around the mark: Charlie Constable, Hunter Clark, Nick Coffield
Pick 1: The Lions have the pick of the bunch and Cameron Rayner seems the most likely option for them to choose. Rayner has had the best season from the top-rung draft prospects, and has shown his explosive, exciting streak in attack and through the midfield. The club has spoken about targeting midfielders and there may be more pure onballers available at No.1 than Rayner, who is likely to start as a forward. But he is a standout and would be a good fit for the Lions – or for anyone for that matter.
Around the mark: Luke Davies-Uniacke, Paddy Dow, Andrew Brayshaw
Pick 3: Midfielders came in (Matt Kennedy, Darcy Lang) and went out (Bryce Gibbs) from the Blues during the Trade Period, but they look in a good spot to draft another one next month. Paddy Dow should appeal, given he can play as an inside and outside midfielder. He uses his pace to explode out of stoppages, but is just as comfortable going and winning his own disposals. The Bendigo Pioneer's season ended prematurely due to a shoulder reconstruction but his pre-season won't be severely interrupted.
Around the mark: Luke Davies-Uniacke, Adam Cerra, Cameron Rayner, Darcy Fogarty
Could Paddy Dow become a Blue? Picture: AFL Photos
Pick 6: After a quiet Trade Period the Pies head to the draft with a nice selection at No.6. Who will get through? And who will they target? Shoring up their tall stocks seems a priority and West Australian defender Aaron Naughton has emerged as a genuine top-10 chance after a strong end to the season with Peel Thunder at WAFL level. Collingwood could do with some extra reinforcement in the key stocks at both ends and Naughton's season suggests he is one of the best options of 2017.
Around the mark: Sam Hayes, Darcy Fogarty, Jarrod Brander
Pick 48: Essendon will have to wait the longest of any club before entering the draft having enjoyed a fruitful Trade Period by shipping out its picks. A clear need for the Bombers is to look for big and strong inside midfielders at the draft, and there might be a handful to consider at this point. Tom North is one who fits into the second or third-round range. The prolific ball-winner's season was ended a touch early by a foot injury but he's a big and solid option who uses his penetrating left foot.
Around the mark: James Worpel, Will Walker, Brayden Ainsworth
Pick 2: Lachie Weller's departure saw the Dockers gain Gold Coast's pick No.2, which is about the best result they could have hoped for. They will now be able to bolster their midfield stocks with a genuine draft gun. Luke Davies-Uniacke would be a nice selection here as perhaps the pool's most complete, ready-to-play midfield option. The Dandenong Stingrays prospect is big, strong and put in some powerful performances across the season. Davies-Uniacke can also go forward and be a marking option, such is his presence.
Around the mark: Cameron Rayner, Paddy Dow, Adam Cerra
The WA waves could appeal to Luke Davies-Uniacke. Picture: AFL Photos
Pick 22: The Cats like to take a local, and Matthew Ling could appeal this year with their first selection. The Geelong Falcon's season gathered momentum as it grew longer, and he has great pace and a classy left foot that makes him a damaging player out of defence. Ling is a line-breaking runner and is able to set up the play with his dash and dare.
Around the mark: Lachie Fogarty, Noah Balta, Nathan Murphy
Pick 19: The acquisition of Lachie Weller saw the Suns shift back to No.19 in the draft, but they still have a strong hand of picks in this part of the draft. There will be good players on the board at this range, and one of them might be Ed Richards. Richards is a competitive, skillful half-back who came on the scene a little later this year but caught plenty of attention with his sure left foot and speed for the Oakleigh Chargers. The Suns have lost the pace of Adam Saad across half-back and Richards could move into that role.
Around the mark: Lochie O'Brien, Nick Coffield, Lachie Fogarty
Pick 11: Jack Higgins couldn't have done much more this season, and he's the draft's best small forward. He kicked 32 goals in 14 TAC Cup games on his way to the Morrish Medal. Higgins has dominated at every level he's played over the past three seasons and is ready to play at AFL level next year as a crumbing and smart small forward. The Giants moved up to pick No.11 as part of the deal that saw Devon Smith head to Essendon – Higgins would be a nice replacement for him.
Around the mark: Darcy Fogarty, Andrew Brayshaw, Jaidyn Stephenson
Pick 43: Again the Hawks won't have a massive say on draft night proceedings, particularly after moving out their first pick to this year's draft in the 2016 Trade Period. They'll play the waiting game on November 24 hoping something falls through. Joel Garner could be in that mix. The Vic Metro captain plays across half-back and uses his left foot to set up the game, and he also had some quality games for Eastern Ranges across the year.

Around the mark: Charlie Spargo, Dylan Moore, Gryan Miers
Pick 29: The Dees targeted Jake Lever at the trade table to fill a specific need and did that, so can head to the draft knowing most bases are well covered at the club. They could add some ruck depth but that might be later on in proceedings. Gryan Miers is a player who is likely to get looked at in the second and third rounds of the draft. The Geelong Falcons small forward kicked 50 goals this season at TAC Cup level, including seven in his side's Grand Final win. He's a livewire and often provides a spark for his team.
Around the mark: Zac Bailey, Jordan Houlahan, Nathan Murphy
Pick 4: North has been open about wanting to add midfielders to its list, but will have to wait and see who goes in the first three picks and who is left to choose at No.4, their highest draft pick since 2006. If they're after some class then Adam Cerra could still be available. The poised and polished Eastern Ranges product is a good user of the ball and as tough as anyone available. Is recovering from shoulder surgery.
Around the mark: Cameron Rayner, Darcy Fogarty, Paddy Dow
Classy mid Adam Cerra may be on the Roos' radar. Picture: AFL Photos
Pick 46: As the busiest players in the trade and free agency period, Port won't start to call names on draft night until the third round. At that point they'll have to wait to see who gets through, but Zac Bailey seems likely to fit in around this point of the draft and may appeal to the Power as a 'local'. The hard and physical midfielder who has a real burst of speed comes from the Northern Territory but moved to South Australia to play with Norwood. Has had a consistent season at all levels.
Around the mark: James Worpel, Charlie Spargo, Andrew McPherson
Pick 17: The Tigers will be hoping a bid for father-son Patrick Naish comes after their first selection, which would allow them to grab another top-end player before matching a bid on the running midfielder. West Australian key forward Oscar Allen is a chance to still be available when the premiers enter the draft and they are searching to add more height to their group of youngsters. Allen is a hard leading forward with a good work ethic who averaged nearly three goals a game in WA's under-18 carnival.
Around the mark: Sam Hayes, Patrick Naish, Aiden Bonar
Pick 7: After hanging onto its two top-10 picks, the Saints can now head to the draft in a strong spot. The midfield would seem a priority, and Andrew Brayshaw would be a good addition after a brilliant second half of the season rocketed him into top-10 contention. Brayshaw averaged 25 disposals at TAC Cup level this year, and has a good blend of ball-winning abilities to go with outside run and carry. Brayshaw is the younger brother of Melbourne's Angus.
Around the mark: Jaidyn Stephenson, Nick Coffield, Jarrod Brander
Andrew Brayshaw could be available for the Saints. Picture: AFL Photos
Pick 14: The Swans have one of the strongest midfield units in the competition, but could look to bolster it with their first pick by bringing in Charlie Constable. The 190cm midfielder could develop alongside the likes of Josh Kennedy and Luke Parker, and has shown a real capacity this season to be a clearance king and win the ball at the stoppages. Constable averaged 26 disposals at the under-18 carnival for Vic Metro and is comfortable getting his hands dirty to feed the ball out.

Around the mark: Hunter Clark, Aiden Bonar, Darcy Fogarty
Pick 13: Midfielders seem like they will be front of mind for the Eagles, particularly after losing a couple of veterans at the end of last season. At No.13 the Eagles are likely to miss out on the top group of midfield options, but there will still be some very good players available. Hunter Clark could still be on the board. Clark is an attacking half-back who became a midfielder this season with a terrific second half of the year. Kicks well on both feet, tough as nails and finds the footy.
Around the mark: Oscar Allen, Jack Higgins, Jaidyn Stephenson
Pick 9: With the retirements of Bob Murphy and Matthew Boyd across the Dogs' half-back line, Nick Coffield is worth considering with their first selection to bolster that area of the ground. The Northern Knights captain won All Australian selection this year after an impressive carnival for the winning Vic Metro side. At 190cm and with a real turn of pace (he ran 2.91 seconds in the 20-metre sprint at the NAB AFL Draft Combine), he plays as a sweeping, general defender who gives drive.
Around the mark: Hunter Clark, Andrew Brayshaw, Aaron Naughton
Nick Coffield could give the Dogs plenty of speed. Picture: AFL Photos