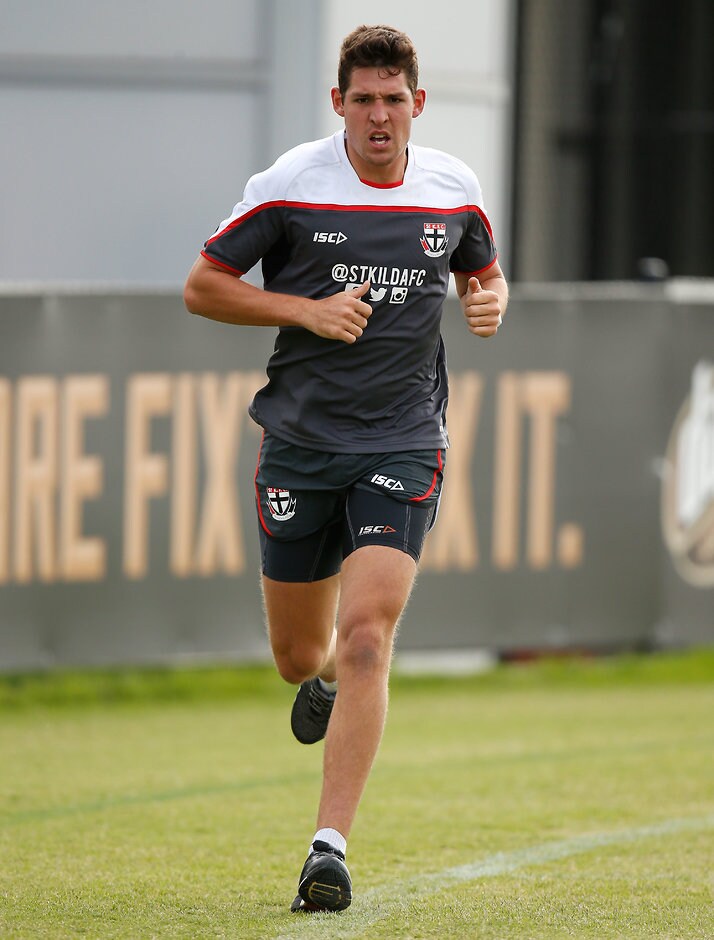 The opportunity came up to give this a crack and things have seemed to work out quite well so far
Arryn Siposs
TAKING up a punting scholarship with US college Auburn University was too good an opportunity to pass up for former Saint Arryn Siposs, despite the forward's desire to continue his football career in Australia.
Siposs, who has been playing for Williamstown in the VFL for the past two years, is set to join the division one college football powerhouse for the 2018-19 season and he is hopeful an NFL career could blossom from there.
Siposs, who turns 25 on Saturday, has been working with Prokick Australia (an Australian punting program) and director Nathan Chapman intermittently for the past five months, but decided to take things more seriously once the Seagulls' season finished in September.
"I highly recommend it to guys who might have had their AFL careers cut short for whatever reason," Siposs told AFL.com.au.
"The way we kick the footy, compared to other sports it's quite unique and we can use that to our advantage in terms of the punting side of things which is awesome."
Ex-Saint to take a punt with US scholarship
Chapman set up a meeting between Siposs and the Auburn coaching staff last Tuesday, having shown vision of the former Saint kicking the pigskin during sessions conducted this year.
They were impressed and offered Siposs - who is studying teaching and exercise science at university in Melbourne – a three-year academic and sporting scholarship at Auburn.
The timeline for his move over before the start of the football season in August or September next year is still a little up in the air, but Siposs said he would relish the chance to perform for the Tigers in front of a capacity crowd of 87,451 at Jordan-Hare Stadium.
Auburn's football program is among the best in the United States and the SEC (Southeastern conference) school is currently ranked No.6 in the country.
"I follow it pretty closely and having a decent kick on me, it (gridiron) is always something I've been interested in," Siposs said.
"Footy was the No.1 passion and I wanted to do that for as long as possible but that didn't work out.
"The opportunity came up to give this a crack and things have seemed to work out quite well so far."
As far as the NFL pursuit goes, Siposs said playing at the elite level was his ultimate dream.
"If I'm going to go over I want to make it to the top level," he said. "Whether or not that works out is another story, but I want to go over there and do as well as I possibly can and see what happens."
Siposs played 28 games in five seasons for St Kilda, before being delisted by the club at the end of the 2015 season.
He was limited by a string of shoulder injuries in his time at the Saints, where he booted 22 goals playing predominantly as a lead-up forward target after being selected with pick No.75 in the 2010 NAB AFL Draft.
"Naturally you have to feel a little bit disappointed with how things ended up – the injuries and all that type of stuff probably didn't help," he said of his departure from the Saints.
"But I've been proud of how I've conducted myself and got some things sorted in terms of my teaching degree and things like that.
"You do hope and plan for a 10-12 year career and play 200 games and all that stuff.
"But I've got this opportunity in front of me now and it's super exciting."