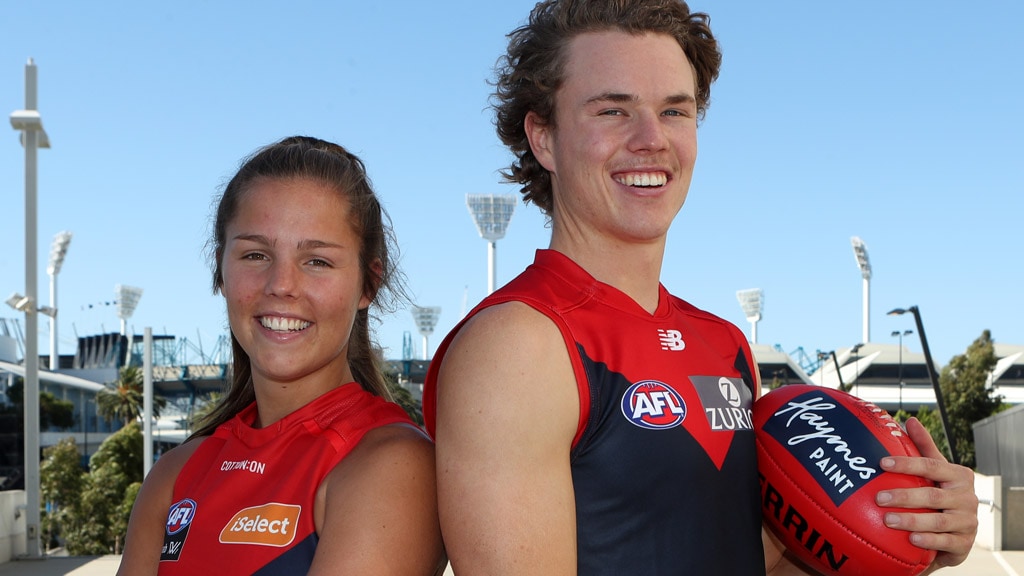 She was just as fast, if not faster, than the boys, and she just racked up the possessions
Jayden Hunt
REBOUNDING Melbourne defender Jayden Hunt is full of admiration, rather than embarrassment, when recalling the time he was given a midfield thrashing by a girl.
In fact, Hunt is delighted his equally fleet-footed former foe Kate Hore is now a Demons clubmate after she was elevated to main list for this year's NAB AFL Women's season.
Even a decade later, Hunt remembers the game when a confident little East Sandringham midfielder met his match with the only girl in the Beaumaris junior team.
"I thought I was going all right and then we came up against Beaumaris. There was this girl there who absolutely tore me to shreds," Hunt said.
"I had never played against a girl and she was incredible, a real standout.
"We were all chasing the ball and she was just as fast, if not faster, than the boys, and she just racked up the possessions.
"It was Kate and I'm so glad she's now with the Dees. I've heard from other players that they're impressed with her."
Hore reckons the gender novelty factor at the time helped Hunt recall that junior grade clash of the bayside rivals.
"I do remember him, but he was just one of the boys running around, whereas I probably stood out a little more. I think I was the only girl in the competition at the time," she said.
"When I signed with Melbourne, Jayden sent me a really nice congratulatory message and he said he remembered playing against me in under-10s or 11s.
"A few days after I signed, we caught up and had a chat. It's funny, who would have thought we would end up playing for the same AFL club? It's pretty crazy."
Hunt is preparing for his fifth season as a Demon while Hore, signed as a pre-listed rookie last May and promoted to the primary list in September, is eagerly awaiting her first AFLW experience.
Like so many AFLW colleagues, Hore was forced out of football even before her teens and turned to other sports to sate her competitive drive.
"I started playing Auskick when I was four or five at the Beaumaris Sharks. I played from under-9s all the way up to 12s and then couldn't play with the boys anymore," she said.
"So that's where my love of basketball came in and I joined the Sandringham Sabres and played with them all the way up to under-18s," she said.
"As soon as it [the AFLW] started, it sparked my interest. I loved playing footy as a kid; it's my favourite sport and still is, even though I was passionate about basketball.
"As soon as I could see a pathway, I just knew I had to have a crack at it."
Hore joined VFLW club St Kilda Sharks, with then-senior coach Shaun Smith, a former Demons forward, recognising and nurturing the potential in the basketball convert.
"I was pretty nervous going down there because I didn't know anyone at the club. I went down to one of their training sessions and it all kicked off from there," she said.
"I had a chat to Shaun the first night and after a few [training] sessions he said it would be worth me having a crack at playing AFLW.
"That gave me a confidence boost because I went in not knowing how I would go."
Hore graduated from Monash University last year with bachelor's degrees in health science and business before taking a 10-week overseas holiday during the VFLW season.
"My plan was always to get the four years [of study] out of the way and then reward myself with a trip to Europe for a few months," she said.
"One of my best friends is a professional basketballer playing in Spain and I met her over there. We covered a bit of territory through France, Spain, Portugal, Greece, Italy and Croatia and finished up in London. It was an amazing experience."
Melbourne signed Hore after just two practice games and two matches in the VFLW before she went away. She returned in time for the last three VFLW rounds and two finals.
Now part of the Demons' forwards group, Hore said her basketball prowess has aided the transition to another ball sport.
"I found a lot of skills transferable, even a lot of the game-style stuff. Even though it has different terminology, it's often the same concept, especially the styles of attack, defence and ball movement.
"Often in my head I'm thinking basketball and you use footy terms. It's almost like I've got two languages," she said.