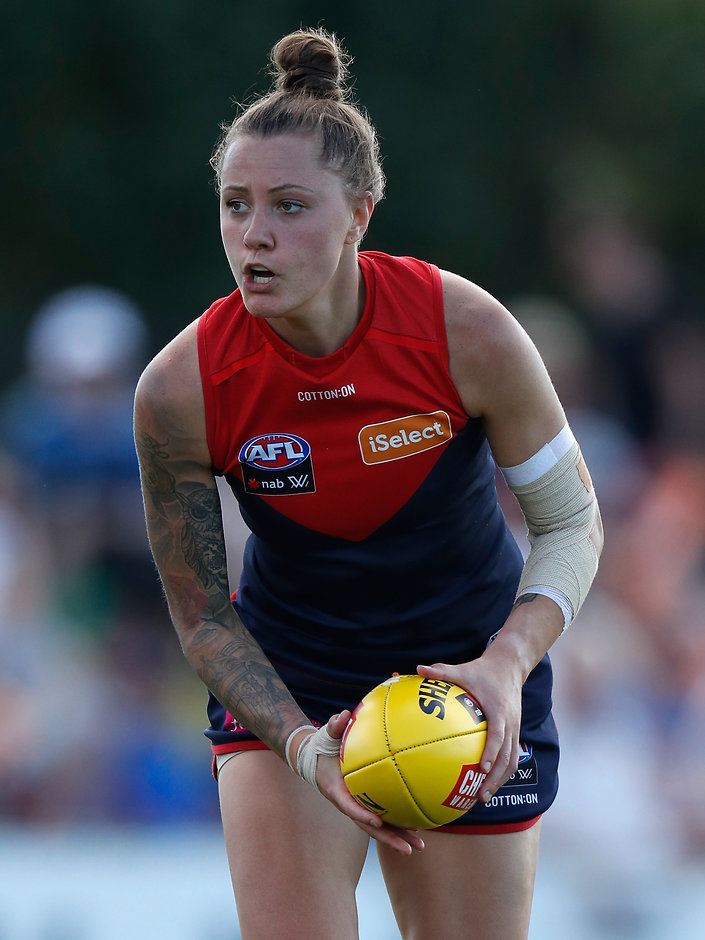 Maybe there will be some banter, but I don't buy into that. I don't say anything on the field
Bianca Jakobsson
IN TERMS of pre-match planning, Carlton should have ample inside knowledge on Melbourne's Bianca Jakobsson for Sunday's crucial NAB AFL Women's battle at Ikon Park.
Unfortunately for the Blues, they're going to have to face the Demons without Jakobsson, who was ruled out Thursday night with a quad injury.
Jakobsson was one of the Blues' main forward targets in every game of the inaugural AFLW season before being traded to the Demons.
But this season she is a totally reinvented player – one who will be striving to stop goals, instead of scoring them.
AFLW: Latest news, fixture and results here
Jakobsson's game-day duties were reversed when Adelaide's premiership coach Bec Goddard tossed her a challenge on the eve of the Victoria-Allies NAB AFLW State of Origin game at Etihad Stadium last September.
The then-Blues forward, who spent her first 10 years in Dubbo in NSW, learned of the radical attack-to-backline move from the Allies coach at a team meeting the night before the match.
And Melbourne coach Mick Stinear, obviously, liked what he saw, despite Jakobsson and her fellow Allies defenders enduring a busy night when the Big V romped to a 97-point victory.
"Most of my career I've been a forward and then Bec threw me into defence. I must have had a pretty good game there," Jakobsson said.
"Mick liked me as a defender and I did most of the pre-season as a defender and really enjoyed it. I found I can use my strengths a lot back there.
"It was up to me where I was comfortable and I felt I was training better and playing better footy in defence. So I made the switch well before Christmas.
"I pretty much had a full pre-season in defence. The back six is a team within a team and a really tight group."
Jakobsson mixes a forward's nous with athleticism and has become a valuable rebounding defender across half-back this season.
"I've tried to keep my mindset the same. I can get the intercept marks because I have that mentality of where to go. Obviously, you've got to defend as well," she said.
"As a forward, I guess I didn't have to worry about picking up a player on transition. But now I defend first and then get best position. There's definitely also a mindset of [needing to know] where my player is and how can I best defend."
Jakobsson, who hadn't missed an AFLW round since the competition's inception, said the Demons rediscovered the collective system and belief with the win against Brisbane last weekend following successive defeats.
"It just felt completely different out there. We felt so connected and were communicating. That's when we play our best footy," she said.
"It was good to get back to that style of play when we were winning games. You could see it and we certainly felt it. We took a lot out of those two losses and we definitely want to keep it going this week."