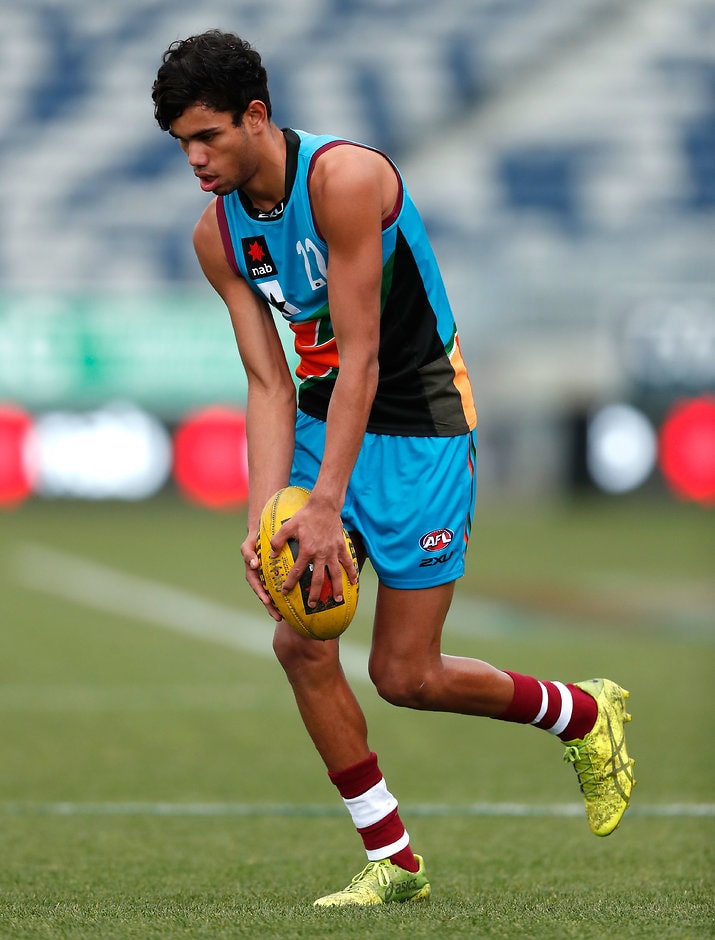 THIS year's Academy series begins on Saturday, when all six competing sides play at Blacktown in Sydney for the opening round.
It is the second year of the Academy series, after it last season replaced the division two NAB AFL Under-18 Championships.
Each of the four northern clubs – Greater Western Sydney, Sydney, Brisbane and Gold Coast – will field Academy sides, with Tasmania and the Norhtern Territory also competing over five rounds.
Here are some prospects for this year's NAB AFL Draft worth keeping an eye on across the carnival.
Brisbane Lions Academy
Comments by AFL Queensland talent manager Adrian Fletcher
Keidean Coleman
Half-back
182cm/75kg
31/3/00
"Keidean is an indigenous boy who plays as a half-back flanker. He has really good evasive skills, he's a 'slingshot' type of player who gets things going. He has to improve the defensive side of his game but he's got some real AFL attributes."
Caleb Franks
Midfielder
177cm/74kg
17/11/00
"Caleb is a really tough kid who plays as an inside midfielder. He accumulates the ball at ground level. He could play half-forward as well, but he's just a tough, roll-the-sleeves up type of player. He's only short but he'll find the footy."
Tom Matthews
Midfielder
184cm/80kg
24/1/00
"He played in the 'futures' game last year of under-17 players, and was very good in the first quarter. He's an accumulator who is very good overhead. He runs straight, so he kicks the ball low and hard into the forward line and to a target."
Connor McFadyen
Midfielder
190cm/81kg
4/12/00
"He's a big bodied midfielder who has a cricket background. He's a very good mark overhead and he's just starting to get fitter. He was a bit underdone early in the pre-season but he's just starting to show his wares."
Jesse Quint
Midfielder
179cm/72kg
14/9/00
"A really quick, smaller player who puts his head over the ball and just goes really hard. He is good at getting the ball and then getting out and finding some space."
Gold Coast Academy
Comments by AFL Queensland talent manager Adrian Fletcher
Matthew Conroy
Ruckman
198cm/83kg
7/11/00
"Matt was a part of the 'talls camp' in Melbourne this week with other ruckmen/key position prospects. He plays like a midfielder around the ground, accumulates possessions and runs quite well."
Caleb Graham
Key defender
194cm/84kg
12/9/00
"As a centre-half back he reads the ball very well in the air and is great at intercepting it. People who do that give themselves a great chance. He's still got to improve his kicking a bit, but he can play on the best forwards and still take his stack of marks."
Fitzroy Greenwool
Small forward
172cm/58kg
24/4/00
"He's an indigenous boy who is really quick. He's only light but he has great kicking skills, he can kick a goal and has great awareness around the forwardline. He comes from the Cape York region."
Dirk Koenen
Key defender
194cm/87kg
1/1/00
"He's a nice shape for the top level as a key position player. He needs to get more possessions. He'll play as a defender and he has the size and athleticism."
Bailey Scott
Midfielder
186cm/64kg
9/7/00
"Bailey is an elite decision maker who reads the play really well and has a really good outside game. He's working on his inside game, which over this next 12 months will make him a really good player. He's a long runner – he'll turn up in defence and turn up in the forward line. He's a worker."
Bailey Scott in action for the Geelong Falcons last year. Picture: AFL Photos
Greater Western Sydney Academy
Comments by GWS Academy coach Jason Saddington
Shaun Driscoll
Midfielder
183cm/69kg
6/1/00
"There's not a lot of size about him but Shaun has good endurance and speed. He's also pretty good overhead for a smaller type of player, and he likes to float across and take intercept marks on the wing. He uses his pace and endurance to cover the ground."
Jeremy Lucas
Half-forward/midfielder
184cm/81kg
29/6/00
"Jeremy's at boarding school down in Melbourne at Xavier College and has been a half-forward/midfielder. He's a really good overhead mark for a mid-sized player and is a strong runner."
James Peatling
Forward
183cm, 71kg
21/8/00
"A clever forward with really good agility and speed. He has a bit of flair about him and he likes to kick goals, but he also demonstrates good defensive pressure at times. James is smart around goal but also can push up higher as a half-forward as well."
Guy Richardson
Half-back
184cm/75kg
12/7/00
"Guy injured his shoulder in the Academy series last year and missed the rest of the season. He's a half-back from Canberra. He has very neat skills and good speed, and really likes to set up off the half-backline. He played NEAFL on the weekend and is progressing nicely."
Matthew Walker
Forward
187cm/76kg
14/2/00
"He's a member of the NAB AFL Academy and has started the season pretty well with his TAC Cup side the Murray Bushrangers. He's a Next Generation Academy player for us. He's really lifted his work-rate and high-intensity running to play a bit more in the midfield as opposed to just forward. He possesses really good natural forward ability with strong hands and generally kicks the ball pretty well."
Northern Territory
Comments by Northern Territory coach Jimmy Driscoll
Rodney Baird
Defender
189cm/77kg
1/3/99
"He's coming back as a 19-year-old with a bit more size and a lot more confidence. He played NEAFL in round one and didn't look out of place. He will provide good leadership out of the back half and intercept pretty well from there.
Matthew Green
Midfielder/defender
189cm/73kg
5/5/00
"Matty will probably play as a rebounding defender or outside midfielder. He's got elite speed, he works hard and reads it really well. He was MVP as a 17-year-old and he's had a year with the NAB AFL Academy, so we hope to get a little bit more out of him this year."
Michael Mummery
Half-forward
185cm/87kg
13/6/00
"Last weekend was Michael's first game in six-to-eight months so he's been slow to work into it but he finished with a couple of goals for the NAB AFL Academy against North Melbourne's VFL side. He's done a fair bit of work to get back to normal fitness and health, so we'll use him as a half-forward and he is hard to match up on because he can play taller or small."
Mitchell Pemberton
Half-back/midfielder
184cm/73kg
5/7/99
"He has been more cricket focused but he can play a variety of positions: as an inside midfielder, across half-back, he's got good speed, takes the game on and sees things well. He's come from nowhere a little but we think he has some real draft-able qualities with his reading of the play."
Sydney Academy
Comments by coach Jared Crouch
Nick Blakey
Forward/midfielder
195cm/80kg
27/2/00
"He'll play everywhere – midfield, forward and back. He's a tremendous athlete and a very smart footballer. I remember when Nick was 10 or 11 and he'd come down to the club kicking the footy when John was coaching so he's been around Sydney for a long time and he's a great talent."
Nick Blakey with the Harrison Medal after an under-18s clash last year. Picture: AFL Photos

Zachary Cameron
Ruck/utility
192cm/91kg
5/1/00
"Zach will play in the ruck or in a key position, but he's only 192cm tall. He runs 2.8 seconds for the 20-metre sprint so has great power, which he uses with his jump in the ruck. He's still working on all of his skills but spent a lot of last year doing athletics. He's made the commitment to football in his 18th year and it's paid dividends so far in what he's shown at training."
Connor Flanagan
Midfield/defence
182cm/78kg
19/12/00
"He got a taste of things last year and went away and has gotten himself very fit. He injured his hand a couple of weeks ago which meant he hasn't been able to play as much recently, but that built up fitness base has held him in good stead. He'll play in the midfield and defence. I really like him because he naturally wants to bring the ball into the corridor and is an attacking player."
Kyle McKellar
Midfielder/defender
185cm/88kg
25/2/00
"A fantastic athlete with a strong, mature body. Kyle is courageous and will play as a midfielder or defender for us. He's another fantastic kid who has had a really good pre-season and worked really hard."
Sam Wicks
Midfielder
180cm/74kg
14/9/99
"Sam is an over-ager having not been drafted last year, but I thought he was outstanding last year for us at the championships. He's a midfielder who can play as a small forward or backman as well, and certainly when he's up forward he'll find a goal. A very smart footballer who uses the ball very well and shows some very good leadership."
Tasmania
Comments by AFL Tasmania state talent manager Jy Bond
Mitchel Anderton
Small defender
177cm/73kg
15/3/00
"He's a small defender who has great ball use and run out of defence, and was in ther squad for the All Stars under-17s game last year."
Chayce Jones
Midfielder
180cm/74kg
14/1/00
"Chayce is a really good talent. He's returned from his busted ankle last year and will probably captain our side, where we'll play him through the middle. Obviously he's got elite ball use and he's a great character. We have pretty high hopes for him this year. He's a jet."
Rhyan Mansell
Defender/midfielder
178cm/72kg
4/6/00
"He's an indigenous boy from North Launceston who's a small defender/midfielder with good skills and is pretty competitive too. He's a Next Generation Academy player with North Melbourne."
Tarryn Thomas
Midfielder
189cm/73kg
25/3/00
"We'll probably use Tarryn through the midfield and in the forward line. He's got pretty good height now, so his ball use and movement around goal is really exciting. We can put him anywhere so we have a real luxury there with him. He's a member of North Melbourne's Next Generation Academy."