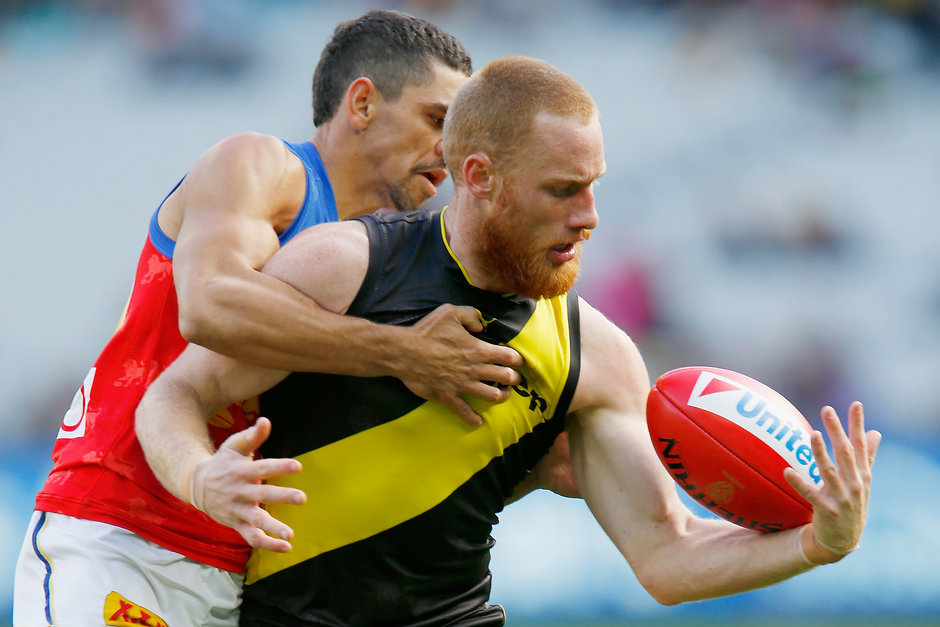 A WILLINGNESS to throw himself into the line of fire and become one of Richmond's most critical defenders stems back to Nick Vlastuin's early childhood.
Growing up in the Melbourne suburb of Eltham North, Vlastuin was the youngest of three and full of boundless energy.
Nicknamed 'Tigger' after the bouncy tiger from Winnie the Pooh, Vlastuin learned to transfer his restlessness to the football field at an early age.
With that came natural resilience and bravery honed in backyard scraps with brother Tim and dad Chris.
"Probably the older brother and the old man roughed me up a bit," Vlastuin said this week.
"I'm just used to playing footy and getting roughed up against bigger bodies, I suppose."
Vlastuin trained with the midfielders ahead of the 2017 season and played the first seven games there before fracturing his right scapula against the Western Bulldogs.
He was initially meant to miss about a month, but it blew out to nine weeks. By the time he was ready for a call up, Jack Graham had made himself at home in the midfield.
Vlastuin had also lost some of the fitness he'd built in the pre-season, and with Reece Conca out with a foot injury, he was moved to half-back, a role he'd played on and off before.
But this time, his impact was different.
Instantly his numbers started to improve. He went from 20th at the club in metres gained to third, and rocketed to second at Punt Road and ninth in the competition for intercept possessions, from an average of 1.8 per game to 8.3.
This year, he's held the line when it comes to chopping off the opposition's forward forays and remains second at Richmond for intercepts with an average of 7.5.
"It's always a key indicator for backs, I suppose," he said.
"Half the time, it's the forwards putting on pressure up the ground and it just falls into your lap.
"It's probably the easiest backline to play in, really. You've got [Alex] Rance and Dave [Astbury] behind you, 'Grimesy' [Dylan Grimes] takes the most dangerous small forward, and then the midfield put on so much pressure.
"We've always got the ball moving forward and trying to lock it in the forward 50 so it makes it easier as a back."
Vlastuin calls himself a "hybrid" defender; one who can play tall when Astbury or Grimes are off the ground, and one who can chase a small forward around when required to.
He says the backline is a fun place to be, especially when the team is winning. Rance makes their meetings lighthearted, and they've formed a synergy that enables them to make defence look effortless at times.
The level of unity isn't exclusive to the defenders.
There are several players coming out of contract this year – Vlastuin isn't one, he's signed up until the end of 2019 – and it's understood many negotiations have been put on the backburner as the Tigers continue to be linked to free agent Tom Lynch.
However, retaining the group isn't something the bearded premiership defender is losing sleep over.
"I suppose money is one thing, but culture is such a big thing at our footy club," he said.
"You come to work, and you look forward to it. It's not even work when you come to the club, it's that fun.
"The culture that we've grown over the last couple of years is now a massive factor, I think, in blokes wanting to be here."
Vlastuin's iconic "premiership beard" that sprouted after facial stitches early last year prohibited shaving was removed in the days after the Grand Final in preparation for a trip to sultry Indonesia.
But the popularity of the growth, plus a tiny bit of superstition, has meant he's putting in the work to maintain another.
"Through the pre-season I kept it pretty small and then I started growing it in the first week of the pre-season games again," he said.
"I wasn't sure if I was going to keep it or not, but it's kind of become the season beard.
"I think I'll keep growing it, but we'll see how we go … it worked last year, so hopefully, fingers crossed it works again this year."
Road to the Draft podcast
Injured top draft pick Max King joins Cal Twomey and Mitch Cleary to discuss his season-ending knee surgery. Also, who are the best Tasmanian draft hopefuls? And who could Essendon get with its first pick?