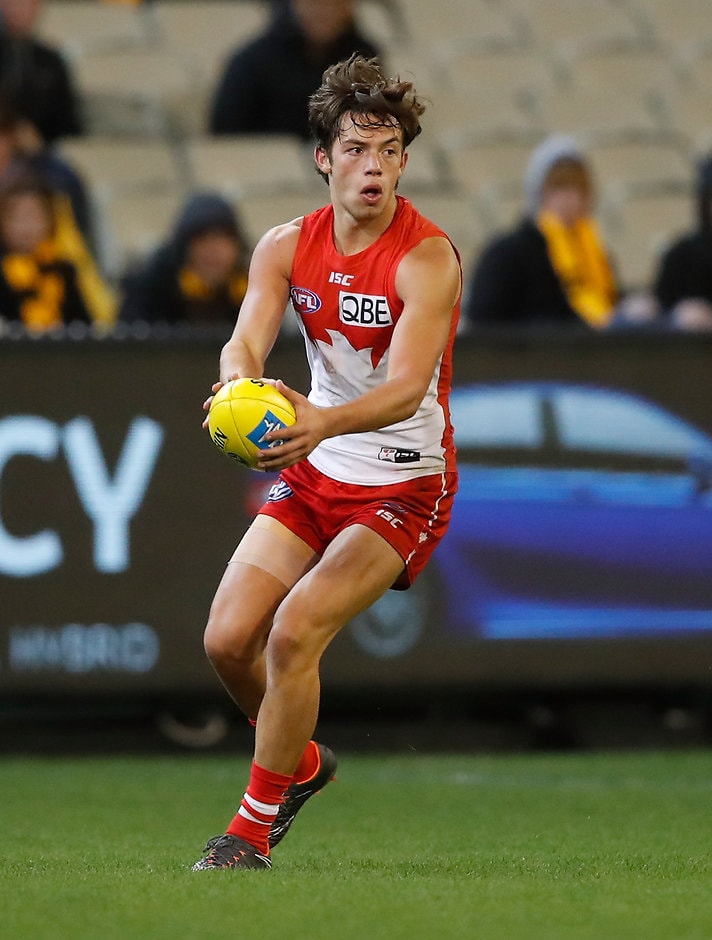 OLLIE Florent's time had come.
His Swans held a slender one-point lead over the Western Bulldogs, there was less than a minute on the clock and the 19-year-old saw an opportunity.
Bulldog Caleb Daniel's shot at goal had fallen short and Sydney was in the process of rebounding the ball.
Florent, then in just his 13th game of AFL football, noticed no-one was in the Swans' attacking half, so he took off in that direction.
The decision was soon made to look like a masterstroke, when Isaac Heeney's long bomb landed in Florent's arms, but it was his next move that drew most scrutiny.
WHO WILL WIN RISING STAR? All of 2018's nominees
Florent instantaneously played on as he clutched the Sherrin – with 36 seconds on the clock – and bolted towards Sydney's goal.
The problem was the man on his heels, 205cm ruckman Tim English, was quicker than he expected and a quick glance over his left shoulder confirmed as much.
But there was no going back at that stage.
Florent stepped inside 50, balanced himself and bounced through a memorable goal – one that he initially hoped was going to be at least 30m closer – that went down as the match-winner.
"That was a very special moment in my couple of years of playing at the Swans," Florent told AFL.com.au
"To have all the attention on me for a minute or two was a pretty weird experience, something I've never had, and it was great for all the players to run from 100m away.
"There was no-one within 70m of me, so I was celebrating by myself for a bit, but when they got around me it was great."
Florent's split-second decision was heavily discussed in the aftermath.
Swans coach John Longmire and the club's 2005 premiership coach Paul Roos lauded his bold play, but said he should have stopped after marking and chewed up precious seconds.
So, looking back seven weeks later, does Florent think he made the correct call?
"Yeah, I did," he said with a laugh.
"Let's just say I wouldn't take anything back, but I'd do it differently going forward … I saw the vision the next day and I was like, 'He was pretty close'."
Florent briefly rejoiced in the moment before coming back to reality.
This season, his second at AFL level after being the No.11 pick in the 2016 draft, is about him improving in all facets as he transitions from a forward onto the wing.
Florent's fourth straight game with at least 20 disposals on Friday night brought with it recognition in the form of the round 11 NAB AFL Rising Star nomination.
His housemate, Ben Ronke, was the round eight nominee.
"There hasn't been such a big gap between my best games this year, so I'm happy I'm stringing a few consistent efforts together," Florent said.
"For me, it's probably a lot to do with the trust the players and the coaching staff have in me.
"They're trusting me to play a role in the side, play my own game, play freely, take it on and do what I naturally do."
He is part of a significant youth movement at Sydney, alongside the likes of Heeney, Callum Mills, Ronke, Will Hayward and Ryley Stoddart, but is eager not to look too far into the future.
Florent, who is "OCD about everything" to the point he can't go to sleep if there are clothes on his bedroom floor, is confident the Swans will be a force in 2018 if they do some tidying up of their own.
"The bright side to it is we're top four and we're not even playing our best football yet," he said.
"We can make a statement to the rest of the competition if we get our game plan right and all the stuff that comes with it, and we can really take our game to another level, which is exciting."