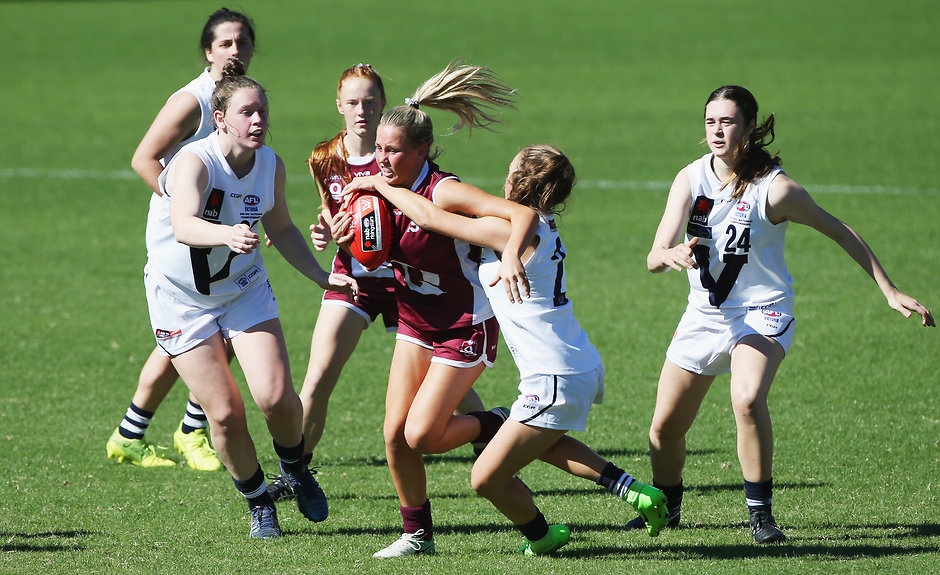 SERIES two of the NAB AFL Women's Under-18 Championships started on the Gold Coast on Monday, with Vic Country, Vic Metro and the Eastern Allies emerging victorious in games at Metricon Stadium.
Vic Country sounded an ominous warning to other teams with a 56-point thumping of Queensland, while Vic Metro edged out Western Australia in a high-scoring affair. The Central Allies and Eastern Allies made their championships debut, with Eastern winning easily.
The Central Allies feature players from Northern Territory and South Australia, while the Eastern Allies are made up of players from NSW/ACT and Tasmania.
What happened?
Vic Country's scoring power and ability to spread from stoppages was too much for Queensland to handle. They kicked 10.7 in just 60 minutes of footy to win by 56 points.
However, Queensland wasn't as far out of the match as the scoreline suggests. The hosts were clean with the ball and led hard but were ultimately outclassed.
Vic Metro and Western Australia played a high-quality match with Metro's early lead proving too much for the team from the west.
Western Australia charged in the last quarter, kicking 2.2 and holding Metro goalless, but it was not enough.
Both teams' ball movement, skills and vision impressed, and they will be tough to beat as the week progresses.
A four-goal final term took Eastern Allies to a 28-point win over Central Allies. The Central girls defended grimly for most of the match but were outclassed in the end.
Eastern was dangerous up forward and it constantly locked the ball inside 50, finishing with 14 scoring shots to Central's six.
Who starred?
Queensland: Rebounder Lily Postlethwaite was impressive in an under-siege Queensland defence, finishing with a team-high 15 disposals and five inside-50s. She was an important link player and her decision-making and dash impressed. Postlethwaite is an under-age player and will have to wait another year before she can be drafted.
Vic Country: We've become accustomed to seeing Lucy McEvoy command Country's defence from full-back, but on Monday she starred up forward against Queensland. Five goals, 13 disposals and six marks suggested she is ready to step into the top level, but fans will have to wait until 2020 before seeing the 17-year-old on an AFLW field.
Vic Metro: Continuing the trend of under-age players dominating, forward Gabbi Newton was Metro's best in its win. She led hard, brought her teammates into the game, showed sharp skills and awareness around goal, and finished with 2.2 and 19 touches.
Western Australia: McKenzie Dowrick has impressed at junior level for several years now and put in a commanding performance. Floating across half-back and occasionally moving into the centre, she used her booming kick and strong hands to advantage, finishing with 22 disposals, seven marks and five clearances.
Eastern Allies: Lilly Doyle (NSW/ACT) kicked three goals, but state teammate Alyce Parker did a ton of work in the middle of the ground. Parker, who has also been representing the Southern Giants in the Winter series, had 24 disposals (22 kicks), 10 clearances and seven inside 50s.
Central Allies: South Australia's Nikki Gore is hard to miss with her strong running on the wing and she did incredibly well to have 27 disposals and 10 tackles in just 60 minutes of footy in a losing side. Adelaide fans will be watching her progress closely this week.
Lucy McEvoy (right) starred for Vic Country up forward. Picture: AFL Photos

Seen and heard
West Coast might not be entering the competition until 2020, but its head of women's football Jan Cooper and manager of game development Adam Selwood were keen onlookers during Western Australia's match.
New Carlton coach Daniel Harford was keeping a close eye on proceedings as his Brisbane counterpart Craig Starcevich coached Queensland.
There is plenty of AFLW talent among the coaching ranks, with Greater Western Sydney star Alicia Eva coaching the Eastern Allies, with teammate Nicola Barr an assistant.
Adelaide duo Renee Forth and Ebony Marinoff (Central Allies), Brisbane trio Sam Virgo, Kate McCarthy and Leah Kaslar (Queensland) and North Melbourne midfielder Emma Humphries (Eastern Allies) also have coaching roles.
Collingwood's Holly Whitford and Brisbane pair Ruby Blair and Arianna Clarke, who all played in the championships last year, were in the stands watching on.
Gold Coast joins the competition in 2020, and with games at Metricon Stadium next to the club's headquarters, CEO Mark Evans was in attendance to watch some of Queensland's game.
Evans is a member of the new AFLW competition committee, which will advise the AFL Commission on the direction of the competition.
Planning for the future
The AFL's head of women's football Nicole Livingstone was on hand for the opening day of the second series, spending time with teams.
"We're really pleased to be on the Gold Coast. The sun is shining, which is a bonus for [those of us living in Victoria], as we celebrate under-18 football from a girls' perspective," Livingstone said.
"We know footy is exploding from a female point of view. This is the showcase of where that talent is heading in the AFLW."
With six clubs – North Melbourne, Geelong, St Kilda, Richmond, Gold Coast and West Coast – joining the competition over the next two years, Livingstone said the under-18s would not be the sole source of new talent.
"We're also looking for older players who are coming into the game (who) have either walked away because they couldn't see a pathway as a young child and now they know they can come back and paly footy, or some girls (who) are leaving their sports to come across and play footy or trying to play both," she said.
"I think that will continue to happen for the next five years until we see that established pathway take place from a generational point of view for young girls."
Nicole Livingstone at Metricon Stadium on Monday. Picture: AFL Photos

What's next?
Players will have break from playing on Tuesday as they spend a day at Bond University. They'll take part in information sessions on protocols surrounding ASADA and drug testing, wellbeing, the draft, and the AFLW expansion processes.
Some players will also have media duties.
Parents will be able to attend a session run by the AFLPA on the draft and rules regarding player agents.
Matches resume on Wednesday at Broadbeach AFC. Queensland plays Vic Metro, Vic Country takes on the Central Allies and Western Australia faces the Eastern Allies.
NAB AFLW UNDER-18 CHAMPIONSHIPS – MONDAY, JULY 9
QUEENSLAND 1.2 1.2 1.3 1.5 (11)
VIC COUNTRY 1.2 5.5 7.6 10.7 (67)
GOALS
Queensland: Heslop
Vic Country: McEvoy 5, Harvey 2, Caris, Hanks, Morrison
BEST
Queensland: Postlethwaite, Watson, Farqurharson, Farrar, Ellenger, Hammans
Vic Country: Morrison, Caris, Cripps, McEvoy, Webster, Purcell
***
VIC METRO 3.2 5.2 7.5 7.9 (51)
WESTERN AUSTRALIA 1.1 4.4 4.5 6.7 (43)
GOALS
Vic Metro: Bateman 2, Newton 2, Gutknecht, McPherson, Saxon-Jones
Western Australia: Bartlett 2, Anderson, Duffy, Roux
BEST
Vic Metro: Newton, McKay, Cann, Gutknecht, Szigeti, Wilson
Western Australia: Dowrick, Roux, Sergeant, Bartlett, Verrier, Pescud
***
EASTERN ALLIES 2.1 3.4 2.3 6.8 (44)
CENTRAL ALLIES 0.2 1.3 3.5 2.4 (16)
GOALS
Eastern Allies: Doyle 3, Quinlivan, McFarlane, Hurrell
Central Allies: Maureen, Rosenzweig
BEST
Eastern Allies: Parker, Doyle, King, McFarlane, Hurrell
Central Allies: Gore, McKinnon, Munyard, Rosenzweig