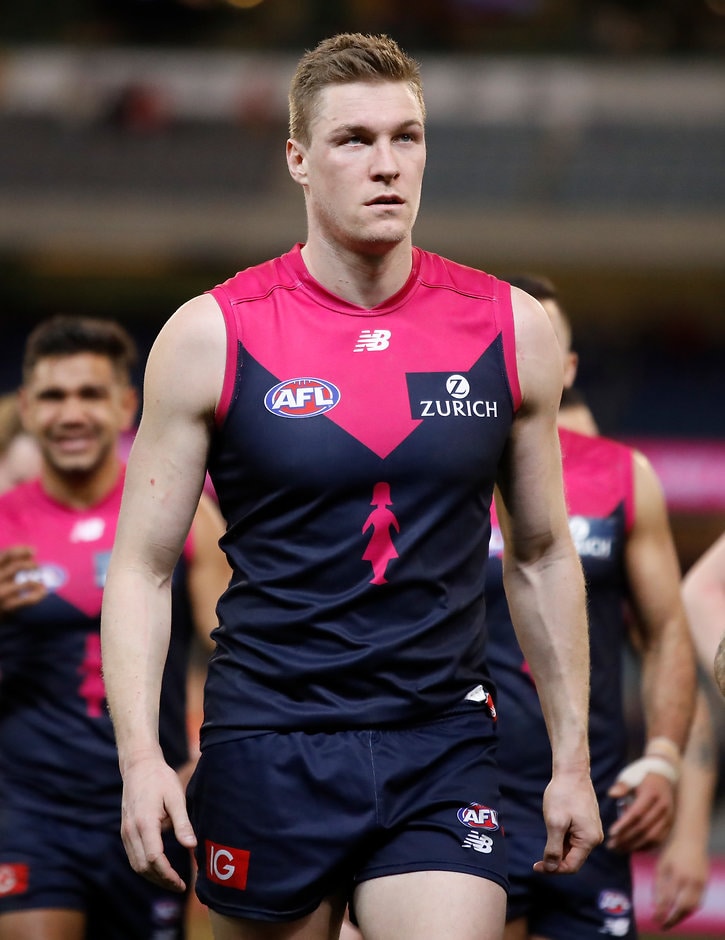 MELBOURNE forward Tom McDonald was lauded as one of the most accurate set-shot goalkickers in the AFL earlier in the season, but his radar has been slightly adrift of late.
McDonald has booted 2.5 in games against Gold Coast and Sydney in the past two weeks.
According to stats from Champion Data, McDonald is ranked equal-17th in the AFL for set-shot scoring accuracy (70 per cent) for players with 10 or more goals this season.
However, that figure has dipped to 28.6 per cent in the past fortnight.
"It's a bit like basketball and missing free throws or missing putts at golf. You miss one or two and you start to doubt yourself a little bit with your technique," McDonald told AFL.com.au.
"I had a bad week (against Gold Coast) and missed a couple of easy ones. I went back and had a look at my technique and I wasn't kicking it the way I normally would."
McDonald is far from worried by his sudden shakiness in front of the big sticks.
"I wasn't following through well and my ball drop was a little bit off," he explained.
"I had a bad one to start on the weekend (against Sydney). In the second half, there were a couple that I kicked well and felt like I got it back."
The Demons' inaccuracy – they booted 10.18 – cost them dearly against Sydney, particularly early in the contest when they could have been five or six goals up at quarter-time.
Despite being the highest scoring team in the AFL, having booted 21 more goals than any other team, Melbourne's inefficiency going inside forward 50 has been a key issue that has cropped up across the season.
For the second time this year, Melbourne took five or more marks inside 50 than their opponents (15-11) and lost the game to the Swans. The Demons also outmarked Geelong (14-8) in their shattering after-the-siren loss in round 18.
There has only been eight other times this season where a team has taken five or more marks inside 50 than their opponents and lost the game. The other 88 times where this has happened, the team has won.
"We've talked about it, we're doing a lot of things right," McDonald said.
"But we're also missing so many chances to get easier scores rather than having to win the ball back all the time and bludgeon our way to a high score.
"We're missing that at times and it does frustrate players because you do so much hard work and then the so called 'easy bit' we're stuffing up."
McDonald said the imminent return of Jake Melksham – who is expected to return from a hamstring complaint against West Coast at Optus Stadium on Sunday – would be crucial for the side's forward structure.
Melksham, who leads the AFL in goal assists with 27, is one of the best distributors of the footy going inside 50 in the competition.
"I think we've missed a guy like Melksham who has been out the last two weeks … he's that guy forward of centre who uses the ball really well and hits targets inside 50 because he's such a damaging kick," McDonald said.
"That's probably the part, 50-70m out where we need to get better at entering the footy."
The Demons are embracing the challenge of going over to Perth and facing second-placed West Coast with their finals hopes on the line.
"We're playing at a new stadium so that'll be pretty important for us to get our bearings," McDonald said.
"(Playing in Perth) is different to what we're used to and we know their fans are pretty loud; it's a hostile environment so we'll have to start well."
SET-SHOT GOALKICKING ACCURACY
| | | | |
| --- | --- | --- | --- |
| Rank | Player | Goals/Behinds | Accuracy |
| 1. | Charlie Cameron | 12.2 | 85.7% |
| 2. | Mitch Wallis | 11.2 | 84.6% |
| 3. | Josh Caddy | 21.4 | 84% |
| 4. | Will Hoskin-Elliott | 23.5 | 82.1% |
| 5. | Luke Parker | 13.3 | 81.3% |
| 6. | Aaron Young | 12.3 | 80% |
| 7. | Harry McKay | 16.4 | 80% |
| 8. | Bayley Fritsch | 13.4 | 76.5% |
| 9. | Josh Thomas | 12.4 | 75% |
| 10. | Ben Brown | 50.17 | 74.6% |
| 11. | Josh Schache | 14.5 | 73.7% |
| 12. | Jamie Cripps | 19.7 | 73.1% |
| 13. | Mark LeCras | 16.6 | 72.7% |
| 14. | Patrick Dangerfield | 13.5 | 72.2% |
| 15. | Oscar McInerney | 10.4 | 71.4% |
| 16. | Brody Mihocek | 12.5 | 70.6% |
| 17. | Isaac Heeney | 14.6 | 70% |
| 18. | Tom McDonald | 28.12 | 70% |

LOSING TEAMS THAT HAVE WON MARKS I50 BY FIVE OR MORE
| | | |
| --- | --- | --- |
| Team | Round | Difference |
| Geelong | 3 | 5 |
| Brisbane | 5 | 5 |
| Sydney | 5 | 7 |
| Essendon | 8 | 5 |
| Brisbane | 10 | 5 |
| Geelong | 15 | 5 |
| Melbourne | 18 | 6 |
| Brisbane | 20 | 10 |
| Geelong | 21 | 5 |
| Melbourne | 21 | 5 |
Stats supplied by Champion Data