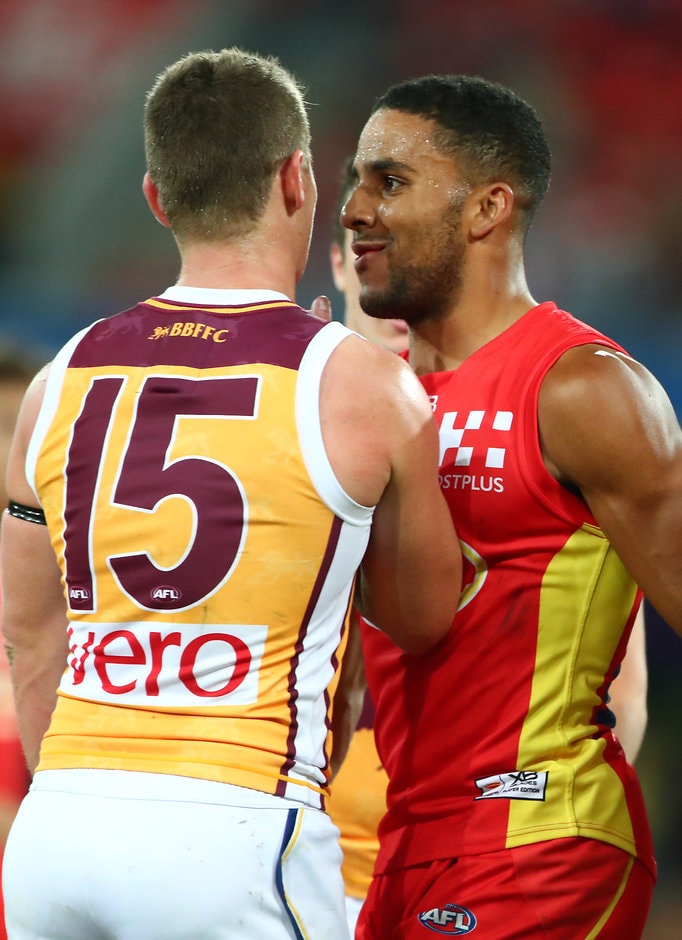 THE HEATED battle between Dayne Zorko and Touk Miller is quickly becoming something to hang the QClash rivalry on.
On Saturday night the two slugged it out again for four quarters, and things didn't finish when the full-time siren sounded.
Following Brisbane's gripping four-point win, Zorko went directly up to Miller and appeared to yell some expletives in his face.

HEAT'S ON IN QUEENSLAND Full match details and stats
Sporting a big smirk, the Lions skipper then put his hand out to shake Miller's.
Miller, part of Gold Coast's leadership group, didn't look amused but obliged.
The incident comes on the back of the round five match-up between the pair where Miller kept Zorko to a paltry 10 touches and won the Marcus Ashcroft Medal for best afield.
TALKING POINTS Soft? Not us, say Suns
On that occasion Zorko snubbed Miller's attempt to shake hands before apologising the next day.
There is no love lost between the pair and you can expect Miller to nudge and niggle every time the teams meet in future.
For the record, Zorko finished with 17 disposals and nine tackles, up against Miller's 15 at Metricon Stadium.
Dayne Zorko and Touk Miller have had a couple of fiery encounters in 2018.

Take a look back at their exchange from round five. pic.twitter.com/fignwJWovw

— AFL.com.au (@AFLcomau) August 18, 2018